Valmet IQ Single-Sided IR Moisture Measurement
The Valmet IQ Single-Sided IR Moisture (IQ Single-Sided IR Moisture) is a new advanced generation IR backscatter moisture sensor. It is designed to be an independent on-line moisture transmitter with a wide range of applications including conventional scanning applications.
With its special optical design, the long measuring distance is optimized for single spot moisture measurements with a wide moisture range and includes sheet temperature measurement. Simultaneous multi-wavelength signal detection with a superior sample rate is combined with the sensor's high-efficiency optics to provide accurate percent moisture readings
Features
The IQ Single-Sided IR Moisture Measurement is designed especially for demanding paper, board, and pulp and paper converting applications. The measurement wavelengths, calculation algorithms, optical construction, and measurement speed are optimized for high-speed fiber-based webs.
The infrared (IR) moisture measurement is based on vibrational resonances of water and cellulose molecule structures including the required reference information.
In IQ Single-Sided IR Moisture, the infrared light is focused into a high-intensity beam at the measurement point. Sophisticated optical design enables an extremely wide measurement distance range.
As the IR light passes and scatters from the measured surface, it is preferentially absorbed at certain wavelengths by water and by fiber and other components at other applied wavelengths. As a result, the percent moisture determination is not dependent on sheet composition or environmental effects.
Benefits
Improved product quality and stability by on-line measurement and continuous process control
Reduction in waste due to continuous measurement and information of the process
Savings in energy and raw material consumption
Reduction in start-up and grade change times because on line measurement allows rapid set up of the target moisture.
Process variation diagnostic capability through fast 1 ms measurement rate
In scanning applications, moisture profiles at the highest resolution and fast measurement lead to more accurate and stable on-sheet measurements with more precise control of MD and CD properties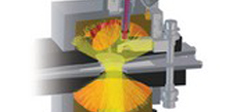 Simultaneous, multi-wavelength signal detection with a superior sample rate.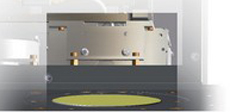 Valmet IQ MW Moisture Measurement provides the moisture content of a web by measuring microwave resonance changes that take place with moisture content changes.