Valmet Service Centres in Haslingden and Darwen, UK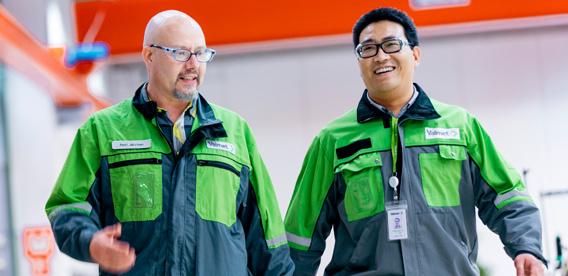 Valmet in the UK offer high-quality reliable services for board, paper, tissue, pulp and energy industries as well as for rubber and plastic, printing, converting machinery, cement industry, waste and steel industry.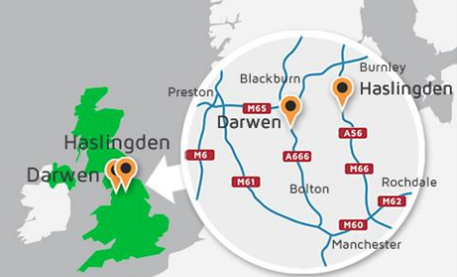 Services offering for board, paper and tissue industry
Valmet's Roll Service Centre located in Haslingden offers workshop and on-site services, including 3D roll grinding, roll refurbishment, high quality balancing and thermal spraying for paper, converting and packaging as well as other process industries.
The machine shop at Haslingden is well equipped to handle long turning jobs, such as drive shafts and paper machine rolls. Excellent milling and boring facilities utilising large capacity machinery operated by highly skilled personnel provide exceptionally versatile refurbishment services. Our service-facilities include equipment for profiling and taper grinding of cylindrical components up to 11 meters in length and 1.8 meters diameter, with matching capacities for dynamic balancing. We can also use our unique range of on-site grinding and super-finishing equipment, for in-situ service of larger components to the same exacting quality standards.



Composite covers
Polyurethane covers
Rubber covers
Thermal spray hard covers including release coatings

Workshop services

Heavy machining
Heavy grinding
Thermal spray component repairs
Dynamic balancing and testing
Thermal-Spray coating – for dimensional reclamation, restoration of worn, damaged or mis-machined surfaces, and to impart other valuable surface qualities
Local sales, projects, engineering and field maintenance services operate from the site in Darwen, as well as the international activities of machine relocation and Yankee services.
Comprehensive process solutions
Field services such as shoe-press overhauls, on-site coating, headbox services, alignment services, on-site grindings
Advanced machinery maintenance
Process development services
Technology support
Doctor maintenance

The Yankee surface is critical for tissue making and even small marks on the surface can cause severe damage to the paper web.

Depending on the degree of damage, different methods to restore the surface become applicable.
Localized defects, grooves or scratches can mostly be removed by polishing. Damages like deep chatter marks, corrosion or wear requires on-site profile grinding to restore the optimum shape of the Yankee cylinder.
Valmet offers the following Yankee services to create the perfect Yankee surface, ensure optimum performance and extended service life:
Yankee surface polishing
On-site Yankee profile grinding
Thermal coating
Yankee surface polishing - removes build-up and slight chatter marks
Screen cloth removes non-uniform organic coating and hard build-up on the cylinder edges and helps to establish a uniform surface finish. It is easy to apply and prevents crepe blade vibrations, sheet holes and edge breaks due to build up.
The Yankee surface polishing (RSG) is recommended to restore the surface integrity, remove local defects, grooves, scratches and dents. The (RSG) polishing makes it possible to remove defects up to a depth of 0.2mm.
On-site Yankee profile grinding - removes severe surface defects and fully restores the cylinder profile
Yankee profile grinding is suited for more severe surface defects, chatter marks of more than 0.2mm depth and wear resulting in a loss of the ideal Yankee surface profile.
The grinding equipment can be installed either in the suction press roll or doctor position. It provides high accuracy and grinding quality.
Thermal coating - perfect condition and prolonged lifetime
The application of Valmet Infinikote Yankee Metallizing provides an excellent Yankee surface, reduces the frequency of regrinding and greatly extends the life of the Yankee.
A hard, protective coating with a homogeneous surface, good bond strength and high corrosion resistance. It is very reliable and unsurpassed in thermal coating life, heat transfer, blade life and Yankee surface efficiency.
| | |
| --- | --- |
| Machine relocation services | Our experienced and qualified team based in the UK can deliver complete shipping and installation solutions combining relocated or new machinery for delivery worldwide. We have extensive experience of successfully dismantling and reassembling plant and industrial equipment of all sizes and complexities within the Paper, Tissue, Food Processing, Converting, Printing and other industries. |
Our meticulous machinery matchmarking process ensures everything is in order for reassembly anywhere in the world, with detailed, easy to follow documentation. Complete turnkey solutions ensure all machinery and equipment can be installed in a new location in the same condition as the original installation
Ease of purchase, reliable and prompt logistics and information sharing are all key requirements for the efficient management of wear and spare parts. We offer a full range of engineered and replacement parts, as well as spare parts packages and process parts to ensure the optimal runnability and maintainability of production lines while also minimizing maintenance costs.
Comprehensive process solutions
Advanced machinery maintenance
Process development services
Technology support
Spare parts and process parts
Rebuilds and upgrades
Inspection
Service Agreements
Full O&M service - providing output availability and efficiency guarantees.
Long Term Service agreement, LTSA – providing fixed price maintenance costs for your asset.
Service Level Agreements, SLA - defined services with performance guarantees.
Our proven track record in many different industrial environments and cultures are evident with successful contracts completed in the United Kingdom, Republic of Ireland, Australia, New Zealand, USA, South America, France, Italy, Hungary, Switzerland, Sweden, Philippines and China.