Pilot trials for stock preparation


Pilot plant in Inkeroinen, Finland, creates a firm backbone for customer centric R&D
Full-scale pilot testing facility
Whether you're looking to ramp up production or improve the efficiency of the existing process, we're talking about a serious capital investment decision. To ensure peace of mind and investment security, Valmet supports you in finding solutions you know to be tried and tested. Valmet's comprehensive testing opportunities span the entire production process and help you to cover all the bases with thorough testing before an investment commitment.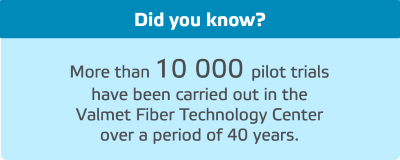 Pilot facilities at Valmet's Inkeroinen plant provide complete pilot processes for mechanical pulping, recycled fiber, stock preparation and pulp drying. Our comprehensive facilities allow you to run tests on a set-up that mirrors your current process configuration or alternatively the one you're looking for to set up. We even encourage you to bring in your own raw materials to ensure a realistic testing result that will demonstrate the solution's suitability for your specific process and needs.

AVAILABLE PROCESSES
Our facilities are designed to let you discover how utilizing new Valmet innovations could improve the efficiency of your existing processes in a risk-free piloting environment. Pilot trials are available for the following Stock Preparation processes:
Vertical bale pulping
Refining
Pulpers for broke handling
Pressure screens
Deflaking
Low and high consistency broke screening for simulation
PILOT TRIALS FOR MFC
Valmet Fiber Technology Center provides piloting solutions for MFC development including pulping, high- and low consistency refining, screening and mixing, as well as versatile laboratory services. MFC has many application areas like acting as strengthening agent for paper and board, enhancing ply-pond in multi-layered structures, controlling smoothness and improving printability, controlling porosity to adjust air permeability and many more.

Microfibrillated Cellulose
Valmet is a pioneer in the development of innovative solutions for producing and applying MFC. Our team of MFC experts works closely with customers to help them accomplish Microfibrillated Cellulose projects, R&D and MFC pilot trials.