In a circular economy, products, components and materials stay in a continuous cycle instead of being discarded. The main idea is about taking into use as few new materials as possible, using existing material flows longer and minimizing waste. This can be achieved by reducing the initial need for raw materials, by circulating the materials longer in the process, by recycling the used materials, and by prolonging the lifetime of production equipment with well-planned maintenance.
Circularity is an integral part of Valmet's solutions for pulp, paper and energy production. For several decades, Valmet has systematically developed circularity through its process technology, automation and services, in its own operations, and the supply chain. We play a key role in enabling our customers to apply a circular economy to their operations.
In our own operations, we are constantly improving our processes to increase resource efficiency and aim to maximize the use of recycled materials in our technology offering.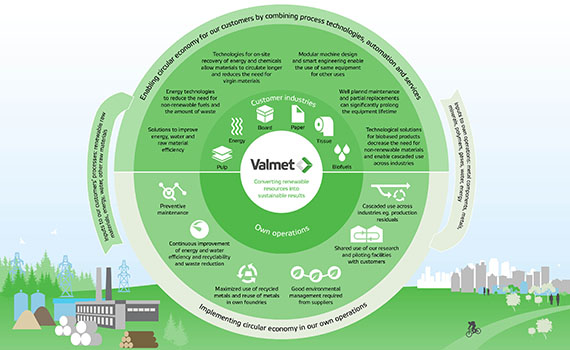 Supporting and integrating suppliers
Valmet enables circularity in its supply chain, its own operations and during the use phase of its solutions. Applying circularity criteria starts from the product design and drawings, where weight reduction and the increase of alternative raw materials are utilized. Circularity has been embedded into our Sustainable Supply Chain policy requirements, which sets the basis for Valmet's Supplier Sustainability Engagement Program.
Through environmental management requirements, we support and urge our suppliers to reduce their environmental impacts and reuse and increase the share of recycled materials in their operations. We have also included circularity as a topic in the e-learning course, which was developed specifically for suppliers and was launched in 2022.
Recent developments
Valmet is playing a strong role in the textile industry revolution and sees novel cellulose-based textiles and fiber-to fiber textile recycling as the solution for more sustainable and circular textile production. Valmet delivered key technology for refining, washing, bleaching and drying to Renewcell's new textile recycling plant in Sundsvall, Sweden. It is the first commercialscale fiber-to-fiber textile recycling plant of its kind in the world and was started up this year.
Furthermore, Valmet has focused on commercializing new biomass conversion technologies such as lignin extraction technology for replacing fossil chemicals and pyrolysis for liquid biofuel solutions. For instance, a LignoBoost XSTM plant will be delivered to Mercer Rosenthal Lignin Center in Germany, where the extracted lignin will be used to develop various bio-based materials that can replace fossil raw materials.
The joint venture between Valmet and Metsä Group's innovation company Metsä Spring creates sustainable solutions for the world's packaging needs. The novel molded fiber products are manufactured from wood fiber from northern woods and are a great option for replacing plastic. Since the demand for molded fiber products is growing fast, this new technology offers Valmet a great opportunity to enter a new market with its molded fiber technology, Valmet 3D Fiber.
Beyond Circularity - a new R&D and innovation program
In 2022, Valmet launched Beyond Circularity, a new R&D and innovation program. Through this program, we will enhance our readiness to support the green transition in customer industries based on Valmet's technology vision 2030. The program will further strengthen our R&D work to develop process technologies, automation and services that utilize renewable materials, as well as recycled waste and sidestreams.