Valmet and Metsä Spring cooperate in developing novel 3D fiber products
Valmet Oyj's press release August 21, 2020 at 10:00 a.m. EET
Valmet and Metsä Group's innovation company Metsä Spring are building a pilot plant in Äänekoski to develop a new wood-based 3D fiber product for the global forest industry. When completed, the new pilot plant will employ about ten people. The plant produces ready-made 3D fiber packages directly from wet wood fiber pulp without intermediate steps. As such, the new environmentally friendly 3D fiber products will be ready to be delivered to end customers. Disposable plates are examples of 3D fiber products.
"Valmet, as the technology leader in the industry, brings unique technology and product development expertise in the project. The cooperation project with Metsä Spring is a great opportunity to develop new types of solutions supporting sustainable development," says Petri Rasinmäki, Director, Board and Paper Machines technology unit at Valmet.
"The goal is to develop a new type of wood-based product, a 3D fiber product, that can replace packaging made from fossil raw materials, for example. Our preliminary research phase with Valmet was successful. Now we are accelerating and starting to build a test facility. I believe that we have a great opportunity to succeed in developing a new significant value-added product for the Finnish forest industry," says Jarkko Tuominen, who is leading the project at Metsä Spring.
Renewable, responsibly grown and pure Finnish wood fiber is used as the main raw material for the 3D fiber products. The products are recyclable and, if recycling is not possible, they will also be biodegradable. Lightweight construction and new manufacturing technology minimize energy and raw material requirements as well as supply chain logistics.
The first phase of the project aims to develop a new type of more sustainable, environmentally friendly and easy-to-use food packaging. According to a customer survey, there is already a significant demand for the product, and to an increasing extent in the future.
Construction of the pilot plant will begin in the fall of 2020. The plant is scheduled to be commissioned by the end of 2021, and will continue to be used to research and develop the production method and 3D product.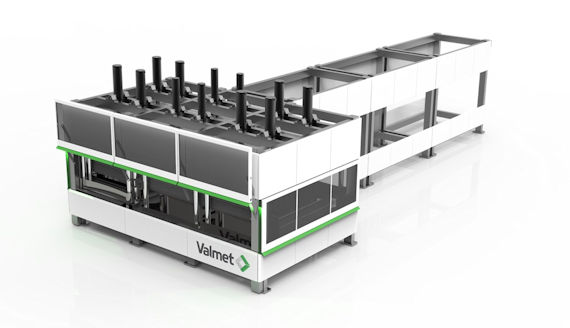 VALMET
Corporate Communications
For further information, please contact:
Petri Rasinmäki, Director, Board and Paper Machines, Valmet, tel. +358 400 428 422
Valmet is the leading global developer and supplier of process technologies, automation and services for the pulp, paper and energy industries. We aim to become the global champion in serving our customers.
Valmet's strong technology offering includes pulp mills, tissue, board and paper production lines, as well as power plants for bioenergy production. Our advanced services and automation solutions improve the reliability and performance of our customers' processes and enhance the effective utilization of raw materials and energy.
Valmet's net sales in 2019 were approximately EUR 3.5 billion. Our more than 13,000 professionals around the world work close to our customers and are committed to moving our customers' performance forward - every day. Valmet's head office is in Espoo, Finland and its shares are listed on the Nasdaq Helsinki.
Read more www.valmet.com, www.twitter.com/valmetglobal