Valmet DNA Cybersecurity Services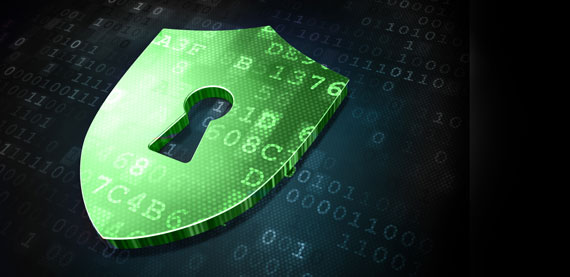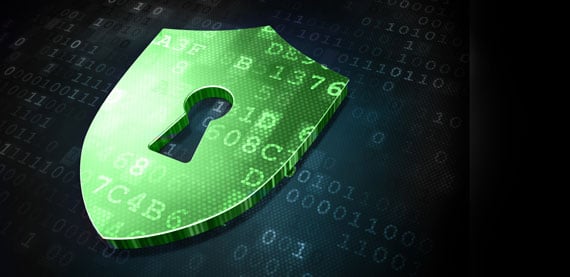 New malware and advanced cyber threats are increasing all the time. Production environments and critical infrastructures are tempting targets for cyber-attacks. By their nature, process automation systems are critical for production plants' reliable operation. Consequently, companies need to have a proper security policy to secure their business continuity, and it must cover industrial automation systems.
Benefits
Business continuity and automation system availability ensured
A secure system against cyber attacks
Protected configuration data
Compliance with security policies and standards
Fast recovery in a worst-case scenario
Help for customers to manage risk in relation to availability and cost
Keeping up with the latest security standards and technologies
Valmet DNA Cybersecurity Services are designed to help customers to create and continuously maintain a more secure production environment. Security optimization is risk management and an ongoing task. A reasonable investment in security ensures the availability of the production lines.
We continuously follow up on new information on security risks. Valmet releases security bulletins and warnings and provides information about Windows patches that are validated with Valmet DNA, and offers security training for customer organizations.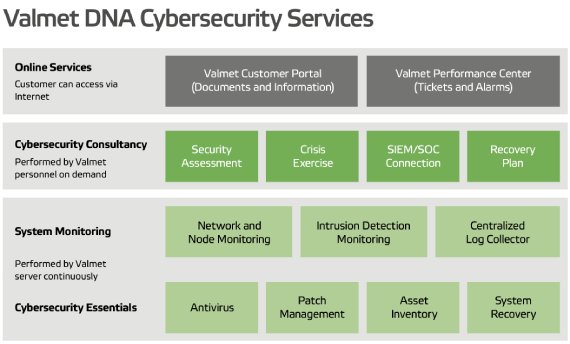 Cybersecurity Essentials
Solid automation system cybersecurity foundation requires asset inventory, endpoint protection, and system recovery against cyber threats. Risks and availability are managed by up-to-date security patches. All the updates – such as antivirus fingerprints and critical security patches - are tested in Valmet DNA system test environment before installing them to the customer system.
System Monitoring
System Monitoring consists of Network and Node Monitoring, Intrusion Detection System (IDS), and Centralized Log Management. These three services monitor system availability and component health, traffic anomalies and vulnerabilities, and store security information and events to a centralized database. Events are also stored in the Valmet DNA system for troubleshooting and auditing purposes.
Cybersecurity Consultancy
Security assessment and crisis exercise help to identify risks in the system and in the organization. A recovery plan ensures controlled processing and recovery from incidents. Continuous Valmet DNA interaction with customer SIEM/SOC and Valmet local service ensured.
Download datasheets to learn more

Valmet DNA Cybersecurity Essentials
Valmet offers a new service solution called Valmet DNA Cybersecurity Essentials. It keeps your system security level up to date almost automatically.

Articles

Automation upgrade ensures secure reserve energy
High cybersecurity, virtual servers and a web-based Valmet DNA User Interface enable Fingrid to reliably start up and operate its Tahkoluoto and Vaskiluoto reserve power plants in times of grid disturbances.

Be prepared for cyber threats with Valmet cybersecurity services
Connected production environments and critical infrastructures are increasingly experiencing cyberattacks. That is why it is of utmost importance to maintain the security level of automation systems and keep them up to date. Valmet offers its automation customers cybersecurity services that help them to secure their business continuity and, in the worst case, to quickly recover from a cyberattack.

Cybersecurity – a responsibility of top management
Cyberthreats are an increasing phenomenon in today's digitalized and connected operating environment. The same technologies that have enabled business transformation also enable or create cybercrime. Cyberattacks or breaches can, in the worst case, be devastating to a company. That is why cybersecurity should have high priority on the agendas of top management and boards.