Keep automation running efficiently for a lifetime
Valmet Upgrades and Lifecycle Services
Eliminate weaknesses in your automation systems before aging components impact productivity. Valmet Upgrades and Lifecycle Services help you manage upgrade investments for best returns over a process lifecycle.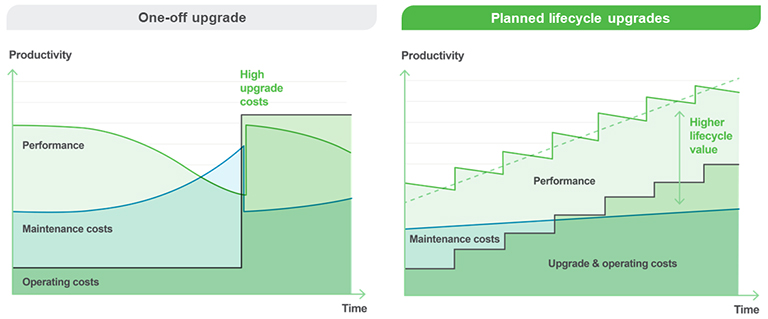 Add predictability to cost of ownership
Upgrades can be expensive, so it's tempting to put them off until aging components cannot be used any longer. Once you reach that point, however, process performance has already decreased while maintenance costs have gone up. Total cost of ownership is significantly higher when upgrades are delayed.
Valmet Upgrades and Lifecycle Services avoid the hidden costs of major, one-time upgrade efforts by implementing continuous small upgrades throughout the system lifecycle. This not only adds predictability to your lifecycle costs, but also gives you the performance and reliability improvements that come from the latest technology.
Secure sustainability and process support
While obsolescence and spare part availability have driven upgrades in the past, new opportunities continuously arise with modern process automation systems. Hardware and software innovations add new capabilities to boost process performance and reduce environmental impact.
In all our Upgrades and Lifecycle Services, we work with you and your key stakeholders, such as public authorities, to carry out upgrades that maximize impact with minimum investment. The result is automation upgrades that improve the long-term value of your assets, remove inefficiencies in your processes, while guaranteeing support over a longer lifetime.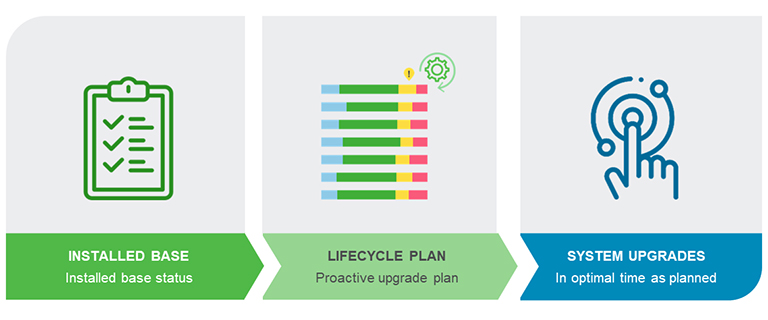 Plan ahead for cost-effective upgrades
Achieving secure automation systems and process reliability over the long term requires a good lifecycle plan. Valmet's lifecycle plan service builds for you a proactive modernization plan that we update year after year.
Together with you, we plan short and long-term actions that ensure continuity of automation systems and processes. Lifecycle expenditures become fully transparent with clarity on both budget and expected improvements.
Upgrades and Lifecycle Services
Lifecycle Plan
Automation Upgrades
Software Upgrades
Automation Extensions
Asset Performance Prediction
Engineering Services