Rewinders for Nonwovens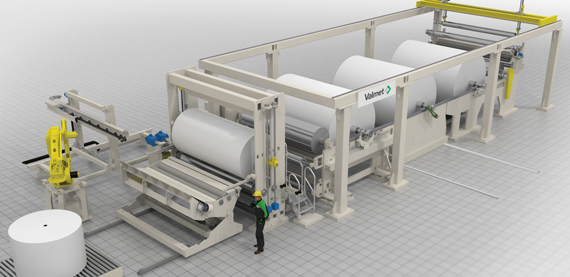 Valmet has made significant investments in Research and Development to move
Forward in our range of solutions offerings to the Nonwovens industry. With
consideration for the current and forecast healthy growth and technology
advancement in the Nonwovens industry, Nonwovens product producers and
suppliers of equipment and solutions are looking every day for technology that
will optimize production and reduce work cycles.
Valmet No-Stress Rewinding concept:
A prime challenge when producing quality nonwoven products is to effectively
unwind, process, rewind and prepare the new parent reel for delivery to the
floor or next stage of the converting process. All this needs to be done in a
manner that imparts minimal stress to the web and maximizes the preservation
of built in product characteristics.
With the goal of helping Nonwovens producers achieve their desired end results,
Valmet developed a winding and rewinding concept that we term No-Stress. It is a concept that involves several sections of the end line: Winder,
Slitting/Rewinder, Finished Reel Removal, Handling/Packaging system and all
associated Automation.
No-Stress Winders
Valmet Nonwovens Winders are Electromechanical and equipped with a tension
control system that assures large diameter – high density finished reels, and
allows the preservation of important product characteristics.
No-Stress Rewind
Rewinder stations from Valmet utilize Electromechanical chucks, carriages and
the relieving system for rider rolls. The control system and algorithm to manage
relieving action are developed by Valmet specialists and are very well accepted
in the industry due to our large list of installed applications. These components
are extremely precise and effective, especially on large diameter and high
weight finished reels, and they assure perfect automatic control of finished reel
density.
No-Stress Removal of Finished Reels
For Finished Reel Removal, Valmet developed an innovative system that
removes the finished reels from the winding position when the target diameter
is reached: "Pulling" the reels out rather than "Pushing" them out. This system
is also Electromechanical and it gently positions the finished reel on a Shuttle
that performs all the operations related to an automatic reel change: web cross
cut, loading of new cores into winding position and delivery of the finished reel sets to the floor or other handling equipment.
No-Stress Handling
Valmet's Handling system is designed to optimize mill manpower and plant productivity. The line can be customized with wrapping system, anthropomorphic robots, shuttles etc. All our systems are designed to meet specific customer requirements.
No-Stress Automation and Drive
Valmet uses axis controllers and position synchronization managed by the latest automated system technology.
Benefits of No-Stress Rewinding:
By utilizing Electromechanical components, there is no need to have a Hydraulic Unit associated

This makes for simpler on-site installation in new or existing lines

The finished reel Shuttle design keeps the area in front of the carrying drums completely open

This makes for easier, faster and safer cleaning and maintenance access

Elimination of the conventional "Pusher" for finished reel sets

This makes for easier installation of a canopy hood for dust removal systems
This also makes the Rewinder more compact
For more information about Valmet Nonwovens rewinders, contact your Valmet
representative.