Wet end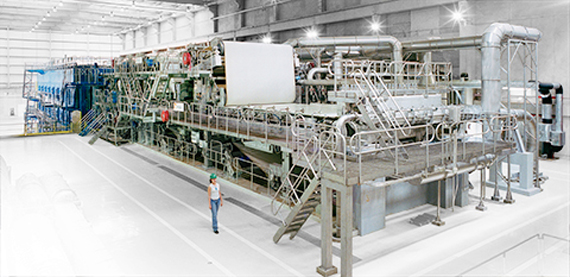 Valmet's pulp drying technology is based on the experience gained in manufacturing and deliveries of more than 300 machines to customers worldwide.
These include the world's widest pulp drying machine so far with a trim width of 10 meters and a record capacity of 5000 ADMT/D. The latest machine design allows for production rates per width meter of 500 ADMT/D and minimized energy consumption.
To meet our customers' specific needs, Valmet's wet end technology comprises both Fourdrinier type solutions and Gap technology with two-sided dewatering and wire pressing.
In the Gap Former, web formation takes place in a fully controlled, adjustable former section. Effective dewatering also allows for a shorter former length.
The Fourdrinier type wet end provides extreme flexibility for varying production rates, basis weights and pulp qualities, thanks to the adjustable headbox slice. In addition, the Fourdrinier type features long wire lifetime and disturbance-free operation. For maximized dewatering the Fourdrinier can be furnished with a top former. Alternatively, the top former can be installed at a later stage when an increase in production becomes necessary.
In both wet end alternatives, the first open draw takes place at a dry content exceeding 40%, which guarantees running reliability especially with short fiber pulp. The roll nips are double-felted and the rolls are of rubber or composite-covered, ensuring long lifetime for wires and felts. The embedded automation solutions feature wet end web profile control systems for process optimization. This maximizes the runnability and pulp web quality of the pulp drying machine. And, it minimizes web breaks and MD basis weight variations while protecting the wires and headbox.
Our machine screens are equipped with a new type of Nimax basket for low-consistency screening applications, based on patented manufacturing technology.
Machine screening
534 references worldwide + reject screens
The widest range of screens on the market
Vertical and horizontal designs
Extensive process knowledge and support
Local service available worldwide


Wet end - Process and automation upgrades
Pulp drying - Production consumables
Spare parts and components
keyboard_arrow_leftBACK
{{currentHeading}}
keyboard_arrow_right
{{productForm.Name}} {{"("+productForm.Size+")"}}
| | | NAME | TYPE | LANGUAGE | FILE | |
| --- | --- | --- | --- | --- | --- | --- |
| | {{file.MaterialIcon}} | {{file.Title}} | {{file.MaterialType}} | {{lang(file.Language)}} | get_app{{file.ContentSize === 0 || file.Title == null ? "" : filterSize(file.ContentSize) + " MB"}} | |