Pulp washing with excellent efficiency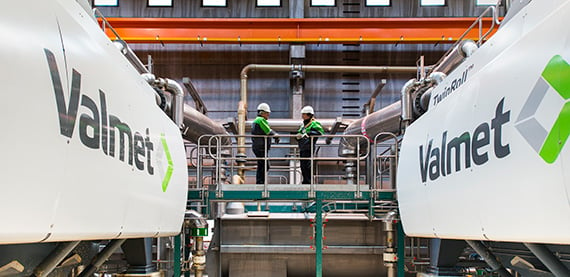 Valmet is the world's leading supplier of pulp washers. With state-of-the-art technology, our washers achieve optimal washing under all process conditions.
Valmet's pulp washers minimize the carry-over into the following treatment stages, while also minimizing effluent load and water consumption. They are a cornerstone of cost-effective and environmentally sound pulp production.
Valmet's TwinRoll presses are characterized by excellent washing efficiency, high availability and high output consistency. They also have very high specific capacity resulting in extremely compact installations, which make the TwinRoll presses especially suitable for upgrades.
Our Pressure diffusers are ideal as washing equipment after overloaded digesters. They provide high washing efficiency and reliable operation.
Valmet's Vacuum filters are suitable for all washing applications in the fiberline. They have a unique open-drum design, which provides many benefits compared to conventional drop-leg drum filters.
keyboard_arrow_leftBACK
{{currentHeading}}
keyboard_arrow_right
{{productForm.Name}} {{"("+productForm.Size+")"}}
| | | NAME | TYPE | LANGUAGE | FILE | |
| --- | --- | --- | --- | --- | --- | --- |
| | {{file.MaterialIcon}} | {{file.Title}} | {{file.MaterialType}} | {{lang(file.Language)}} | get_app{{file.ContentSize === 0 || file.Title == null ? "" : filterSize(file.ContentSize) + " MB"}} | |