LignoBoost® - lignin from pulp mill black liquor
Wood is a composite of cellulose fibers embedded in lignin, a natural glue that keeps the fibers together. In a pulp mill, the cellulose fibers are extracted and converted into pulp, while the lignin is normally burnt in the recovery boiler. Every year, more than 70 million tonnes of lignin pass through the world's pulp mills. Valmet's lignin extraction technology LignoBoost® makes it possible for mills to extract lignin and sell it in a wide range of profitable businesses.
Lignin
Lignin is a renewable organic material that can be used in much the same ways as fossil-based chemicals. But because it is extracted from wood, a product made from lignin has a lower carbon footprint. Another advantage of some lignin-based products is that they can be designed to degrade if released into the environment.

Lignin has been studied for a long time and tested in many applications. Some examples are:

the binder in asphalt
carbon fiber
lignin-based plastics
transportation fuel
the glue in plywood products
dispersants and other chemicals in a wide range of industries
LignoBoost®
LignoBoost is a technology that enables lignin to be extracted from the Kraft pulping process. LignoBoost is proven and reliable, and has been developed with several industrial partners.
LignoBoost plants in operation
There are four LignoBoost plants in operation today. The Valmet-built LignoBoost plants in Finland and the USA are built for the commercial production of lignin and have a combined design capacity of 75,000 tonnes of lignin per year. Valmet has also recently built a smaller plant in Brazil. The world's first LignoBoost plant was built by RISE (then Innventia).
Stora Enso
Finland
50,000 TPA
Startup 2015

Domtar
USA
25,000 TPA
Startup 2013
RISE LignoDemo Sweden
8,000 TPA
Startup 2006
Klabin
Brazil
500 TPA
Startup 2019
Tailoring the lignin to a certain quality
Extracted lignin can be tailored to match the intended end use. This is done with lignin tailoring processes developed by Valmet and its industrial partners. The tailoring processes can be supplied with new LignoBoost plants or installed as upgrades to existing ones.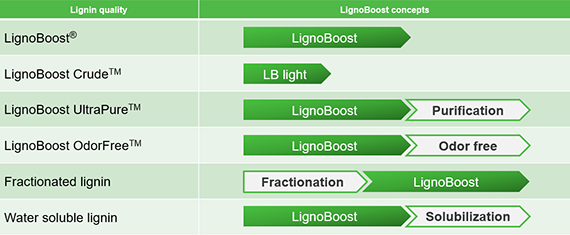 Bringing our customers' performance forward
The goal of Valmet is to bring our customers' performance forward, and LignoBoost can help pulp makers create profitable new and renewable products. To learn more about the possibilities of lignin or to get help in developing your lignin business, get in touch with us through the "contact us" pages above or your local Valmet office.