OptiAir ventilation process and product family


The whole process ventilation in one package
Valmet's family of paper machine ventilation processes and products goes under one name – OptiAir. The OptiAir family is a complete energy-efficient set-up for paper and board machine ventilation. The family consists of the OptiAir Hood, OptiAir Recovery and OptiAir Environment processes and products.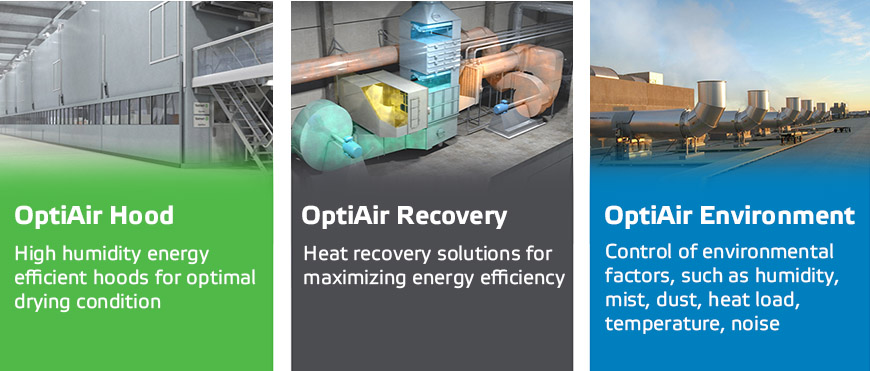 Energy efficiency is your key to improved productivity
Global targets have been set for energy saving, the reduction of carbon dioxide and better energy efficiency. Energy is also one of the biggest costs in paper and board making, but we have good news for paper makers! There is still a lot of potential for energy saving. OptiAir process ventilation solutions provide excellent opportunities for reducing costs and increasing the profitability, of both new and old machines.
Air systems can reduce energy consumption significantly by:
efficient and minimized heat and electricity use in air systems
affecting the energy consumption of cylinder dryers
decreasing the use of primary energy through heat recovery systems
The energy used in the paper drying and evaporation process is bound in the exhaust air. After that, the process ventilation and heat recovery functions practically define the total energy efficiency of the machine.
Once a huge amount of energy has been used for drying, the energy doesn't disappear. The energy in the steam used in the cylinders is released by condensing the steam. Then this energy is transferred through the cylinder cell into the paper sheet. The steam energy will be bound in the evaporated water and finally all the evaporated water with energy from the steam will be in our exhaust air. Actually, we have more energy in the exhaust system than in the steam flow into the cylinders, because there is already quite a lot of energy in the incoming supply air flow. In a modern paper or board machine, over 50 MW of heat can be recovered. It is important to utilize this energy efficiently.
Significant energy content exists not only in the dryer section but also in other process exhausts such as the vacuum system exhaust and the exhaust air of coating dryers. In practice, there is enough energy in the process exhausts for all water and process air heating. Machine hall heating in cold regions can be also done with this secondary energy.
From the results of energy analyses, we can separate out the various actions and their impact on steam consumption.

OptiAir process ventilation offers complete control of energy and air flows in the paper and board machines.