Oct 28, 2021
"A company that makes the world beautiful" with packaging – Ajin P&P's slogan becomes even more true now that the company's smart factory plan has just been approved by the Korean government.
Ajin P&P is a corrugated board and packaging manufacturer located in Korea's fourth biggest city of Daegu. The company has played a leading role in the packaging and paper industry for over 45 years. Today, it is the largest corrugated board producer in the southeast region of Korea.
Business expansion shaped by market trends
In 2019, Ajin decided to rebuild its PM 3 paper machine to increase production and improve end-product quality and turned to Valmet to team up.
"At first, we faced objections to such an investment in a relatively small factory," recalls Jin-Doo Kim, CEO, Ajin P&P. "However, our final rationale was the growth of online shopping by 15% per year and home delivery by 13%. With the rapid growth of the e-commerce market, demand for corrugated and white cardboard continues to grow, and COVID-19 has fueled demand even more. In addition, the Korean government plans to tighten environmental regulations, banning plastic by 2030. Therefore, more sustainable packaging will be needed."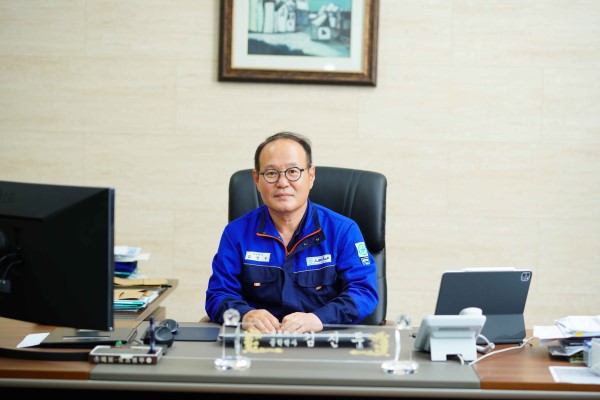 Jin-Doo Kim, CEO, Ajin P&P
Long-term collaboration brings success
"When choosing our suppliers, we value long-term and stable collaboration," says Jin-Doo Kim. "Valmet is creating innovative technologies that adapt to the changing world. With them, we get superior manufacturing capabilities, the opportunity to improve our product performance and long-term competitiveness."
For the project, Valmet supplied a forming section rebuild with specifically designed Sleeve Roll technology. The delivery also included Bale Tester equipment and OptiAir Recovery mist remediation.
The Sleeve Roll's sleeve-like outer layer creates dewatering pressure with a shoe. The top forming unit is therefore vacuumless, greatly increasing dewatering capacity and energy savings.
Valmet's Bale Tester is a real-time raw material quality measurement system based on near-infrared technology. Its drill penetrates the bale on a truck and extracts a sample. This reliable system provides information on the content of each load and results in production cost savings.
The collaboration has been very successful.
Sustainable business a top priority
Ajin also values the importance of sustainability and wants to lead the recycling business. "Since environmental issues are our top priority, we plan to operate our facilities at a much stricter level – and again, we need technologically advanced partners for that," Jin-Doo Kim says.
In the near future, Ajin P&P will launch its smart factory, which has just been approved as the first pulp and paper project in the Korean government's drive to encourage smart factory development in the manufacturing sector.
To help with the new project, Ajin has selected Valmet's DNA machine control system. Following Ajin's sustainability strategy, the transition to a smart factory will provide Ajin with better reporting on energy consumption, chemicals, water, air and raw materials.
"This is not just a one-shot project," Jin-Doo Kim says. "Rather, it's the start of many long-lasting projects for our smart factory."
In this way, the company can continue making the world beautiful…with packaging.