Workshop and roll services for tissue production


Your machine was born to produce, let's keep it that way!
Every tissue machine is an individual with its own specific needs. Valmet Roll Services has got a vast amount of expertise to move your tissue production line's performance forward. By utilizing our services, you can avoid unplanned shutdowns, increase efficiency, runnability and quality.
Turn your rolls and cylinders into a data source for enhanced efficiency
Rolls and Yankee cylinders have an essential impact on the tissue quality and production efficiency. We can help you reach the full potential of your tissue production process with state-of-the-art technology. The full range of roll products extends from new rolls and the best-fit-to-purpose roll covers to upgrades. Our Yankee services provide a complete palette to support and improve your Yankee operations. With Intelligent Roll Solutions you can use online measurements to solve problems based on the real reasons behind them, thus turning your rolls and cylinders into a data source for process efficiency.
From time to condition-based maintenance services
The condition-based maintenance services enable planning maintenance actions based on the actual condition of your equipment. Our Modular Maintenance Services consist of maintenance, reconditioning and upgrade services which allow you to build just the right combination of services for your mill.
A unique combination of people & technology
Valmet provides you with a unique combination of technology and people close to you wherever you are. Our global network of roll service centers is available in over 30 locations around the world. In addition to that, there are Valmet's process industry professionals in over 120 locations worldwide - plus remotely! To reap the best benefits from these experts, you can get them as a part of your team through a service agreement.
Global support, local presence
Valmet's competence in this area includes decades of experience with roll equipment and performance, the largest installed base in the business, and the most extensive process know-how. With over 20 roll service centers around the world, our committed team of specialists provides a dedicated global service that is close to the customer. Our local teams are supported by Valmet's global network of expertise.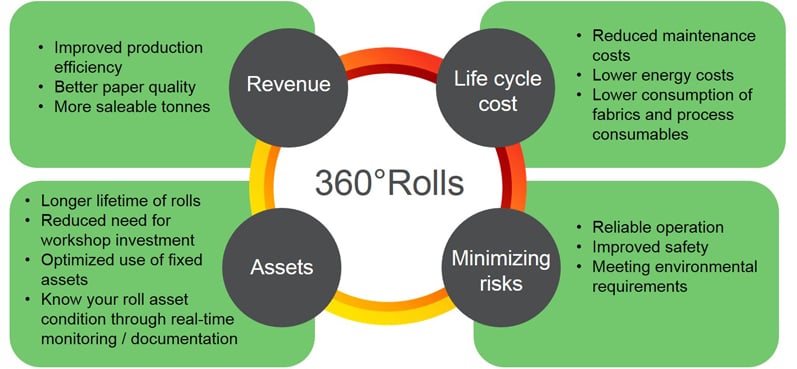 Agreement-based cooperation offers the highest value added.
Customer success stories and technical articles

Read Valmet's Tissue Services Catalog! We have gathered together our service solutions for tissue producers. Whether you are looking at large or small issues, please refer to our Service Catalog for solutions!