Roll maintenance for tissue machines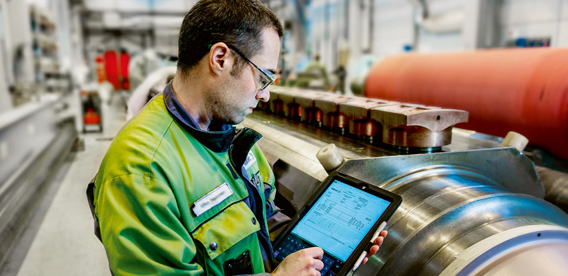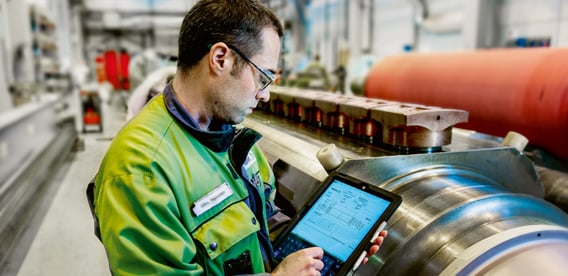 Modular maintenance solutions provides maximum performance
Valmet's modular maintenance service solutions consists of maintenance, reconditioning and upgrade services. With a modular offering scope, roll maintenance services from Valmet is more flexible than ever. These clear offering modules can be mixed and matched to easily build the service combination you need thus saving both time and money.

Benefits of modular maintenance service solutions
Easy to build the service combination you need from the modules
Clear offering and scope
You only pay for the necessary work
You approve all additional work, including parts and repairs, before it is carried out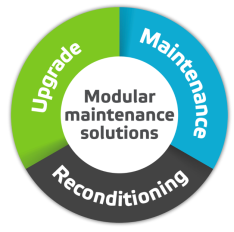 The basic scope of the work is to ensure components are in acceptable operational condition, saving on long-term maintenance costs.
Thorough inspections of present component condition, an inspection report and proposals for possible additional work and part replacements needed to bring component to "as new" condition.
Offering upgrades on existing components with modern features, based on customer needs, to enhance performance and productivity.
Your nearest service center can provide proper recommendations on which service module is best for you.
Valmet on-site roll services provide maintenance services, analyses and audits at the mill site to solve your problems and simply make your life easier.
From timely to condition based-monitoring
Monitoring based on iRoll nip profiles, vibrations and optimization data are some examples where roll condition information is analyzed. This provides security for our customers that technical solutions and recommended upgrades are based their actual needs and goals.
Clear and visual overview to your roll population
Valmet Asset Manager is a web-based computerized system which contains all critical roll-related information in one place. It includes, for example, up-to-date roll status and location information to indicate where each roll is in given time frame, availability of spare rolls and running period statistics. Valmet Asset Manager is easy-to-use tool for mill-wide information sharing.
Save time and money with 360°Rolls
Valmet's overall approach to roll services sees the bigger picture. Our 360°Rolls view takes into account the entire roll environment, for example, we focus on how the fabrics, roll covers and doctor blades perform together in the process.
Through a combination of extensive roll technology expertise and in-depth process know-how, modular maintenance solution eliminates unplanned shutdowns and maximizes roll maintenance intervals.
Value added with 360°Rolls
Revenue

Improved roll performance through roll reconditioning or modernization
No production speed limitations relating to the mechanical condition of rolls
Maximum availability of rolls

Life cycle cost

Optimized roll maintenance intervals for reduced costs
Energy savings through roll modernizations
Reduced number of roll failures in machine

Assets

Longer lifetime of rolls
Valmet can take responsibility for less frequent maintenance tasks requiring special expertise
No need to invest in expensive special equipment

Minimizing risks

Preventive maintenance planning for minimized risk
Availability of spare parts in the roll overhaul
Maintenance history available to support preventive actions to remove known risks
Keeping your production rocking and rolling >>
Customer success stories and technical articles
keyboard_arrow_leftBACK
{{currentHeading}}
keyboard_arrow_right
{{productForm.Name}} {{"("+productForm.Size+")"}}
| | | NAME | TYPE | LANGUAGE | FILE | |
| --- | --- | --- | --- | --- | --- | --- |
| | {{file.MaterialIcon}} | {{file.Title}} | {{file.MaterialType}} | {{lang(file.Language)}} | get_app{{file.ContentSize === 0 || file.Title == null ? "" : filterSize(file.ContentSize) + " MB"}} | |