Are you looking for improved energy and raw material efficiency, reduced process variability, improved quality and optimized production or enhanced environmental performance?
Our comprehensive services offering covers spare and process parts, workshop and roll services, fabrics, maintenance development and outsourcing, field services and process upgrades.
We are committed to provide the best service experience to you. Are you ready to succeed with us?
Services designed to meet your business targets

Optimized operational costs
High availability & reliability
Increased production efficiency
Reduced emissions, energy and water consumption
Maximized value of raw materials
'Valmet's way to serve' concept aims to ensure the right combination of services for every stage in the lifecycle. The services offering ranges from spare and process parts to outsourcing and process upgrades, with the possibility to complement them with Industrial Internet solutions on site and remotely.
Over the years, we've been constantly developing our services to improve the reliability and performance of our customers' production processes. Valmet's unique combination of process technology, services and automation, and more than 200 years of industrial experience lay a strong foundation for helping our customers to reach the wanted maintenance and operational results of their production process,"
Success stories from our customers

Trusted partner with years of industrial experience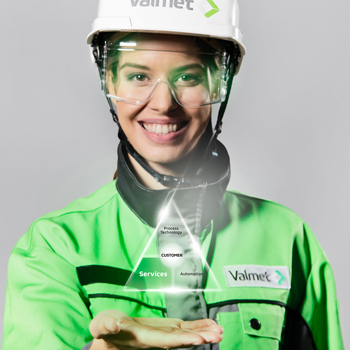 The best service experience is bound to our core commitments

View relevant services related to your business

Valmet Forward Talks podcast is now available!
Tune in to hear Valmet's professionals and visiting industry experts discuss topics like megatrends, sustainability, innovations and digitalization to give you new ideas and food for thought.

Valmet services offering transformation over the years

Slide over the pictures to view the services at present

Sign up below to:
1. Learn more how you can develop your mill / plant to reach and exceed your targets
2. Receive information about new and upcoming Valmet services and events related to your industry straight to your inbox
3. Listen to the upcoming podcast series discussing customer challenges and how to improve processes and operations
More companies who have trusted Valmet