Nov 30, 2022
Palm Wörth installed a Valmet Sizer Roll Cover CF on their BM6 containerboard machine to improve its performance. The new roll cover has a running interval of more than 200 days, leading to higher machine availability and better paper quality.
Palm Wörth, based in Southwest Germany, is one of the most efficient board mills in the world. Their BM 6 containerboard machine was inaugurated in 2002, and with an annual capacity of 750,000 tonnes, it is the world's second largest machine in its field. One of the things the family-owned Papierfabrik Palm is known for is their genuine will to continuously improve production and processes. At Palm Wörth, one of the latest improvements was to revisit the performance of the machine's sizer.

Targeting improved sizer performance and quality
From the outset, Palm Wörth and Valmet set clear targets for improving the sizer's overall performance: increasing the availability of the sizer; reducing breaks in the paper web; and improving paper quality. "Knowing the technology by heart – Palm Wörth's BM6 is equipped with Valmet's OptiSizer – we proposed the replacement of the current rubber cover with Valmet's special polyurethane Sizer Roll Cover CF," says Peter Blasl, Senior Product Sales Manager, Valmet. "We also conducted further optimization of cover hardness and cover thickness to achieve the best possible result. The new covers were made harder than the old rubber covers, which helped achieve excellent runnability and provided potential for improved starch efficiency with optimal nip pressure."
The Valmet Sizer Roll Cover CF is a premium polyurethane cover designed for both film coating and surface sizing. It has excellent wear and marking resistance for long grinding intervals, and favorable surface properties for the best performance.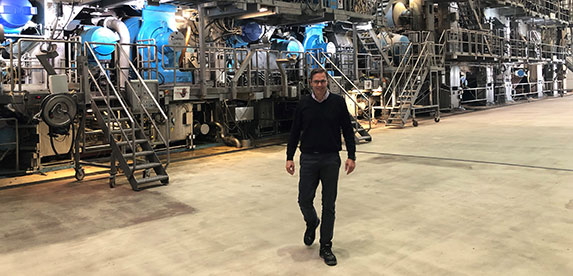 Excellent results in performance and sustainability
The performance of the sizer and the new polyurethane roll cover has been continuously followed up since the upgrade. The statistics show that the running interval of the roll cover has increased from less than 100 days to more than 200 days – and there was nearly no wear. This led to an even moisture profile on the paper web, avoiding wrinkles and winding issues. The improved sizer performance immediately led to more machine availability and better paper quality.
With this wear rate, operating a Valmet Sizer Roll Cover CF with a running interval of more than a year is realistic."
The cherry on the cake is that the longer running intervals decrease the need for roll cover grinding. This leads to maintenance and transportation savings, as well as reduced CO2 emissions, and thus better profitability and more sustainable production.