Machine vision
The Valmet IQ Process and Quality Vision (PQV) system is a comprehensive machine vision solution that covers the entire pulp and paper production process, as well as the production processes for other sheet-based materials. It contains all the key elements of advanced process and quality vision; Web Inspection System (WIS) and Web Monitoring System (WMS) integrated into one scalable system. The Valmet IQ Process and Quality Vision system will help you, as it has helped many other customers worldwide, to maximize production line efficiency, end-product quality, and business performance.
Valmet IQ Web Monitoring System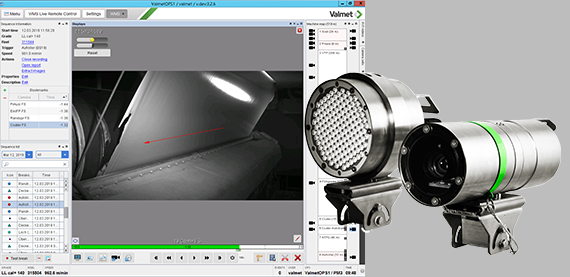 Fast and easy root cause analysis of web breaks. The enhanced features provide pulp and papermakers with higher-quality images than before for analysis purposes, enabling them to take virtually instantaneous corrective measures.
The Valmet IQ Web Monitoring System (IQ WMS) records video images of the crucial events in the process, such as web breaks, tail feeding and defects triggered by the IQ Web Inspection System.
Recorded images are available for playback, enabling operators to quickly find the origin of the event and correct the problem. This shortens downtime after breaks and improves runnability. Optimized machine efficiency delivers fast payback on investment.
IQ Web Monitoring System features:
Synchronized recordings as a key for fast and easy root cause analysis
Light area adjustment (patent pending) – free rotation of LED light
Balanced chain of image handling without losses
Web inspection system triggering
Automated region of interest analysis with related recordings
Valmet IQ Web Inspection System
The IQ Web Inspection System (IQ WIS) provides new information to reduce the origins of web defects in the effort to optimize production quality and efficiency. The result is a fiber-based product that meets the highest standards for visual quality, printing performance, and high efficiency converting. With the IQ Web Inspection System operators can quickly focus on the specific quality problems, which result in profitability loss. Using this new information the operator can make the necessary changes in the machine operations. Optimized machine efficiency and high product quality deliver fast payback on investment.
Web Inspection System functions:
Defect detection with unique lighting technology
Integration to WMS for finding the origins of quality problems
Real-time defect map with defect viewer
Defect classification
Periodical defect analysis linked to machine component lengths
Defect trend and profile
Reel and defect reports
Trim planning tools to optimize customer roll quality
Automatic target stop control for re-reelers and winders
Valmet IQ Web Inspection System is powered by Dr. Schenk. Read more about the company.