Odorous gas control - Mill wide NCG handling
Each pulp mill has a distinctive odor. Some of the odorous gases and compounds released during the pulping process can be harmful or even dangerous to the people exposed to them. That's why they must be eliminated in the safest and most efficient way through an odor control system.
With Valmet's Mill-Wide NCG Solutions for non-condensable gas (NCG) collection and primary and back-up incineration of gases, you can efficiently control and minimize the odors emerging from your pulping and chemical recovery processes.
The benefits of Valmet's cutting-edge NCG handling technology include effective odor control and the ability to meet the ever-tightening environmental regulations, and consequently better relationships with the surrounding communities. You will also boost the health and safety of your employees by reducing the toxic poisoning and explosion risks posed by hazardous gases. Efficient odor control also has a positive impact on your mill's chemical balance, resulting in major savings.
Customized solutions for NCG handling
Valmet offers collection and handling systems both for Concentrated Non Condensable Gas (CNCG) as well as for Diluted Non Condensable Gas (DNCG). Our solutions provide you with an extremely high oxidation rate and superior system availability, resulting in additional savings through reduced maintenance time and increased production time.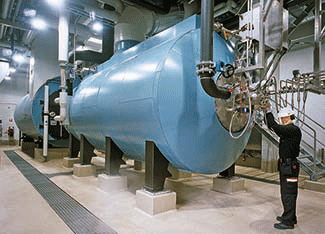 A further benefit is the recovery of sulfur. Sulfur can be recovered back into the pulp mill's chemical cycle in a recovery boiler or from the flue gases as sodium bisulfite or SO2 water. If required, lime scrubbing can be used to completely remove excess sulfur from the chemical balance.
In addition to CNCG and DNCG systems, Valmet's product portfolio also includes Stripper Off Gas (SOG) Handling Systems and Recovery Boiler Dissolving Tank Vent Gas Handling Systems (DTVGS).
Over 40 years of experience with hundreds of deliveries around the world
With successful references around the world and over 40 years of experience in developing and supplying NCG systems, Valmet knows how to design safe mill-wide systems to best handle hazardous gases. Our diverse expertise and extensive experience cover all process areas in the pulp mill environment.
Valmet's modern odor control technologies have provided impressive results and improved safety in hundreds of pulp mills around the world. For you, this reliable and effective technology means running a safe, environmentally friendly and odorless pulp mill.

CMPC Guaíba pulp mill becomes totally odorless
CMPC Riograndense Ltda's Guaíba pulp mill in Brazil no longer emits any hazardous or malodorous gases into the environment. They are efficiently controlled and destroyed by Valmet's non-condensable gas (NCG) treatment system – probably the most comprehensive one in the world.