A scheduled maintenance service plan guarantees product quality and machine runnability for 1- 2 years. The service includes cleaning, disassembly. external and internal inspection, balance checking, remounting bearing assemblies, recovering and grinding as needed and painting. Additional services can include NDT, housing and journal repairs, head fit repair and dynamic balancing.
Benefits
Complete inspection and comparison to OEM specs
Longer running times
Lower maintenance costs
Improved end product quality
Optimized roll performance through modernization
The service plan is available for all P&P manufacturers regardless of OEM or grade being produced. Here are a few of many references showing the proven success of reducing unscheduled downtime with press roll scheduled maintenance by Valmet.
Case: North America corrugated medium producer, 2nd press LNP roll
A corrugated medum machine was built in 1974 by Black Clawson. It was rebuilt in 1996 by Valmet. The wire width is 180 inches and speed is 2500 fpm. Valmet's scheduled inspection and maintenance of the 2nd press LNP roll discovered that there was excessive corrosion on both front and backside shellfit and headfits after the heads were removed. Also, the headbolts were over five years old.

Per Valmet safety advisory, headbolts on long nip press rolls should be replaced every five years and headfits every 10 years due to the high stress on LNP rolls. This work was performed, as well as removing corrosion. As a result, unscheduled machine downtime was reduced, the press roll is safer and components will last years longer.
Case: North America linerboard producer, 2nd press top roll
A Pusey & Jones machine built in 1948 makes linerboard with a wire width of 180 inches and speed 2000 fpm. As part of the 2nd press top roll scheduled maintenance Valmet inspected the bearings. The bearing fit was undersized on both the front and back sides, the seals had hardened and both the front and back bearing housing bores had light corrosion.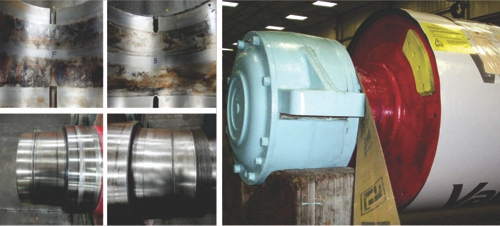 Valmet brought the roll back to OEM recommendations. Runnability was improved and unscheduled machine downtime was reduced.
Case: North American pulp producer, 3rd press roll
Built in 1990, this Andritz machine produces pulp, bleached soft wood. The wire width is 177 inches and typical speed is 750 fpm. Valmet's maintenance of the 3rd press roll showed that the bearing housings had heavy corrosion and were out of round.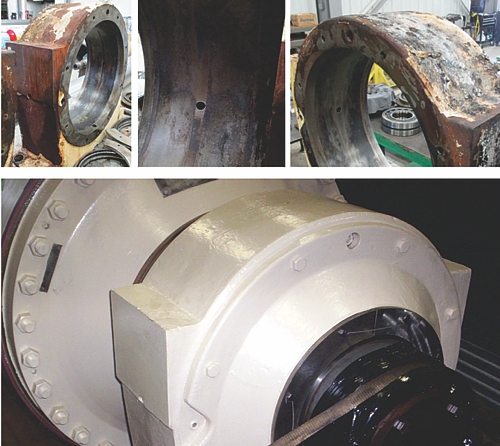 Valmet brought the components back to OEM specifications. The bare metal blast and painted bearing housings increased component lifetime. Also, unscheduled machine downtime was reduced.
For more information about what Valmet press roll scheduled maintenance can do to reduce your unscheduled downtime, contact your Valmet representative.