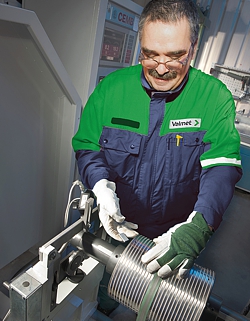 Reliable operation of spreader rolls significantly improves the CD tension profile of the sheet and fabrics. Reliable and well-functioning web and fabric spreading are crucial in guaranteeing production line efficiency.
Valmet spreader roll reconditioning service leads to a clear increase in service intervals and cuts overall maintenance costs. In addition to keeping spreader rolls in excellent condition, the spreader roll service ensures optimized roll performance, improved end product quality and reliable, wrinkle-free runs. Keeping spreader rolls in excellent condition keeps performance at the optimal level and reduces overall maintenance costs.
Benefits
Reliable spreader roll performance
Longer running times
Lower maintenance costs
Improved end product quality
Optimized roll performance through modernization
Reconditioning - as good as new
Roll reconditioning services from Valmet take care of bringing your rolls to as good as new condition. From receiving the unit until follow up monitoring after it has been shipped back to the customer, our process is streamlined to ensure the rolls are in the best rebuilt condition. During the typical reconditioning process, services not included in the standard offering can be provided as recommendations based on roll condition. Further roll tests can be done for leakages and deflection, vibrations and grinding and more. Extend your roll lifetime with Valmet reconditioning services.

Valmet offers spreader roll services for all spreader roll types used in the paper industry, regardless of their origin or make. When a roll arrives at Valmet's service center for reconditioning, its running conditions are carefully checked using specialized spreader roll software. All worn components are replaced with new, high-quality spare parts, and additional upgrades are proposed when feasible.
Valmet's global expert network has up-to-the-minute information on hundreds of spreader roll services. Maintenance is not limited to mechanical problems; Valmet also understands the process requirements for optimal spreading performance. Valmet's continuous development of high-technology spreader roll modernizations allows us to offer innovative solutions which enhance production efficiency and extend runs, resulting in all-round cost control.
Upgrades for optimized performance
Spreader roll services also include upgrades to cost effectively improve the technical characteristics of existing spreader rolls. Rolls can be upgraded in a number of ways, such as adding ceramic hybrid bearings, changing the coupling type between the shell spools, or adding drying elements to extend bearing life. Continuous development of high-technology solutions allows a spreader roll's life cycle to be prolonged, enhancing production efficiency.
Spreader roll sleeves and coatings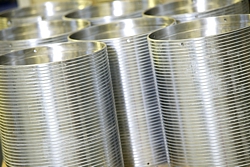 Spreader roll maintenance includes the most reliable spare parts available, to ensure high end product quality. Valmet offers spreader roll sleeves and coatings for all spreader roll applications in the paper industry. These include standard, wear-resistant, ozone-resistant, temperature-resistant and non-stick sleeves, fluoropolymer shrink sleeves for release properties, hard chrome plating and Wolfram carbide.
Added value with agreement-based cooperation
In addition to spreader roll maintenance and upgrades, Valmet's 360° Rolls approach takes the entire roll environment into account. Gaining a complete view of the process and the equipment that surrounds the rolls permits Valmet to create a solution that helps customers maximize performance levels while minimizing maintenance costs.
Agreement-based cooperation also offers the best value when it comes to spreader roll service. Valmet's tailored agreement levels are aimed at maintaining roll availability, improving efficiency and optimizing machine performance. The extensive process knowledge and target-oriented cooperation of a spreader roll service agreement lead to all-round control of roll maintenance spending.
Our spreader roll service experts perform root cause analysis and monitor the whole roll environment, inspecting all relevant factors for increased spreader roll performance and improved processes. Service agreements are tailored to match the needs of individual customers, helping to minimize the total cost of ownership.
For more information on the benefits of taking advantage of Valmet's roll reconditioning services for your spreader rolls, contact your Valmet representative.