Roll service agreements for board and paper making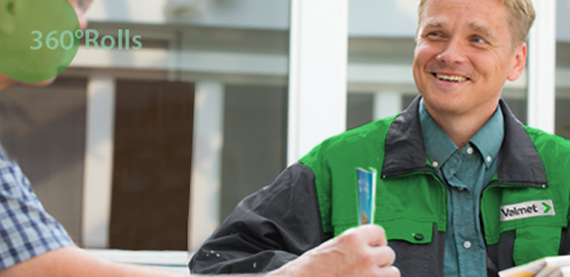 Added value from agreement-based cooperation
The goal of 360°Rolls agreements is to ensure that customers can meet the requirements set for their operations. Valmet helps board and paper makers to maintain high levels of equipment operations, improve efficiency, and give all-round cost-control of their roll maintenance spend. By setting common targets, the performance of rolls can be raised to a completely new level.
360°Rolls agreements are an efficient way to minimize the lifecycle costs of rolls. This is achieved by optimizing roll maintenance intervals, adopting best practices related to roll covers, and reducing the number of roll failures. A 360°Rolls agreement is not only a question of maintenance, it is also about making sure the customer has the right technological solutions in place to improve efficiency.
Valmet's 360°Rolls agreements are always tailored to meet specific customer needs. The range of services is grouped into three levels: Maintain, Improve, and Optimize. The choice of service depends on the type of involvement you would prefer.
Maintain
Keep the existing machinery up and running
Valmey work procedures
Valmet standards and tolerances
Valmet spare parts
Roll reliability
Improve
Technology updates for improved efficiency
Latest technology available
Follow-up and monitoring
Spare parts inventory optimization
Improved efficiency
Optimize
Long term commitment
Common targets
Technology updates for improved performance
Guaranteed results with minimum lifecycle cost
Optimize costs
CUSTOMER SUCCESS STORIES AND TECHNICAL ARTICLES