May 19, 2022
Every product needs packaging – strong enough to protect its contents and visually attractive enough to tempt the buyers. As a producer of coated board, you need to ensure both the appearance and function of your end products. At the same time, you need to pursue the harmony of the entire production line, from uncompromising quality to extreme efficiency and the highest sustainability, with lightweighting and the right fiber strength. At Valmet, we can assist you in the quest for this harmony.
Sales of consumer goods are growing steadily. With this upward trend, the role of packaging within the product experience is becoming increasingly important. Whether it is food, electronics, cosmetics or luxury packaging, it needs not only to protect the product but to connect it with the consumers.
The pursuit of harmony
To live up to the market hype, as a producer of coated board, you must be able to maximize your production capacity and overall equipment efficiency. You need to secure high availability and the reliability of your operations, but also stable and flawless quality with strength and visual attractiveness. Finally, you must also seek sustainable operation, including high energy, water and raw material efficiency.
We provide on-target products and services for coated board lines covering the entire integrated production chain – from woodyard and fiberline to coating station and calender, and all the way to the winders. In this article, we look at the scope of services from new rolls, roll covers and roll maintenance services to intelligent roll solutions, and workshop services for mechanical or chemical fiberlines and stock preparation. Combined with Valmet's way to serve, we will help you achieve your goals with these solutions.
Harmony of look and function
As a producer of coated board, you are committed to creating innovative and sustainable packaging solutions that allow brands to connect with consumers. As your dedicated service partner, we will assist you in securing your end products' brightness, flawlessness and good surface printing characteristics.
One of our solutions encouraging the harmony of look and function is Valmet Wet Pressing. It makes it possible to avoid various issues such as shadow markings that can damage your end products' appearance. With a suction roll cover redesign, it also permits lower nip pressure and optimized nip uniformity, resulting in bulk savings – meaning you can achieve savings in fiber consumption. The consumption of virgin fiber can be decreased by 20–25 percent.
By reducing fiber consumption, mills can gain benefits from cost-effectiveness, sustainability and the circular economy."
Another solution that plays a remarkable role in end product quality is the calender and its swimming roll redesign: "Calendering as such has a high impact on end product quality, and swimming roll upgrades with the right roll cover improve calender profiles, contributing to a better, bulkier – and stronger ­– end product," she says.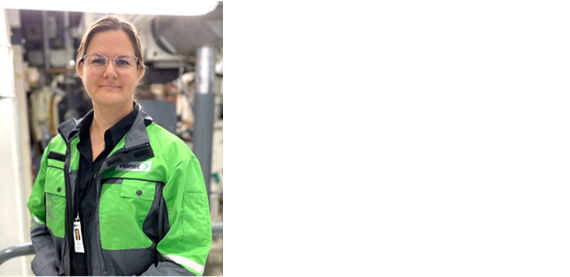 Harmony between quality and efficiency
Smooth runnability and high availability can be tough for a long production line with a multilayer wet end and coating concept like the cartonboard process, resulting in plenty of rolls and other equipment that must be maintained. We understand this challenge, as well as how crucial long grinding and roll change intervals are for your processes. Our response is that we offer products and services that help you avoid unplanned interruptions to production.
For example, our suction roll upgrades for an improvement in reliability enable extended roll run times by reducing axial or end seal wear. Our new solutions for suction roll cleanliness can also reduce the number of unplanned cleaning shutdowns. This is achieved by keeping the roll shells effectively clean through improved compact cleaning shower solutions or by preventing oil leakages in the rolls. In addition, solutions for pulp dewatering and washing like TwinRoll press reconditioning, as well as upgrades with new perforated plates, can enhance the fiberline process throughput by up to 5 percent. To secure the availability of fiber processing equipment, Valmet offers Exchange Unit Agreements as an alternative to your own spare units.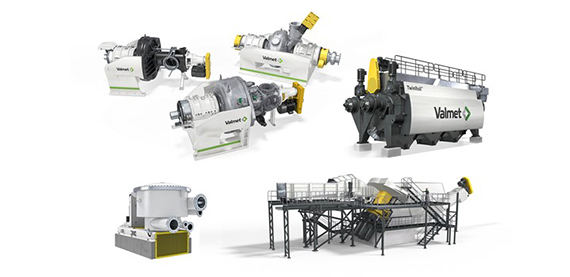 For producers of coated board, every effort to improve efficiency goes hand in hand with uncompromised and flawless quality. To do this, we can offer several products that aim to optimize profiles and the sellable output. Among them, our modern polyurethane coater roll and sizer roll covers enhance end product quality by reducing sizer nip roll or coater backing roll wear more than standard rubber choices.
One of the most effective ways to boost both quality and efficiency is Valmet's iRoll technology. For example, mills have benefited from up to 40 percent lower coat weight 2 sigma variation by utilizing Valmet's portable iRoll measurement tool for sizer applicator rod load profile analysis.
Harmony between lightweighting and strength
Lightweighting involves savings by reducing basis weight. Saving a gram of product means saving a gram of everything. The benefits are felt at every stage of the value chain, as lighter board means savings in raw materials, energy consumption and transportation costs.
At the same time, you cannot sacrifice the end product's strength, which is driven by the stiffness and bulk of cartonboard.
Our improvement solutions for various process sections can also contribute to lightweighting and fiber strength in coated board production. An example of such a process is refining, which has a major influence on board stiffness. Refiner upgrades enable lower energy consumption and an easy plate change, which means you can deliver the same fiber strength properties with 50 percent less refining energy consumption. You can thus achieve the full potential of your existing refiners, while reaping benefits from performance improvement and energy and kraft fiber savings. This creates new opportunities for lightweighting or greater use of mechanical pulp – or even of mixed waste.
Harmony of sustainability
With today's globally accelerating inflation rate, increasing raw material and energy prices and logistics costs, and challenges with the availability of certain commodities, moving toward sustainable production is the hard reality the entire industry and you as a producer of coated board face. Thanks to our intensive and enduring R&D focus on energy-efficient solutions, we can respond to this challenge with a versatile offering for environmental sustainability solutions.
For example, to support you on your way to sustainable production and a smaller carbon footprint, we provide a range of solutions for greater energy, water and raw material efficiency. With them, you can reduce electricity and water consumption, as well as improve dewatering and moisture profiles. For example, a refiner shaft seal upgrade with a closed mechanical seal needs no water for cooling and lubrication. The water saved through this upgrade amounts to approximately 80,000 m3 of cooling and lubrication water, corresponding to about 30 Olympic swimming pools.
Olkkonen reminds us of the many possible ways to reduce water consumption and improve energy and raw material efficiency: "Many of our modern upgrades and on-target roll cover redesigns allow savings in water, raw material and energy consumption." As for the future, she pinpoints the strong trend throughout the packaging industry to shift from plastics to renewable and recyclable fiber-based packaging: "For coated board producers, this calls for new methods such as barrier coating. Coated board's direct food contact applications require high product safety standards, stricter criteria for raw materials selection, and increased hygienic technology and production solutions. At Valmet, we're ready to meet the future with you and to develop solutions that can serve your changing production goals," Olkkonen concludes.
Text: Sari Lehtonen-Lammi