Intelligent roll remote support and data analyses are available from the Valmet Performance Center, providing a fast way to solve a number of challenges and support equipment reliability.
Valmet's remote support and analysis services connect papermakers to Valmet's experts online if they are using the iRoll, roll condition monitoring or other Intelligent Roll Solutions. The service allows papermakers to access an expert network with experience of hundreds of deliveries in a wide range of quality- and runnability-related improvement projects. Valmet's service provides them with a cost-effective, networked way of operating.
The analysis and support services include roll maintenance support, the iRoll upkeep service, nip profile and roll condition analyses, vibration and barring analyses, hardness or tension profile improvements, alignment and nip loading equipment condition checks, and reporting. Valmet's experts support mills in regularly checking the iRoll or other systems. They carry out data and condition analyses, and the mill receives recommendations for actions based on the findings.
The remote connection can be arranged via a fixed or mobile network. The remote access is secure, with the Valmet Performance Center acting as the connection hub.
Read more about four case examples below:
Analysis cases for press nips: Nip closing, alignments, loading equipment condition and performance of deflection-compensated rolls
Data analysis over a remote connection supports onsite personnel, reduces the need for manpower and saves costs. An example is a check to identify if a press nip is operating as it should. With the iRoll system in use, it is possible to observe if the nip is closing evenly on both sides. However, this indicates if there is a need for alignment actions or loading equipment maintenance.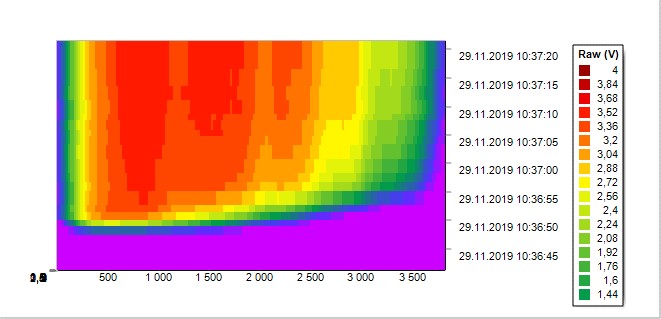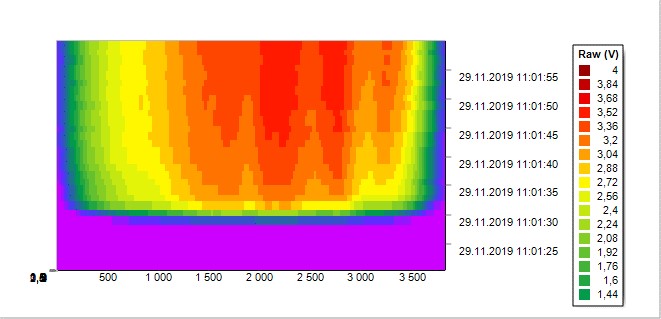 Another target of analyzing nip load profile data is to test the function of the nip-loading equipment and related mechanics. Loading trials reveal friction, faulty cylinders, effects from leakages or alignment issues. Loading equipment tests and data analyses can be supported remotely to assist onsite maintenance personnel. Data from a longer period reveals fluctuations over time and slowly evolving loading issues.

When more data sources are available, it is possible to explore the analysis more deeply and add further value. For example, if your target is to avoid roll cover failures and extend running intervals, an embedded temperature profile measurement can be added to other iRoll data.
In the case example below, several roll cover failures occurred on a deflection-compensated roll on a 1st press bottom position. An iRoll system was installed, and its data was analyzed, including nip profile and roll cover temperature profile measurements. The crowning and loading equipment proved to be fine when the data during off-sheet conditions was analyzed.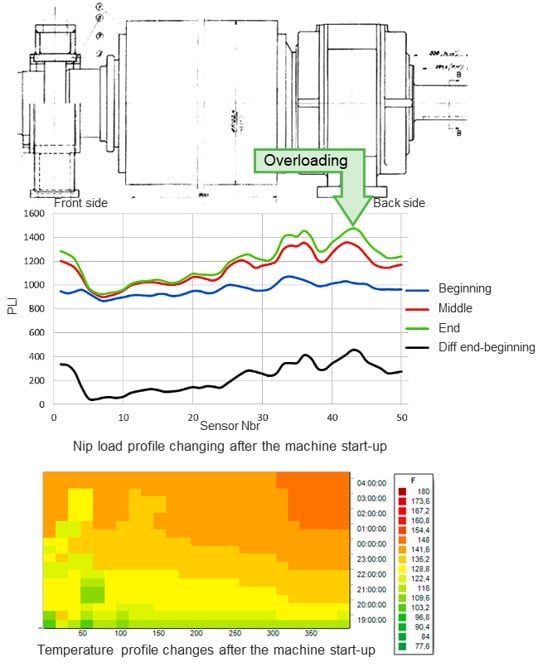 During running conditions, however, the roll became overloaded on the drive side, as shown on the left in Figure 4. The temperature also increased on the drive side, creating a significant risk of cover failure.
It was concluded that the internal oil temperature was creeping higher after each machine start-up. Oil circulation needed to be enhanced to prevent it from heating up the roll on the exhaust (drive) side. The nip profile skew could be compensated with side-to-side pressure. As a long-term improvement, the rolls were later upgraded at a Valmet roll workshop to enhance the oil flow and reduce internal heat generation.
Using the online nip profile monitoring systems enables a long-term approach to the analysis too. Various loading conditions, nip opening/closing situations, exceptional events, etc. over a longer period can be observed without doing onsite tests.
Let's look at a case where a mill wanted to increase nip load in a 3rd press position featuring a Beloit CC roll.
As the nip was equipped with the iRoll Press system, it was possible to check roll performance over a longer period using the data the solution provided. Valmet's experts used a remote connection to work with both online and history press nip data from the iRoll system. Based on the data from several months ago, it was possible to follow up the press nip data, including various changes in the press load conditions without having to carry out any load changes or bump tests.

An analysis of the various nip closings from the iRoll history data revealed that the nip was under-crowned with low nip loads and somewhat over-crowned with the new current higher nip load level (Fig. 5). Based on the findings, Valmet's experts recommended that the CC roll parameters should be updated to optimized ones.
Case: Sizer nip vibration and unplanned shutdown avoided
A machine producing wood-free uncoated (WFU) paper had vibration problems at the sizer. It was necessary to quickly check the situation and decide if the rolls needed to be changed in an unplanned shutdown.

The sizer was equipped with an iRoll system to measure both nip and applicator rod profiles. A remote data analysis revealed the vibration effect on the nip and rod profile, as well as the vibration starting point and method of excitation (Fig. 6). Precise wavelengths, nip-loading conditions and sizer roll rotation speeds were observed from the data.

Based on the data analysis, it was possible to indicate the loading and speed combination that excited the vibration and thus avoid it (Fig. 7)
Data from a longer period showed that there had been earlier signs that vibration was starting, but it had remained under control. The greatest fluctuation occurred on the tending side edge. Findings from the remote analysis were discussed with onsite maintenance experts. It was concluded that the fluctuation could be related to the worn-out loading arm pivot point.
It was discovered that the TS loading arm pivot point had inadequate lubrication and was worn out. Lubrication was enhanced, and the mechanical maintenance of the pivot point was listed for the next appropriate shutdown. The combination of load and speed that excited the vibration was indicated – and will be avoided in future if possible.
With these quick and appropriate actions, an unplanned shutdown proved unnecessary, and vibration events were avoided.
Case: Calender cover running interval optimization
Barring was limiting the running intervals of calender covers on a WFU machine, and frequent cover changes led to a short shutdown span. Some cover running intervals were longer; others were shorter. It was necessary to identify which factors needed to be optimized to avoid barring (Fig. 8).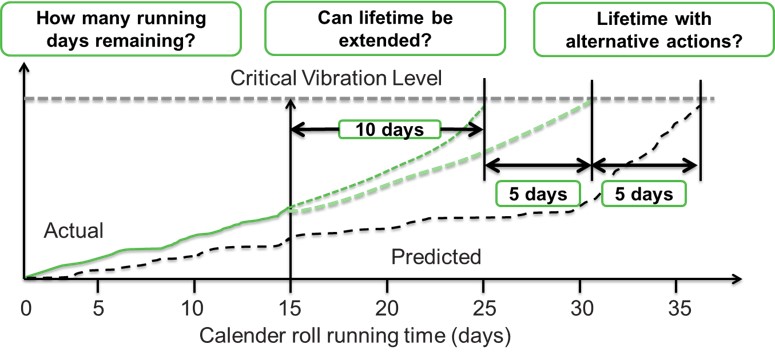 A remote data analysis was initiated to identify which conditions led to the high vibration increase rate. Data was collected to build a model to explain different calender resonance frequencies and their interactions. Data covered the running speeds, vibration level at the beginning of the roll run (grinding quality), vibration during operation, nip loads, temperature of the thermo roll, drive loads, etc. (Fig. 9).

Modeling and analyzing the running conditions and factors affecting the barring issue made it possible to identify and recommend the best operating point for each factor. It was also possible to define the most suitable speed ranges for individual rolls, diameters and loading conditions.
Optimizing the running conditions made it possible to identify the potential to extend running intervals by 20 percent. Additionally, recommendations for optimal roll diameters for future roll coverings help to release more speed potential.
Further results include longer shutdown intervals and cost savings.
Case: Reel nip load and hardness profile analysis improves reeling process performance
A printing paper producer was experiencing wrinkles on parent roll bottoms that caused web breaks at the winder. It was necessary to check the situation, identify the cause of the problem and avoid an unplanned shutdown by planning for the next one. The reel was equipped with an iRoll system to measure both reeling nip loads and parent roll hardness profiles. Remote data analysis was initiated by remote experts in cooperation with onsite experts to discover what was happening.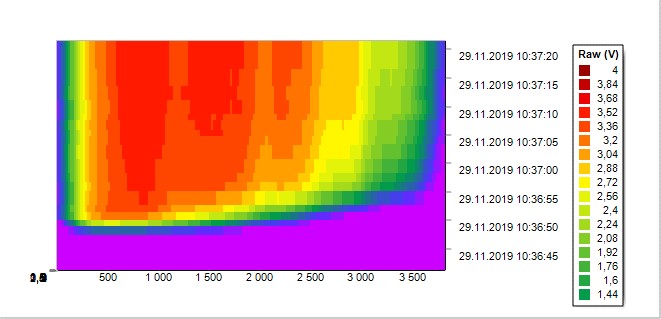 Remote data analysis based on the iRoll data revealed that the parent roll hardness profile was fine, and the online profile control, control system and actuators were working normally (Fig. 11). The hardness profile data revealed that there were clear discontinuities in the roll build-up in the small-diameter roll bottom area. It was discovered that the actual nip load trend differed from the desired reeling recipe: The nip load in primary reeling was too low.

Force peaks were also occurring during the load transfer from primary to secondary load (Fig. 12). These discontinuities appeared in the same diameter as the reeling defects and were clearly causing the problems.
Valmet and customer drew up an action plan for the next shutdown. The required experts and accessories were reserved for the site in cooperation between all parties. The reeling equipment was mechanically adjusted, including alignments, wear part changes, zeroing and calibration of position/force controls.
These actions made it possible to avoid reeling defects and winder web breaks. An unplanned shutdown proved to be unnecessary, and the reeling equipment now runs at a high-performing level.
Suitable for even more cases
These are just a few examples of how remote support services can help maintenance and papermakers. Data analyses can be used to support onsite actions in various ways, leading to a faster response time, reduced need for travel and cost savings in work hours. Combining data from various sources, modeling, analysis and remote support for onsite actions make it possible to bring the benefits of automation to maintenance actions.