Continued focus on improving profitability
Valmet continues to focus on improving profitability through various actions in e.g. sales process management, project management and project execution, in procurement and quality, as well as in technology and R&D.
To improve sales process management, Valmet is focusing on key account management and analyzing the customers' share of wallet. Valmet is targeting market share improvement at key customers and adding focus on sales training. Valmet has also launched 'Valmet Way to Serve' services concept – a shift towards more unified and customer-oriented services.
Valmet is continuously improving its project management and project execution by training personnel and implementing a Valmet-wide project execution model. By focusing on improving project management and execution, Valmet is targeting continuous improvement of gross profit.
Valmet has set a long-term savings target for procurement. In order to decrease procurement costs, Valmet is focusing on design-to-cost and adding supplier involvement through supplier relationship management. Valmet has also set a target for quality cost savings and is adding focus on root cause analysis of quality deviations. Furthermore, Valmet is continuing to adopt the Lean principles and methodology.
Valmet is constantly focusing on new technologies and R&D to improve product cost competitiveness and performance. The renewal of Valmet's ERP system will increase efficiency once implemented.
Quality costs
Quality costs (% of net sales)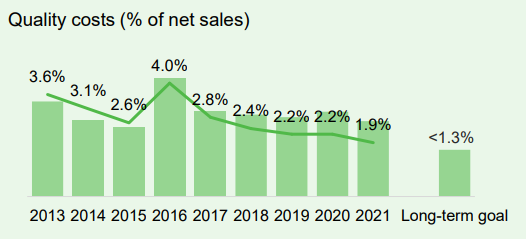 In order to reduce quality costs and lead times Valmet is implementing Lean. Implementing Lean is expected to improve efficiency and reduce waste. A common quality development approach, together with different quality tools and processes help reduce quality costs and lead times. In order to affect quality costs and lead times, it is also important to highlight the importance of quality initiatives and accountability.
Procurement
Implemented procurement savings of
annual direct spend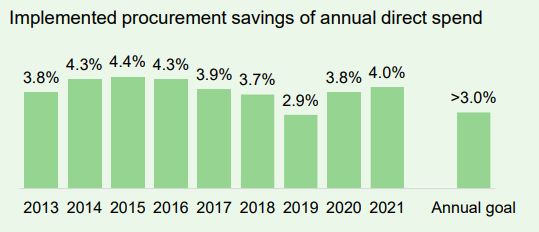 Valmet has some 10,000 active direct suppliers from more than 50 countries. However, approximately half of our purchases come from Finland and Sweden when measured by supplier spend. Our purchases mainly comprise metals-based products and electronic components and services from suppliers in the pulp, paper and energy industries.
To improve profitability, Valmet also focuses on procurement savings. These can be achieved by increased sourcing from cost-competitive countries, increased use of sub-contracting, by strengthening innovative supplier co-operation, and by consolidating the shipment and warehouse network.