There are two good reasons to celebrate the Valmet Black Belt that ran on Papierfabrik Palm's PM 6 from July 2013 to January 2014: first, it was the 1,000th delivery of this unique shoe press belt, and second, it ran for almost 200 days. Congratulations!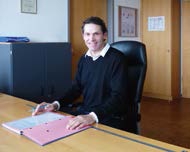 Jürgen Kosse, Mill Manager, answers the question of whether Valmet Black Belt achieved the set targets with "Absolutely, yes! Its various properties contribute to consistent, smooth running paper machine. Belt performance is absolutely constant from beginning to end, and the belt improves press performance."
In July 2013, the mill installed two Valmet Black Belt shoe press belts on PM 6: one in the first press and another in the second press. The first was the 1,000th Black Belt delivered by Valmet, and it ran from July 2013 to January 2014 – almost 200 days. The second belt ran from July 2013 to October 2013.
Kosse names Valmet Black Belt's excellent material mix, long lifetime and good dewatering capability as the product highlights. "The dewatering process in the nip area looks perfect. The most important properties in a good shoe press belt are stiffness and hardness."
Valmet Black Belt shoe press belt features
Made of high-performance elastomer material reinforced with dimensionally stable synthetic yarns
Available in several reinforcing structures and surface options to fulfill the demands of every shoe press
Wear-, chemical- and heat-resistant, ensuring long and trouble-free running
Excellent running results from many demanding shoe press belt positions
High belt performance needs teamwork
As a paper producer, Palm wants to utilize the latest technological innovations in order to give its customers excellent quality products and reliable service. The principles for the cooperation and success of this independent family business are its openness and honesty. As a customer, the company sticks to the same principles with its own suppliers.
"We expect good communication with our clothing/shoe press belt supplier, steady advances in all products as well as research and development for the customer's benefit," Kosse states.
The mill also appreciates cooperation in troubleshooting and finding successful solutions to all kinds of problems. Responding rapidly to emergency cases and taking care of the relationship are also highly prized.
"We think Valmet is a perfect partner in research and development. We have received complete support in every situation, and our wishes and requirements have been taken into account at all times. Our successful relationship is in line with our principle of working together."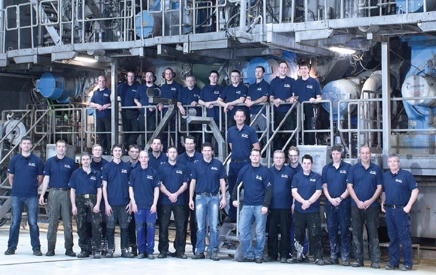 According to Kosse, the relationship between machine crew and supplier is very important. "The parties have to share their experiences with the product. The machine crew has to tell the supplier how the product works in their daily process, and the supplier must provide development ideas and benchmark belt performance with other machines. Finding solutions takes teamwork."
Clear plans to optimize the whole process
Since the PM 6 start-up, cooperation between Palm and Valmet has been close, and the mill is looking to the future with optimism. While happy with the performance of the Valmet Black Belt shoe press belt, Palm has high expectations for the future development of belts in general. "Working together with Valmet, we'll find solutions, and both sides will improve their engagement in the coming years," Kosse remarks.
For more information on Valmet Black Belt and improving your shoe press operation, contact your Valmet representative.