Shoe press belts for tissue machines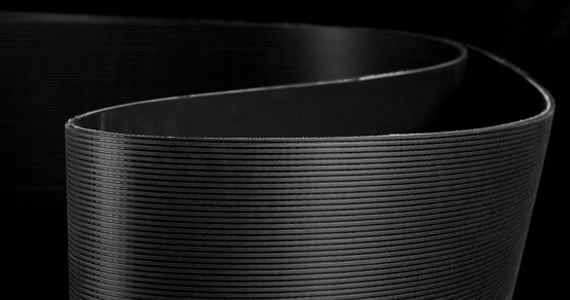 Valmet Black Belt R shoe press belt is especially designed for tissue machines. This belt has been developed to perform with the highest speeds and loads on tissue machines. It survives for a long time in harsh conditions and keeps water removal at a high level.
Valmet Black Belt R with high density grooves features:
a thin but durable structure with strengthened oil side surface
good dimensional stability – no wobbling during run
heat and wear resistance on the paper side, low friction on the shoe side
long running times with stable performance
excellent dewatering that leads to high dry content
non-marking grooves
| | |
| --- | --- |
| | The best dryness values for tissue paper have been achieved with high density grooves. |
High density grooves with narrow lands and narrow grooves allow high void volume without risk of marking.
Valmet Black Belt R is a unique shoe press belt made of high performance elastomer material reinforced with dimensionally stable synthetic yarns to meet the requirements of a well performing tissue machine.
Articles

All you need for tissue machine clothing
It's all moved rapidly since Valmet took the strategic decision to boost its tissue machine clothing development. The focus has been on the best possible raw materials, structure and runnability features of fabrics for tissue machines.