Beihai Mill in the Guangxi Zhuang Autonomous Region in China is Stora Enso's largest overseas single investment project. It has been running for nearly four years, since May 2016. Initiated as a greenfield project, it has sprung up from nothing over recent years and developed into a well-known manufacturer of high-end white cardboard in China.
Zhu Weiyan, General Manager of Stora Enso's Beihai Mill, describes the mill as a forest-pulp-paper integration project with a very clear product strategy: to create a comprehensive product line of food packaging materials based on liquid packaging paper, including white cardboard, coated kraft paper and packaging paper.
Mr. Zhu is glad to have chosen such a compatible partner as Valmet, with whom they have been focusing on sustainable development and the reliability and stability of the equipment. In 2016, Valmet delivered a chemi-mechanical pulp (BCTMP) line, an OptiConcept liquid packaging boardmaking line and integrated automation solutions to the mill. Later, in 2019, Valmet delivered two Valmet Breast Roll Shakers for the forming section, a blow box between press nips, and felt tension for the press section.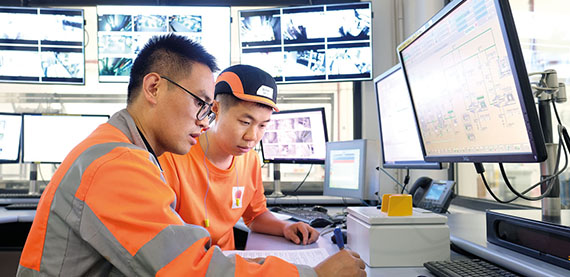 A shared focus on sustainability
"Consumers are placing increasingly high requirements on product safety and environmental protection. Offering the possibility of recycled products and meeting customers' demand for customization have therefore become a key trend," says Mr. Zhu.
Stora Enso has invested in research into how to replace plastic with sustainable fiber-based products and has always sought to develop lightweight, safe and recyclable products. Mr. Zhu states that Beihai Mill can currently produce the most lightweight cardboard of its kind on the market, which means that cardboard featuring a larger area, greater thickness and better stiffness can be produced with the same raw materials, while reducing raw material consumption and improving resource utilization.
On top of this, Mr. Zhu points out that this cardboard is mainly used for food packaging and is 100 percent free of fluorescent brighteners, which demonstrates a commitment to product safety even for the parts invisible to their customers.
The Valmet service team has earned our respect with their professional service spirit, cooperative attitude and effective problem-solving ability.
Continuous improvement
According to Mr. Zhu, the high-end product customers they serve are demanding: "We've been striving to satisfy customers quickly and meet their demands for high quality and low costs." He acknowledges a dedicated and energetic team, and the support received from Stora Enso's global experts, as well as the technical support from suppliers such as Valmet, in making it possible to respond to these requirements.
The operating efficiency of the board machine has reached the designed annual production capacity of 450,000 tonnes after operating for one and a half years.
"The mill's team is currently making further efforts to increase annual production capacity to 500,000 tonnes, based on the premise that this will ensure quality," Mr. Zhu says. In addition, the mill is constantly developing new products and trying new technologies with the goal of further improving product quality, enhancing operating efficiency and reducing various emissions derived from production.

In 2019, the team studied the potential offered by Valmet's Breast Roll Shaker and blow box technology. They significantly improved the flatness and uniformity of the paper layers and increased the lateral stiffness of the cardboard, with a subsequent improvement in quality.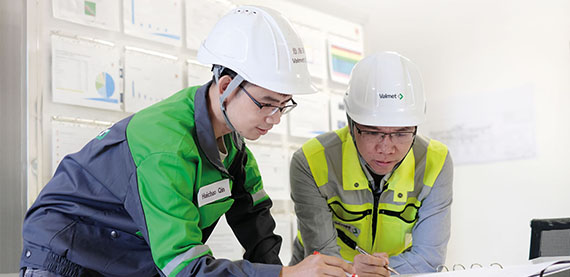 A partnership of mutual trust
Mr. Zhu is satisfied with the cooperation with Valmet, which has always been based on mutual trust and smooth communication. "We've shared the goal of solving problems and formulating solutions, implementing them efficiently, and constantly building trust in the process," Mr. Zhu concludes.
For example, Mr. Zhu acknowledges that during the shaker cooperation project in 2019, Valmet provided a shaker solution based on Beihai Mill's higher requirements for smoothness and the uniformity of the paper layer. Moreover, Valmet was able to deliver the machinery within a shorter deadline, and a new transportation plan for imported equipment was implemented to replace sea shipping with China-EU special trains to shorten the transportation time.
Jiang Chunyuan, Valmet's Mill Improvement Business Director, agrees with Mr. Zhu. He underlines that the shaker and blower project marks another example of mutual trust and cooperation: "We proposed solutions, demonstrated technical principles and explored previous success cases. The Beihai Mill team quickly decided to give it a try, and once again Valmet has proved it is trustworthy."
Global expertise available through Performance Centers
According to Mr. Zhu, the pulp and paper industry is a stable traditional industry, and mill operation is also a long-term and continuous improvement process. The service life of modern paper machinery can be 60 years or more, so the after-sales service of equipment suppliers has a long way to go.
Mr. Zhu highly values the customized service offered by Valmet: "Demands are responded to positively and in a timely manner, and are well supported by Valmet's global network. Domestic engineers respond quickly to problems that can be solved locally. For more challenging issues, we discuss solutions together to allocate global resources and share world-class expertise with the help of remote diagnosis support from the Valmet Performance Center."
For more challenging issues we can share world-class expertise with the help of remote diagnosis from the Valmet Performance Center.
Mr. Zhu also values the continued excellent support provided by Valmet's service department, who maintained the highly valued tradition of regular executive meetings experienced during the board machine and BCTMP line delivery project in 2016.
"So far, the Valmet service team's professional service spirit, cooperative attitude and effective problem-solving ability have earned our respect," says Mr. Zhu. He says they hope to work closely in future to obtain continuously improved solutions and make use of new technology and innovative products.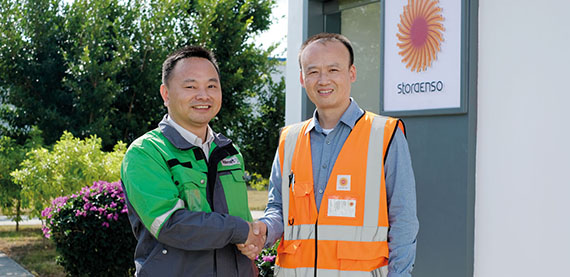 Text Sara Li Photos Lu Jun