In October 2012, Australian papermaking entered a new era with the start-up of Orora's paper machine No. 9, a world-class boardmaking line. With a design capacity of 400,000 tonnes per year, B9 is the largest paper machine operating in Australia.

The B9 project represented a major stride towards efficient paperboard packaging production for Orora Limited, a company that demerged from Amcor in 2013. Within a year of B9 coming on stream, it was operating within the top quartile of board machines worldwide. That is quite an achievement, but Orora's mill management team is even more ambitious about performance. "We aim to be in the top three worldwide within three years, in terms of tonnes per meter," says Production Manager Tero Ylikoski.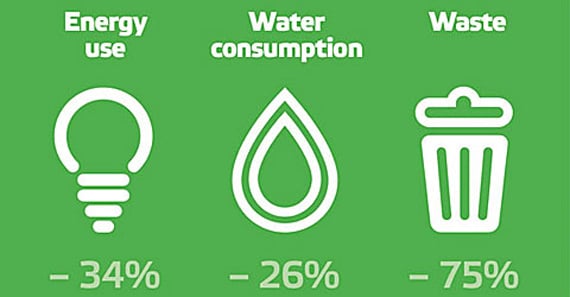 Scrapping three ageing machines in favor of a single modern paper machine has slashed energy use by 34%, cut water consumption by 26% and reduced waste sent to landfill by 75% at Orora.
Single supplier advantage
While machinery for most projects on this scale is supplied by several vendors, paper machine B9 was ordered solely from Valmet. Jacob Chretien, GM of Technical - Paper & Recycling, explained that Valmet was chosen to supply the complete line because it "had delivered a number of entire production lines which were similar to what we needed to meet the market requirements in Australia". More specifically, these lines included "a twin gap former, twin shoe press, a high-output winder and an integrated machine control system, process control system and quality control system".

Apart from an OptiConcept boardmaking line and OptiRefiber recycled fiber line, the delivery included pulpers, electrification, and a Valmet DNA automation package. This single supplier approach has paid off for Orora. "Having a single supplier significantly reduces the number of interfaces between service & equipment suppliers," says Chretien.

Read more about Orora's high capacity OCC line here.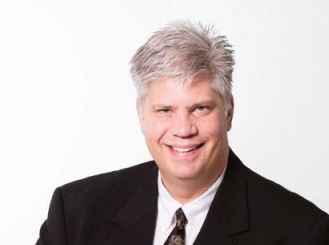 Jacob Chretien, GM of Technical - Paper & Recycling:
"Valmet was chosen to supply the complete line due to its numerous good earlier references."
Valmet's scope of supply included a complete OptiConcept boardmaking line from headbox to reel. It also included the approach flow system, air systems, press section clothing as well as a high-speed winder and roll handling. B9 has a wire width of 6.25 m, a designed speed of 1,600 m/min, and an annual capacity of 400,000 tonnes of testliner and corrugating medium.

Orora is very pleased with the performance of the forming section, which features two high-speed OptiFlo headboxes designed to deliver both good formation and strength properties. "The twin gap former design has allowed us to successfully manufacture high-strength papers very effectively across our wide grade range," says Chretien.

After forming, the web proceeds to dewatering on the two-nip press section, at nip pressures of 1,200 kN/m and 1,400 kN/m, respectively. The press performance has been trouble-free and efficient, according to the mill management. "We are routinely achieving dryness of more than 54% exiting the press section, which leads to high output and very low steam consumption," Chretien explains. The press section "has not missed a beat" since start-up, he adds.

A single-tier pre-dryer section follows the press section and the OptiSizer size press is followed by a double-tier dryer section. OptiSizer features an innovative TurnFloat device that allows the web to proceed to the dryer in a contact-free way.

OptiSizer attracted praise from the mill management for its efficiency. Chretien says that it is very effective at applying starch across the mill's wide range of grades. The mill is now achieving high starch efficiencies that meet, or even exceed, customer expectations thanks to the sizer and starch conversion system.

A state-of-the-art OptiWin Pro winder that features short set change times and robust operation at high speeds completes the line. The mill personnel are impressed with the 3,000 m/min design speed of this advanced winder. "It's one of the world's fastest winders," says Ylikoski.

Meanwhile, Chretien is pleased with the innovative splicer. "The butt-joint splicer significantly improves winder uptime and the reduction in broke has easily paid for the additional technology on the winder," he says. Chretien also praises the uniform, consistent quality of the rolls leaving the winder. He believes it was an excellent purchase.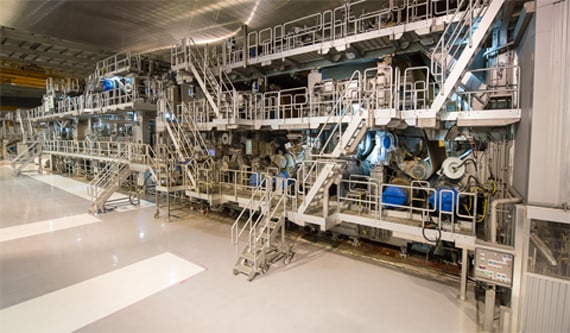 Orora is very pleased with the performance of the forming section, which features two high-speed OptiFlo headboxes designed to deliver both good formation and strength properties.
Uniform quality and wide basis weight range
B9 is now turning out testliner and corrugated medium in a wide range of grades between 100 g/m2 and 170 g/m2. It can make an even wider range of basis weights of between 80 g/m2 and 200 g/m2, says Jacob Chretien.

Corrugating and downstream box plant customers are impressed with the quality of the grades made on B9. Customer Support Manager Cathy Parra says that customers describe board produced on B9 as having more uniform strength, better CD profile, and better print definition than grades made on Botany's retired machines. "They tell us that quality is much more uniform than liner and medium produced on the older machines," adds Tero Ylikoski.

Maintenance outsourcing agreement
Valmet also signed a multi-year maintenance agreement in July 2011* in which Valmet takes full responsibility for maintenance, the management of improvement projects for B9, and the mill utilities. The Valmet team has adopted a reliability-centered maintenance approach to ensure efficiency and cost optimization.

The outsourcing deal was not unusual for the Botany site. In fact, the mill has a long history of outsourcing maintenance and engineering activities with other vendors. Valmet provided a comprehensive strategy for the maintenance of the site and demonstrated its maintenance success at other mills through reference visits. Jacob Chretien also sees the value of vendor-supplied maintenance. "We have Valmet people working on Valmet equipment," he says.

Apart from its original equipment manufacturer and maintenance role, Valmet also supplies a large proportion of the mill's consumables. This includes doctor blades, screen baskets and sizer rods.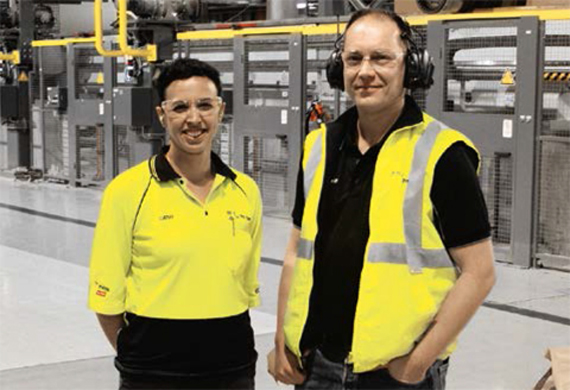 A bright future
Manufacturing in Australia is going through challenging times in an era of globalization and intense international competition. But Orora is defying the gloom through its investment in global-scale production and cutting-edge technology, backed by its technology and maintenance services partner Valmet.
*The mill maintenance outsourcing agreement has been renewed to date effective July 1, 2020. Read the press release