Double-nip press with linear web run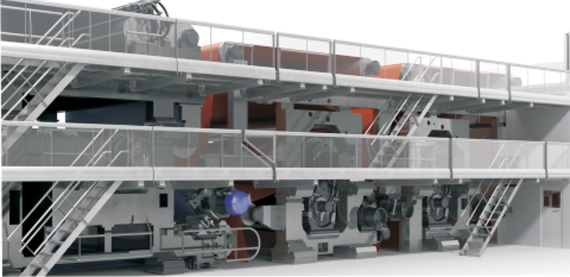 OptiPress Linear
Wet pressing is a vital part of paper and board processing and benefits both runnability and quality. The ultimate target of wet pressing is to increase sheet dryness to ensure paper and board machine drying capacity and also to enable web runnability at the beginning of the dryer section. The press section also has a great effect on sheet surface properties. Valmet's OptiPress Linear, double-nip press with linear web run, is an ideal solution to fulfill papermakers' requirements for effective pressing.
Excellent end product properties, high dewatering capacity and good runnability
The operating performance of OptiPress Linear has proven that the design principles employed – no open draws, shoe press technology, and full-width tail threading – provide excellent end-product quality, high-level dewatering capacity as well as good runnability. This results in a press section where press-related runnability bottlenecks, such as open draws, are a thing of the past.
The closed web run significantly reduces web breaks and thus improves runnability. OptiPress Linear also provides very good paper and board quality with symmetrical sheet properties, good moisture profiles, excellent dry content, and high production efficiency.
Shoe pressing with proven SymBelt technology
OptiPress Linear features SymBelt shoe press technology, which provides longer dwell times and higher press impulses that improve dryness after the press section. A high web dry content brings savings also in drying energy. The two straight press nips of OptiPress Linear produce a strong web and ensure good moisture profile in the web after the press section.
The OptiPress Linear press section meets the huge dewatering capacity requirements of high-speed paper or containerboard machines. The concept can be applied to both new lines and rebuilds.

Picture. OptiPress Linear for containerboard grades.
Benefits for paper and boardmakers
Valmet's OptiPress Linear press section provides:
Outstanding end-product quality
Excellent runnability and high production efficiency
Good moisture profile

High dewatering capacity
Potential for furnish optimization