Metal belt technology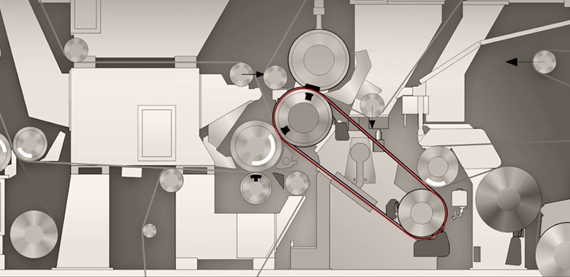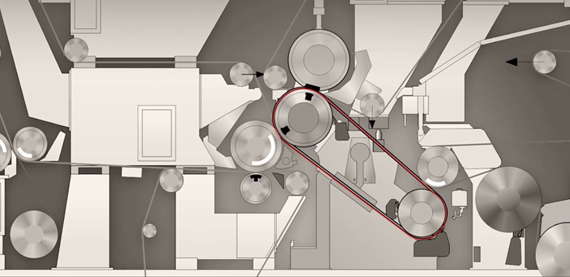 The newest OptiPress Center press section concept has a smooth, heated metal belt that goes around the center roll and guide stretcher roll. The steam-heated metal belt improves press section performance, as the temperature of the paper web increases on both sides of the press nip. Metal belt removes unsupported open draws and enables closed sheet transfer from press to dryer section.
Metal belt technology has made a major breakthrough as a revolutionary new calendering concept for papermaking. Now the benefits can also be utilized in wet pressing, too.
Up to 20% more effective water removal at press section
The OptiPress with metal belt technology boosts production capacity by eliminating unsupported open draws. It also increases the dry content after the press by up to six percentage points due to more effective water removal at the press nip and evaporation over the hot metal belt. Furthermore, it improves several end product qualities, such as strength and porosity.
The new concept is compact and increases dry content significantly, making it ideal for rebuilds to increase capacity by removing bottlenecks such as limited drying capacity or runnability.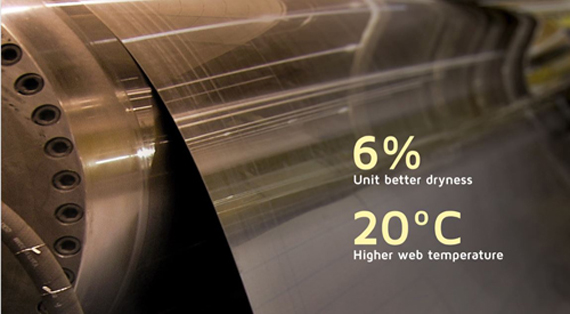 Valmet's new metal belt technology closes the draw between the press and dryer section, increases dryness and improves end-product qualities such as strength and porosity.
CUSTOMER SUCCESS STORIES