Proven center-roll based press section for lighter grades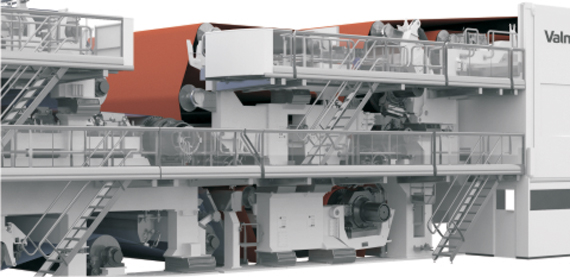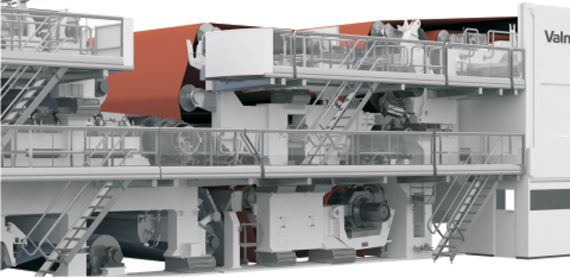 OptiPress Center
OptiPress Center – center roll based press section - is a reliable, well-known concept that combines close to 40 years of pressing technology experience with modern shoe press technology. With this solution, a shoe press replaces a roll just before the first open draw. The resulting boost in dryness thus fully benefits web runnability in the open draw. If necessary to meet end quality requirements, a center-roll based press can be followed by a separate roll press.
In the containerboard production from recycled fiber, machines dedicated to high speeds and light basis weights can be equipped with an OptiPress Center pressing process.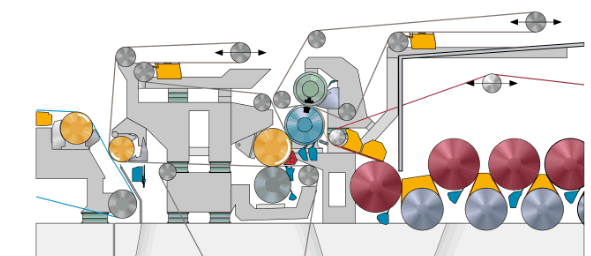 Picture: OptiPress Center center-roll based press section.
Innovation: Closed sheet transfer with OptiPress Center
Transfer belt technology allows the draw between the press and dryer sections to be closed in center roll-based concepts, too. Less draw is required, and dryness and end product qualities, such as strength and porosity, improve. Rather than a transfer belt, it is also possible to use a smooth, heated metal belt that goes around the center roll and guide stretcher roll, This metal belt technology further improves press section performance, as the increased temperature of the paper web enhances dewatering in the press nip.
Notable track record
There are hundreds of outstanding Valmet OptiPress Center (formerly named as SymPress) press sections operating successfully around the world in paper and containerboard production machines – for new lines and rebuilds alike.
OptiPress Center press section benefits
Compact design and easy to apply also in rebuilds
High dryness and good moisture profiles
A reliable, well-known concept with numerous references in both board and paper machines
Added capacity potential in rebuilds