Feb 11, 2019
The Spanish paper and cardboard manufacturer SAICA launched its U.K. operations in 2012 with the startup of its PM 11 paper machine in Partington. From day one, Valmet's expertise has been utilized on site. Due to a recent renewal of the Performance Agreement, the co-operation will continue until at least 2020.
SAICA Paper UK's PM 11 is a complete OptiConcept paper machine delivered by Valmet. It produces high-performance brown containerboard used in the manufacture of corrugated boxes, utilizing raw material that is 100% recycled paper.
Pasi Häyrynen has worked in Partington since 2010 as Production Manager of the PM 11 project. First, he was in charge of recruiting and training a team in Spain, and later commissioning and starting the mill up together with the Valmet project team. He has worked as Mill Manager for the site since 2013.
"I am satisfied with the good co-operation with Valmet's team and with the good relationship we have developed over the years. After the initial warranties of the original PM 11 delivery were fulfilled, we continued with a new performance agreement – and recently signed our third agreement," Häyrynen says.
Together for the better
Häyrynen gives several concrete examples of how the co-operation with Valmet has improved the mill's performance.
"Initially, one of the action points was to focus on the stock approach stability as well as on both the MD and CD controls. A Valmet expert remotely monitored our system and control loops and made recommendations regarding the tuning. We have also used Valmet experts to optimize the pulper area controls and fractionation controls, with good results," Häyrynen says.
One of Valmet's promises is to take customers' performance forward. At SAICA, the dedicated work and co-operation has led to developing new ideas for the forming section and winder area, hence the cleanliness of the forming section has improved and winder speed has increased.
Future goals for PM 11 are clear
Currently, the production capacity of PM 11 is approximately 440,000 tonnes per year, with an average speed of 1,254 m/min. These numbers have been challenged by the PM 11 team, as the line has much more potential in it and new goals have been set for 2020.
According to Häyrynen, the biggest production increase potential is in the average speed. The next biggest potential is in unplanned shutdowns. The plans for the next steps are clear.
"In order to increase our average speed, we need to be able to run the same grades at the same speed every time and try to eliminate the reasons preventing us from doing this. The normal reasons for this can be restrictions in our effluent plant, stock preparation or winder area. Unplanned downtime is a different matter. For this, we are working with focus groups to improve known problem areas, and we are also continuing with root cause analysis for breakdowns to prevent them from happening again," Häyrynen explains.
Annual speed trial sets new record
It has become an annual tradition to run speed trials in order to find out the bottlenecks and prepare for the following years' capital investments.
"The speed trial also gives us an opportunity to test and improve tail feeding at higher speeds. This is exactly what we achieved this year, and of course at the same time we achieved our new 24-hour speed record – 1,519 m/min! Valmet's top specialists are supporting us during these trials, and afterwards we always have technical discussions about how to solve any issues we found," Häyrynen explains.
The keys to this type of agreement are longevity, personal relation-ships and trust.
Performance Agreement aims for long-term improvements
Valmet offers Performance Agreements to its customers as a long-term solution for improving the performance of mills or machines. Co-operation with SAICA Paper is a good example of the benefits of continuous work.
"A Valmet Performance Agreement guarantees the customers our experts' support in reaching agreed targets, benchmarked services and best practices and new insights through audits," Pasi Puronurmi, Manager, Agreement Support at Valmet, summarizes.
"We see our customers as partners and always try to improve their performance as if it was our own. I think the basis for our achievements with SAICA is the mutual trust and co-operative spirit built over the years," continues Puronurmi.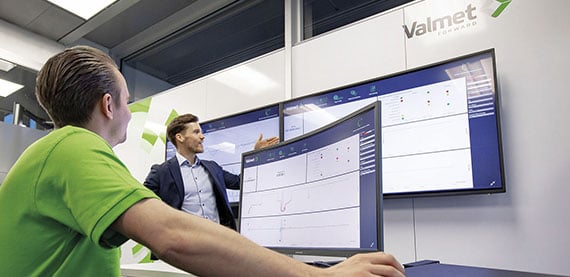 Häyrynen is satisfied with the continuous Performance Agreement SAICA has had with Valmet.
"The agreement has definitely been a great benefit to us. One of the key benefits has been the single point of contact the agreement provides. We do not need to remember or think about whom to contact within Valmet – we just contact our co-operation manager, and he knows or finds the help that we need. The keys with this type of agreement are longevity, personal relationships and trust. This can be achieved when you have the same contact for many years with a partner who knows how we work and think – and vice versa," Häyrynen says.
TEXT: Marianne Valta
Article published in Forward magazine 1/2019.

Contact us: