Jan 9, 2017
The Whakatane board mill in New Zealand was able to optimize their existing processes to gain their maximum potential through a Performance Agreement with Valmet. The shared journey forward was named "Kaha", which means "strong" in the Māori language. "If we have been the captain of the project, Valmet has been an excellent co-pilot", says Mark Hammond, Head of Production at the Whakatane mill.
The Whakatane Mill, located in New Zealand and owned by the SIG Corporation since 2010, has one board machine and an integrated stoneground wood pulp mill. The mill produces 135,000 tonnes of liquid packaging board and folding boxboard annually and works closely with SIG Global Technology in developing board structures for the future. After SIG took over, an internal development program was conducted in order to improve operations. The mill realized that to continue development merely with in-house resources was going to be a hard task.
Mark Hammond explains: "Although we have experienced resources on-site and a motivated and engaged workforce, we needed more world-class resources and best practice experience and technology. We are fortunate to operate a mill with vast development potential. However, it is not all about capital: getting the most out of our existing assets is very high on the agenda. This situation lead us to start cooperation with Valmet, a company we consider to be a global service provider with the resourcesand know-how we were looking for."
Performance improvement in target
When the two-year Performance Agreement was signed in September 2014, Valmet conducted full-site, high-level audits, followed by detailed discussions and a comprehensive report highlighting key development opportunities. The mill team took the feedback and aligned key opportunities with their business strategy and their customers' requirements.
Nine targets were defined: increase machine speed, improve yield, develop the ply bond, optimize formation, widen the deckle at the winder, eliminate ear cracking, improve PPS without compromising stiffness, maximize the roll diameter off the winder, and optimize the roll tension of customer reels. Each target had specific, measurable numerical values.
Together, the project team developed both short- and long-term plans to achieve these targets. Once the targets and plans were defined, it was essential to assign the right people to each task and to establish a working methodology.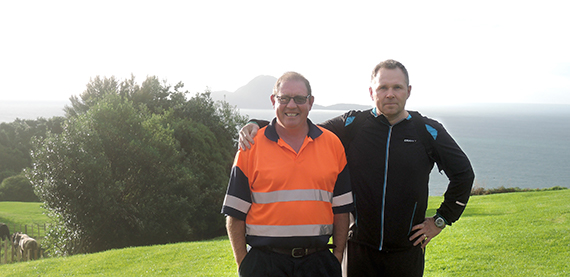 Two project managers – Peter McLaverty from Whakatane and Juha Kovanen from Valmet – put together a schedule for Valmet's specialist visits in order to ensure long-term development, best practice benchmarking, and the quick wins.
A joint project team working towards the targets
Mark Hammond reflects on working together with Valmet: "The benefit of the Performance Agreement with Valmet is that you have direct and contractual access to all the experts you really need. They are part of the joint project team, and they work with us to achieve the agreed targets."
Peter McLaverty continues: "The experience, energy and enthusiasm Juha and his team of Valmet specialists brought to the project enabled us to challenge our existing practices and capabilities. The quick win recommendations have been implemented, with positive operational and quality improvement results."
Payback time of the agreement under six months
Soon after the start of the cooperation, the first results were delivered. Energy savings of 8% were achieved through vacuum pump optimizations, and significant quality improvement and raw material savings were recorded through tension profile (TSO/TSI) improvement. In addition, the temperature set point for hood heating was reduced by 18% and for roof heating by 27%. Clear hood air balance and humidity control improvements were also observed. With these quick wins, real savings were realized.
| | |
| --- | --- |
| Graham Millar, Mill Manager at Whakatane: "Our operational costs have decreased in line with Valmet's predictions. The value of the yearly savings was more than double the one-time cost of the Performance Agreement, effectively meaning that the payback time of the contract was under six months. The project was definitely worth the investment." | |
A renewed agreement for continued success
Whakatane now has a long-term plan involving an investment program and a payback plan for a new board grade, quality improvements, and higher production levels. To achieve this, Whakatane extended the Performance Agreement with a new three-year period. During this time, the focus will be on pre-engineering of possible new capital investments, process and quality optimization, as well as maintenance development.