Oct 24, 2022
Running a power company in the north of Sweden comes with a lot of responsibility. In an area which is known for being dark and particularly cold for a large portion of the year, heating and energy both play a significant role. For the last decade we have been Övik Energi´s partner for plant development - a cooperation for continuous improvements through a Performance Agreement
As Stefan Fällström, Manager for Planning and Execution, at the Swedish energy company Övik Energi puts it: "If it all breaks down, society does not get electricity or heat. We can't stand there in the middle of winter when an important part breaks. There can't be any hiccups. It all needs to work." The company's Operation Manager Jonas Nordin is also mindful the implications of an unplanned stop on the local area. "We're also a provider to other local industries. We need that security."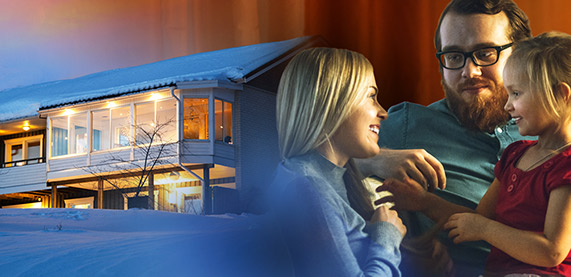 Valmet first became involved with Övik Energi back in 2008, when the company purchased their boiler from them. A large, complex piece of equipment like that requires regular maintenance and service, as well as a reliable supply of spare parts. Which is why, early on, close customer contact turned into something new for both Övik Energi and Valmet: a service agreement that has covered several years' worth of collaboration.
If it all breaks down, society does not get electricity or heat. We can't stand there in the middle of winter when an important part breaks. There can't be any hiccups."

Working toward common targets & KPIs
Stefan Fällström explains how it came about. He says: "We were actually the first out – in Sweden, anyway – when it came to signing one of these service agreements. We were like a pilot for them. In my experience, we need people who know what they're doing. We can ask them how it's gone, and we get put in touch with the right people, we work together toward common targets and KPIs."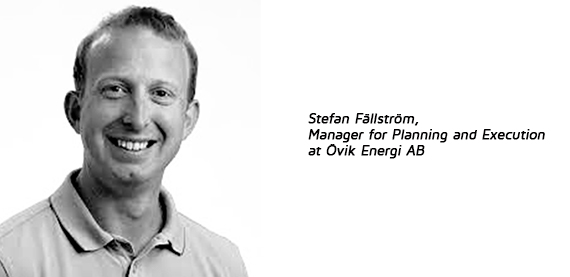 Jonas Nordin's focus is on making sure that the equipment functions as it should, here and now: planning ahead to ensure that there are no unforeseen problems with operation in the near and more distant future. He says: "One thing we use Valmet for is regular service of the equipment. We receive help from Valmet's process engineers. We ask ourselves: is this going well, and that's the kind of knowledge that we don't have ourselves, so we can bring in their experts."
"We have short horizons – we live for the day," he continues. "So our partnership is more about asking ourselves: what can we improve, what can we do to optimize things? From the word go, we understood that we would benefit from Valmet's support and help. We knew what we'd invested in but needed help in getting the best out of it."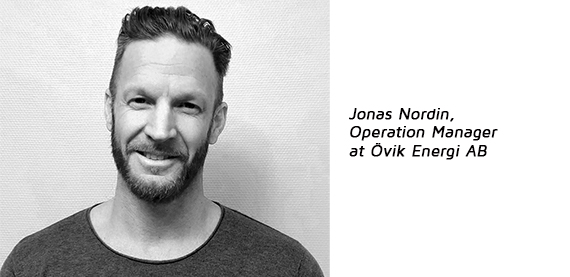 Although Valmet were on hand from the word "go" to help service and optimize the equipment, building it into an agreement – with regular contact, training, and a central online hub for all documentation and materials – increased mutual closeness, and mutual trust.
Stefan Fällström explains: "We have a close relationship. We have a partnership – and we rely on Valmet. When it comes to advanced things, we need we trust Valmet, and this agreement, so that everything will be correct. We have a stable relationship."
When asked about the benefits of the service portal the team at Övik Energi are keen to point out that although the tool is easy to use and convenient, it's not used as a replacement for the kind of close customer contact that a business like theirs craves. As Stefan puts it: "All documents, all training, all reports are kept there. It's being refined, so that it's a shared platform for the business with everything in one place."
"But the first contact is always via phone. We talk a lot on the phone, or via Teams meetings. I like to see who I'm talking to, so I can see that things are moving forwards. The portal is a shared platform – but not a replacement for personal contact, it's an extension."
He continues: "With a service contract, it's important to remember that the job really starts when the equipment is delivered. We can bounce things off them the whole time. Suppliers can deliver their equipment and then disappear, but with Valmet we know that they will sit face-to-face with us numerous times a year. That's safety."
When asked if they could recommend a service agreement to companies like theirs, or even within other industries, both Jonas and Stefan are positive. Jonas explains: "It's about security and building trust. We're always looking forward, we understand what Valmet is capable of, and when something happens, we have someone we can go to immediately. We have a platform from which we can get in contact and say to them: this needs solving immediately."
They act fast. They send people, which calms us down a lot. This agreement… it lets us sleep well at night."

Stefan Fällström puts it even more simply. "They act fast. They send people, which calms us down a lot. This agreement… it lets us sleep well at night," he laughs.
Övik Energi decided to extend the collaboration further by renewing their Performance Agreement with Valmet for the third time at the start of 2022.
Continuous cooperation for improvements over a decade

Technical info:
Valmet BFB Boiler (bubbling fluidized bed) delivered 2008.
Steam

130 MWth
53 kg/s
141 bar
540 °C

Fuels
Bark, sawdust forest residue
Start-up
2009
Scope of the Performance Agreement with Övik Energi:
Focus on long-term development of maintenance, processes, and operation for the power boiler. Development of PLM systems.
Plant development cooperation
Performance evaluation
Process expert site visit
Shut-down management, planning, site supervision and visual inspection during shut-downs
Spare part management
Expert service (50h/year)
Training, simulator, and Online learning
24/7 Emergency response contact
About Övik Energi in short
Electricity network operator and supplier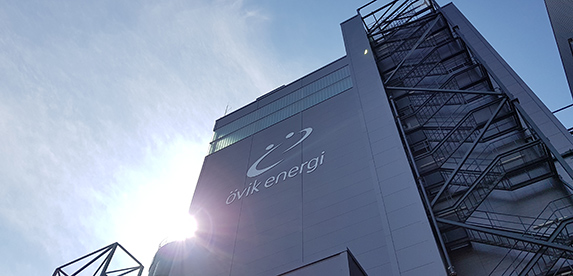 Övik Energi is an electricity network operator, district heating and fiber connection provider, with more than 120 years of experience. It delivers electricity, district heating and fiber connections to the homes of its customers. Through its own networks, located in the city of Örnsköldsvik: this network is continuously maintained to ensure a stable stream of electricity, all the way to the customer. If in the process of building a new facility, they are in charge of connecting it to their network.
All of the electricity Övik Energi sells is 100 % renewable.
Read more about Övik Energi´s advice on how to reduce your energy consumption >>