Shanying International and Valmet have agreed to deepen their partnership to move Shanying's performance and process reliability forward. The practical implementation involves a shared roadmap with concrete action points.
Shanying International is the third-largest producer of containerboard in China. In addition to containerboard, its business covers pulping, newsprint and coated paperboard production, as well as paper container processing. Shanying International and Valmet have been collaborating for over 12 years. Valmet has supplied six production lines in total for Shanying's Zhejiang and Anhui mills, and a new production line is under construction at Shanying's mill in central China.
Shanying International has experienced a period of rapid growth and expansion during the past year. To further move its performance and process reliability forward, Shanying has deepened its long-term partnership with Valmet. Together, they constructed a shared roadmap with concrete action points to achieve their goals. In practice, the shared roadmap means closer contact, deeper sharing of insights and information, and finding solutions to Shanying's needs together. The companies have agreed on common goals for the partnership and a common way to operate.
Annual Forum as a platform for exchanging information
To strengthen the communication between Shanying and its key partners, the company started an Annual Forum in 2017, intended to share insight and information on the latest technologies and development trends in the industry with its key partners. In 2017 and 2018, Valmet was invited to participate in the forum, introducing its latest clean technologies from solid waste to clean energy, Industrial Internet applications and the construction of the mill's solution ecosystem. Shanying is also hosting a separate summit meeting for their and Valmet's senior executives to discuss Shanying's development plans and future needs, and to ensure a common course between the companies. The summit meeting also works as an arena for feedback.
Renewing co-operation models with Zhejiang mill
Shanying's Zhejiang mill and Valmet have been working together since the mill's first production line started up in 2006. As part of the shared roadmap and to further boost cooperation, in the past two years, Zhejiang mill and Valmet have developed new co-operation models to keep each other up to date.
"Valmet is a reliable, long-term partner for us. The new cooperation model further deepens our mutual trust, and we are very satisfied with Valmet's honest and responsible attitude," says Lu Yong, Deputy General Manager of the Zhejiang mill.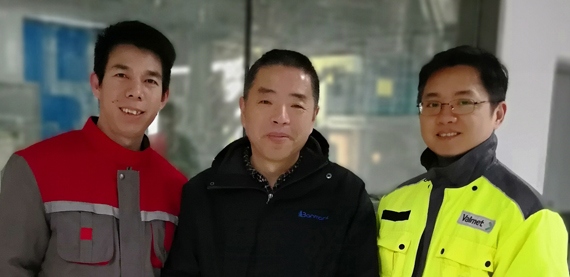 In practice, Valmet management team in China visits the Zhejiang mill every year to talk about the mill's annual plan and operational objectives. The Valmet Dialog platform is used to gather feedback from the Shanying team. All the work and projects are reviewed regularly by Valmet's regional management and the Zhejiang mill management team. Valmet has set up a dedicated mill team led by a Valmet Mill Sales Manager to set goals for mutual work through quarterly meetings.
Anhui mill starts dialogue with data to drive preventive maintenance
Shanying International decided to start piloting big data utilization and the Industrial Internet in 2017. At the same time, Valmet introduced its renewed Industrial Internet offering. The common interest resulted in an agreement on roll condition monitoring and grinding based on Valmet's Industrial Internet applications with the Anhui mill in early 2017.
The aim of the agreement is to move from repairs to preventive maintenance and to increase the roll uptime through systematic planning of roll grinding and maintenance. The agreement covers roll operation monitoring, lubrication monitoring, remote service and roll grinding services, as well as roll status and maintenance recommendations reports on five production lines at the Anhui mill. The Valmet DNA automation system is key to providing roll condition information through a common user interface. Valmet data analysis and roll experts work together to advise the mill personnel on suitable grinding or repair solutions.
"Valmet's experts have broad knowledge, extensive experience and advanced analytical tools. They interpret data from the site, such as vibration and hydraulic pressure, analyze it and recommend preventive maintenance solutions. It has improved our performance a lot," confirms Liu Wenming, Deputy General Manager at the Anhui mill.
In 2018, Shanying's Anhui mill has gone further in utilizing Valmet's Industrial Internet services. The mill has signed an energy-saving service agreement with Valmet, mainly for PM 5 and PM 6. Now, Valmet collects, filters and analyzes data from various channels to offer integrated solutions, such as optimizing the vacuum unit and dewatering unit in the wire section, to achieve savings on electricity and steam consumption.