Dec 16, 2020
Sappi Ngodwana mill's Groundwood Galileo project was initiated to have the mill's traditional grinders equipped with Valmet's unique Galileo grinding technology. The delivery and installation of the last two units were however interfered by Covid-19, but due to open-minded use of virtual technology and seamless co-operation between Valmet and Sappi, the project was successfully closed on time and within budget.
Sappi's Ngodwana mill is located in Mpumalanga province in South Africa. Ngodwana Mill is a major role player in the province, contributing over ZAR5 billion annually to the local economy and employing over 1,000 staff members and 700 contractors. The mill produces 330,000 tons of paper pulp for own consumption, 250,000 tons of dissolving pulp and 380,000 tons of newsprint paper and kraft linerboard per annum. During its fifty years of operation, the mill has undergone many significant expansions as well as numerous smaller investments to boost its performance.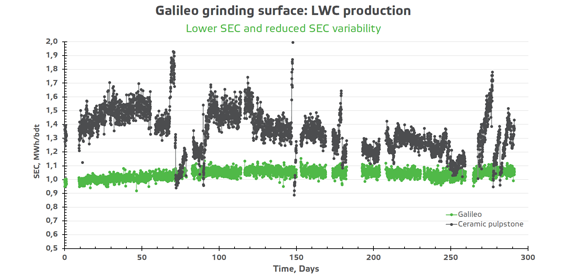 Innovative Galileo technology improved the grinders' performance
In 2018, Sappi Ngodwana decided to replace the conventional pulp stones in the pulp mill's grinders with Valmet's innovative Galileo grinding technology. The order included six steel cores with diamond-coated Valmet Grinding Surfaces Galileo. The deliveries of the six units were scheduled for winter and spring 2020, but the installation of the last two units had to be postponed due to travel restrictions and lockdown regulations caused by Covid-19.
Already with four Galileo units in use, the mill saw remarkable development and savings in short time.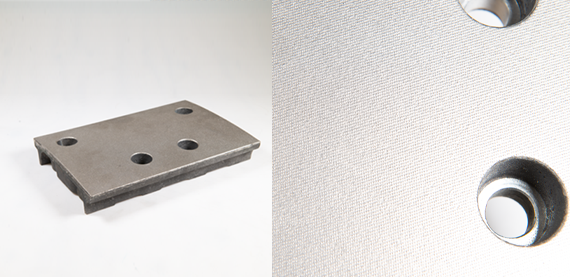 With the Galileo technology we have reached superior groundwood pulp quality with increased production and reduced grinder energy consumption of approximately 300kWh/T. Also the content of expensive FBSW (fully bleached softwood) in newsprint furnish has reduced from 18% to 15% leading to lower production costs, says Lofte Grobler, Senior Process Engineer, at Sappi Ngodwana.
Virtual technology and remote support utilized for the first time
The installation of the last two Galileo units was scheduled to the second quarter of 2020. It was going to be conducted by Sappi's own personnel and local engineering contractors but required support and supervision by an experienced expert located in Finland. Gradually it became obvious that the global pandemic was going to continue for an unpredictive time, and the travel restrictions remained. The grinder rebuild was a strategic milestone and a critical path to the customer in achieving the set targets, so alternative options were searched to finalize the project on time and budget.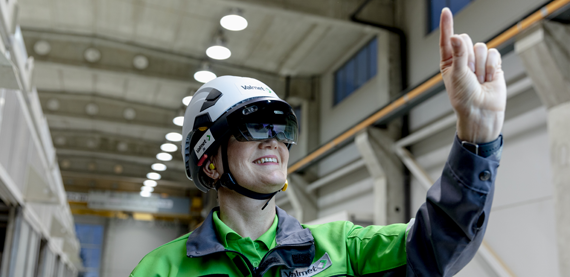 The pandemic had already inspired Valmet to run several inspections and installations at customer mills through remote support. Valmet's Mill Sales Manager at Sappi Ngodwana mill, Damir Percaic, who was actively seeking for a solution, presented the possibility to combine HoloLens technology with PointR application.
The last two installations were remotely supported by Valmet's experts in Finland, and the entire project was finalized.
"We wouldn't have succeeded without the commitment of everybody involved and exemplary collaboration between the Sappi team, the local contractors and our crew in Finland. The mutual trust we have built over the years at Sappi Ngodwana made us brave enough to try out something we had never done before. I am really proud of this experience and that we could contribute to developing new ways of serving our customers", Percaic says.
The successful installation is a good merit in the future.
"We are grateful for the smooth co-operation with Valmet. They really went the extra mile to ensure our project's success and I have no doubt they would do it again if similar needs arise again",
Valmet Grinding Surfaces Galileo offering expands
Valmet launched the innovative Galileo grinding technology originally in 2010. Up to today, it has been successfully used in approximately forty PGW grinders globally. With the great results reached at Sappi Ngodwana, Valmet extends its Galileo offering.
"Sappi Ngodwana is our first atmospheric groundwood reference and the results are great. The mill has reached the targets concerning energy savings, target surface lifetime and pulp quality. This means that we can now serve both pressure groundwood and atmospheric groundwood producing customers – and that our unique Galileo technology can also be delivered in other suppliers' grinders", says Henri Toivanen, Global Technology Manager for Galileo technology.
To utilize Galileo grinding technology, the conventional pulp stone is replaced with a steel core that has industrial-diamond-coated segments bolted to it. The product is an excellent example of Valmet's customer-oriented way to serve: the surface pattern of the diamonds is always engineered to individual customer processes to ensure the desired outcome.
"Over the years, our customers have reached remarkable reductions in energy consumption – up to 300–500 kWh per tonne, equivalent to annual cost savings of over EUR 500,000 – and the customers have also reported remarkable increases in pulp production. The diamond-coated grinding surface is very wear-resistant, meaning the variation in pulp quality is significantly reduced", Toivanen says.