Oct 23, 2020
Not only does Valmet provide high-performance roll covers and value-adding roll upgrades, it also ensures users get the most out of their rolls through its roll expert service support. These services help mills keep their rolls rocking and rolling. They extend from various roll maintenance and operation services like application engineering for optimal roll and roll cover configurations, and non-destructive inspections during maintenance works for increased reliability, all the way to emergency repair services for final back-up.
"Based on the combination of our comprehensive roll technology knowledge with OEM possibilities, Valmet's roll services can really make a difference," Juha Ruotsi, Valmet's Global Technology Manager, Roll covers and Maintenance, says. "The most efficient framework for expert services is achieved when they're used as part of roll maintenance agreements."
This article will acquaint you with some of Valmet's most useful roll expert services.
Roll Audits – an overview of your mill's roll operations
Valmet's Roll Audit provides valuable information for supporting your mill's roll reliability and comprehensive performance, with practical suggestions for moving the mill's roll operations to the next level. "Our roll audits offer a general overview of the mill's rolls to determine the actual roll situation, sorting roll topics by their criticality," Ruotsi explains. "The main objective of these audits is to help roll users better understand roll-related production bottlenecks, benchmark roll maintenance intervals and check spare roll availability. Valmet Roll Audit typically includes a pre-questionnaire, kick-off meeting, auditing of roll-operating machines, reporting and a wrap-up meeting," he continues.
Non-destructive testing reveals hidden damage
Revealing hidden damage or other defects beneath the visible roll surface has always been a huge challenge for roll maintenance experts, especially where roll covers are concerned. "At Valmet, we've tackled the challenge using the latest ultrasonic scanning technology for non-destructive testing," Ruotsi says. The service combines modern sensor signal processing and visualization technology with Valmet's solid roll maintenance experience. "The main target is to enhance roll availability and reliability. Inspections can be realized in various models," Ruotsi explains. "For example, the scanning program can be adapted for critical rolls with a high failure frequency or applied after accidents, when the most damage is expected."
Valmet's Roll Scan Ultrasonic Testing benefits:
Better roll reliability and availability, for enhanced machine efficiency
Preventive maintenance actions for roll covers, enabling lower maintenance costs
Fast and cost-effective measurement and analysis, with scheduled roll maintenance grinding
Your roll expert's recommendations for further action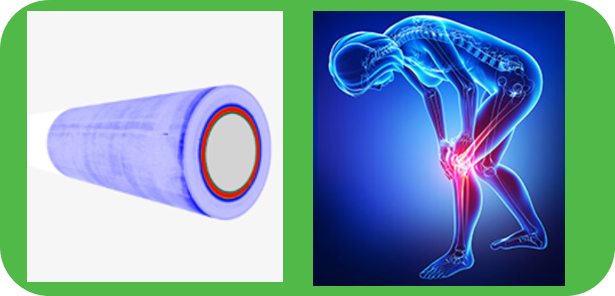 Typical steps in NDT testing with ultrasonic scanning methods
1. Selecting critical rolls and establishing scanning program
2. Roll scheduled service grinding & scanning
3. Scan & analysis
4. Recommendations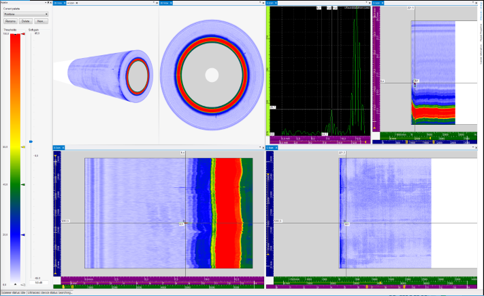 Roll Academies and Maintenance Schools improve your mill's expertise
Valmet's Roll Academy and Maintenance School training programs are targeted at board, paper and pulp mills' maintenance and production teams, or anyone who wants to learn more about roll maintenance. A two- to three-day program typically contains both classroom training and hands-on exercises. "Roll Academies and Maintenance Schools offer their participants a unique opportunity to learn, both from Valmet experts and industry peers, while improving the mill's roll maintenance skills," Ruotsi emphasizes. Organized periodically in different locations around the world, this program can also be offered as private training for our customer organizations.
Simulation tools for optimizing roll covers and their functions
As part of its roll cover and maintenance expert service offering, Valmet offers intelligent software modeling tools for optimizing roll covers and their functions. Software modeling is especially vital in processes with high demands on roll covers such as suction press rolls, LNP rolls and size press rolls.
Valmet PressSim is a software tool for modeling press dewatering. It can be used for dewatering and web dryness analysis for different press concepts. PressSim calculates open roll surface areas and effective void volumes, thus simulating the effect of changes in dewatering and power demand or energy consumption. It can also demonstrate the actual nip conditions and temperature distribution in the roll cover. PressSim is applicable with Valmet felts, uhle boxes, steam boxes, furnish and so on, and you can utilize it in selecting the optimal Valmet roll cover for each press roll position to enable the maximum allowed loading.
Another software tool, Valmet NipSim, calculates advanced parameters related to dynamic roll cover behavior in the nip. This tool can be applied in simulating and analyzing important parameters such as:
Nip pressure distribution
Cover heat generation and cooling requirements
Cover stresses
Cover displacements
Nip dwell time and press impulse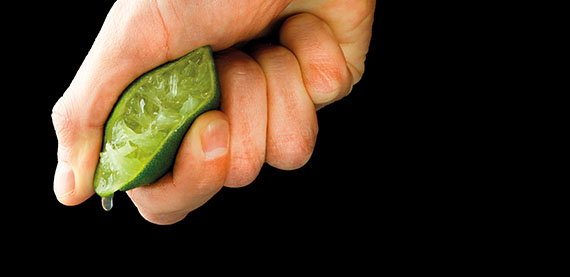 Perfect crowning – a result of the right tools and the right people
Rolls in the papermaking process must match each other in a press nip, and the nip load needs to be even in the prevailing running/nip loading conditions. Nips must be balanced, especially in a multinip press. If roll deformations occur, they must be compensated for by crowning and/or by using deflection-compensated rolls. The correct crowning conditions are essential for satisfactory roll cover performance. A mismatch in crown/load balance can lead to premature wear of the roll cover, cracking or even a complete cover failure.
Valmet responds to your questions about crowning with support based on extensive calculation and measurement. "Efficient crowning at Valmet is a result of the right tools and the knowledge of the right people. We thereby aim to ensure a long lifetime for your roll covers, good product quality and undisturbed machine runnability," Ruotsi underlines. "Our comprehensive toolbox for crowning contains both theoretical crown analyses based on finite element methods and sophisticated measurement equipment for pure empirical measuring. In seeking the best possible results, we've combined the practical measuring and theoretical calculation in the most appropriate way to ensure that they complement each other." For example, Ruotsi suggests measuring the nip pressure profiles with iRoll tools, and calculating the required crown corrections or amounts with CrownSim simulation software.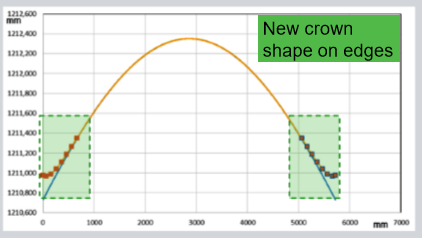 Drive roll cover analyses for power transmission
Especially in containerboard machines, traditional rubber-covered rolls have become a bottleneck for roll lifetime and maintenance, because the roll covers wear too quickly. In the forming section, coating rolls with thermally sprayed materials have gained increasing popularity due to their outstanding wear resistance. However, with driving roll positions, where the target is to transfer drive power from motor to wire, it is essential to understand the roll's power transmission capability. Valmet offers application services for drive roll cover modifications, regardless of the original machine supplier. The main role of the application is to identify the power transmission capability of the roll in question and compare it with the actual roll-specific requirement.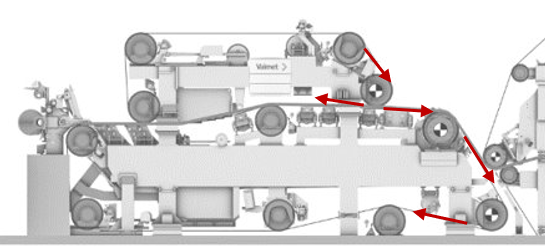 On-site condition monitoring for suction rolls
The most complex rolls like suction rolls and deflection-compensated rolls require advanced knowledge and monitoring methods to achieve good reliability and performance levels. It is also preferable that costly maintenance actions are not performed without a reason. At Valmet, we have developed several sophisticated methods and tools for roll condition monitoring.
Among them, the Valmet axial seal wear and leakage test helps control the condition of suction box axial seals. "This Valmet service is based on both the reference measurements performed during suction roll maintenance operations and control measurements. The goal is to indicate the right time for the axial seal change, optimizing axial seal replacement intervals," Ruotsi comments.
Cover repairs – an unwanted necessity
Although local cover damage is never desirable, and local repair is typically not a premium and fully durable solution, special and individualized repair services are still often needed. Valmet therefore offers versatile repair services. "Patch or band repair may be utilized, depending on the cover type and damaged area. Minor damage may be fixed at the customer's site. More serious damage is dealt with at Valmet's Roll Service Centers," Ruotsi promises.
Analytical services meet future needs
Last but not least, Valmet facilitates strong and competitive resources for analytical work and material technology. The typical laboratory and testing services utilized for cover selections and troubleshooting tasks are chemical immersion testing (e.g. studying roll compatibility against felt cleaning chemicals) and various thermal and surface analyses (e.g. studying the center roll surface condition). "On top of all our roll cover and maintenance expert services, Valmet's product development and research projects generate new products and knowledge for our customers' needs. This is the only way we can ensure that we supply top-class spearhead products, now and in the future," Ruotsi concludes.