Tissue making is a particularly energy-intensive industry, and the challenges today are even greater because of the growing consumption of various tissue products and increasing energy prices worldwide.
"The current challenge of the tissue industry is the increasing ratio of aging machinery that is inefficient at dewatering and drying. The industry has had declining overall efficiency figures for many years. The low performance rates and the great need for drying energy is a challenging equation from the profitability perspective in the high energy cost business environment," says Tatu Pitkänen, Global Technology Manager of Valmet. "Increasing energy and production efficiency involves a rethink and a focus on the entire production line. It's not just about improving dewatering but saving dry end broke and improving converting area runnability. This is when Valmet Intelligent Roll solutions enter the picture," he explains.
Valmet intelligent roll solutions for tissue offer various online measurement tools for improving press nip, moisture and tension profiles, reeling nip and parent roll hardness profiles, rewinder runnability and end-product web handling characteristics in converting. With these tools, tissue makers can obtain significant cost and energy savings for their operations.
Valmet iRoll technology for tissue production
The Valmet intelligent roll – iRoll product family has been developed to improve production efficiency and product quality by guaranteeing optimal runnability in all process phases and machine positions.
The technology is based on force sensors mounted helically under or inside the roll cover and a receiver system connected to a user interface, mill automation system or data collection for Industrial Internet analytics. iRoll functions like any other roll in the process, making it possible to see how the press nip, web tension or roll hardness profile is really behaving on the production line.
In addition to the permanent solution, tissue producers can benefit from a temporarily installed Valmet iRoll portable service which enables a cost-effective way of obtaining savings and helps maintenance personnel tackle difficult problems without capital investments.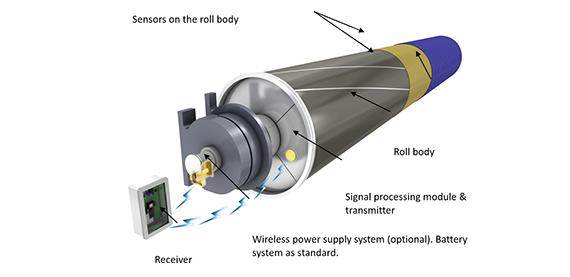 Optimizing press nips – the basis for wet-end efficiency
The press section nip profiles and roll cover surface topography are an essential factor for the efficiency of the entire tissue line. Skew load, crowning issues and a nip load on edges that is too high or low are typical problems stemming from uneven press nip loading. Of course, Yankee cylinder structures and variations in temperature profiles also often cause changes to nip conditions.
These factors can decrease production and energy efficiency in several ways. For example, errors in nip loading functions and nip or moisture profiles increase energy consumption ­– and drying and energy costs as a result. If edge loading is too low, it often results in high moisture peaks and a need for an excessive use of drying power in the Yankee hood.
These problems can be detected and avoided by using Valmet iRoll technology in a press nip position. Valmet iRoll Press and Valmet iRoll portable services can be used for detecting the profiles in dynamic conditions. These tools provide a high-resolution nip profile measurement that reveals the roll nip load variations, nip skewness and impact from loading equipment. It also enables the optimization of crowns and the tuning of nip loading devices. Improved press nip loading results in energy savings through more uniform moisture profiles and avoiding the need for excessive drying. In tissue presses, the online measurement also allows the Yankee cylinder pressure and temperature effect on the profile to be detected, as well as their tuning.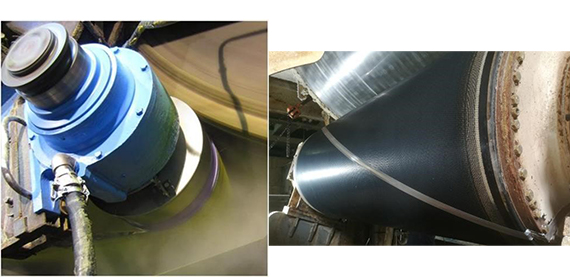 Tools:
Valmet iRoll Press for 2nd press, touch rolls, shoe press counter rolls
Valmet iRoll portable for all press nips as a service during shutdowns
Valmet iRoll Temperature for online sheet temperature profile measurement
Case: European tissue mill: More sellable tonnes and improved moisture profiles
A customer operating a tissue production line in Europe had been suffering wet sheet edges (about 20–30 cm on both sides) because of uneven press nip profiles. The moisture peaks on the edges meant the machine speed had to be reduced or the web width narrowed. These caused a significant reduction in efficiency.
Challenges:
Wet sheet edge problems due to uneven press nip profiles
Moisture peaks at the edges led to reduced machine speed or a narrower web, causing a significant reduction in production efficiency
Theoretical crown calculations made, but nip shape remained suboptimal.
Solutions:
Valmet Press Roll Cover PF polyurethane covers with optimal grooving
iRoll portable measurements to determine the actual nip profiles on the 1st and 2nd press
Data analysis and new roll shape by Valmet CrownSim calculation
Grinding of the optimal crown shape at the Valmet Service Center with sophisticated 3D grinding equipment.
Results:
The mill achieved better runnability and efficiency, generating more sellable tonnes.
An increase of dry content on the edges (+4%) reduced web breaks, enabling a higher running speed, and decreased energy consumption in the Yankee cylinder hood, resulting in cost savings.
Better paper quality was achieved through improved web profiles with a good roll cover performance and running interval.
Nip dewatering and roll covers – save energy and euros
Enhancing dewatering capability plays a key role in efficiency in all wet pressing processes. Efficient nip dewatering and improved press nip profiles can result in a 1 to 2 percent increase in dry content and 5 percent in energy savings. As discussed above, optimizing the nip and moisture profiles e.g. with Valmet iRoll portable measurements in the suction roll area can enable these savings for mills. Latest suction roll upgrades, such as Valmet Intelligent Axial Seal and Valmet Water Lubricated Axial Seal offer further potential to reduce rewetting by minimizing lubrication water and to increase suction roll maintenance intervals.
Another energy-saving add-on is the sheet temperature profile measurement tool, iRoll Temperature. Embedded in a web guide foil after the Yankee, it offers efficient detection of drying or moisture profile issues. This helps tune drying processes online. Better profiles improve sheet characteristics, which in turn allows faster speeds with fewer breaks.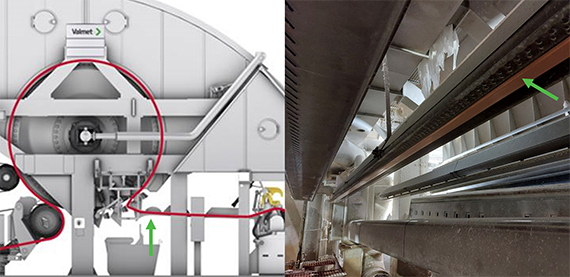 By selecting optimal roll covers and surface topography with a matching press felt, tissue makers can also increase dewatering further. To limit the energy needed for drying the tissue sheet, the most efficient action a mill can take is to improve post-press dryness. Greater post-press dryness reduces the energy demand on the Yankee dryer, which in turn frees bottlenecks in the dryer's performance and operating costs.
Tissue machines represent one of the most challenging operating environments for the press rolls due to high machine speeds, Yankee temperatures and release chemicals. This places high demands on the roll covers, which must be extremely wear-resistant and able to cope with high nip-loading frequencies. The Valmet press roll cover family provides tissue mills with the best properties for maximizing nip dewatering and achieving consistent tissue quality with the best possible runnability. Optimal roll covers and topography improve dewatering, but they also enable cost savings through longer roll cover change intervals. An example of this is the Valmet Press Roll Cover PL, a PU cover offering a wide hardness range. An additional benefit with modern polyurethane covers, such as the Valmet Press Roll Cover PH, is the possibility of turning off cooling water circulation and reducing drive power with a lower rolling resistance. As a result, tissue manufacturers will gain profit with energy savings and improved time efficiency.
"With Valmet optimized roll covers solutions, tissue makers can successfully enhance their post-press dryness," Pitkänen explains. "This in turn leads to remarkable savings in euros, because a post-press dryness that is up to 2 percent drier corresponds to savings of approximately €300,000 at current energy prices," he continues.
Tools:
Polyurethane roll covers for tissue lines
Valmet iRoll Press or iRoll portable for measurement and analysis of press nip profiles
Valmet iRoll Temperature for drying and moisture profile effects
PressSim simulation tool for optimal roll cover topography and implementing the updated grooves in the roll covers
Energy efficiency in tissue pressing
Case: SsangYong C&B, Chochiwon TM4, Republic of Korea
Challenge:
Target of better energy efficiency and paper moisture profile
Need for crowning improvement
Skewness in SPR nip profile, need for roll mounting adjustment.
Solutions:
Valmet iRoll portable for both press nips
Valmet's roll covers

Including optimized crowns
Including optimized cover hardness and grooving topography.
Results:
The dryness and felt profiles improved, and the nip skewness issues could be removed. The mill reported energy savings in steam (−5%, about −€70k/per annum) and energy saving in drive loads (−5%, about −€22k/per annum).
Applications for dry end and rewinders
Broke paper in reeling and winding and runnability issues in converting are a significant source of efficiency loss in tissue production. Examples of sources of low material efficiency are: issues in roll build-up due to reeling nip load inaccuracies; parent roll hardness profile errors; winder nip-loading problems; and baggy web edges in converting, causing web breaks. Parent roll profile errors can be related to headbox profiles, press nip operation, creping or the reeling itself. Hard areas on the parent roll cause bagginess and wrinkling in the next unwinding, or cracks and a loss of product bulk. Meanwhile, soft areas are sources of a loose roll structure, causing crepes or high-tension peaks in the next unwinding – resulting in sheet breaks in the rewinder unwind or a poor visual appearance in the customer rolls, for example. With Valmet iRoll technology for reels, sheet tension profiles and rewinders, many of these issues can be resolved.

iRoll Reel and iRoll portable reeling analysis is a toolkit for precisely measuring the reeling nip load inside the nip. The technology also provides information about the parent roll hardness profile online when the sensor is rotating through the nip. In tissue reels, the nip load is very low, which makes the nip load control challenging. Any friction and discontinuity in the reeling process can easily cause roll build-up issues. The iRoll operating principle means the reeling nip can be analyzed and optimized with excellent accuracy, leading to a better reeling process and avoiding broke. For example, a good roll structure right from the core enables less bottom broke to be left in the rewinder/converting line unwinder, resulting in improved material efficiency.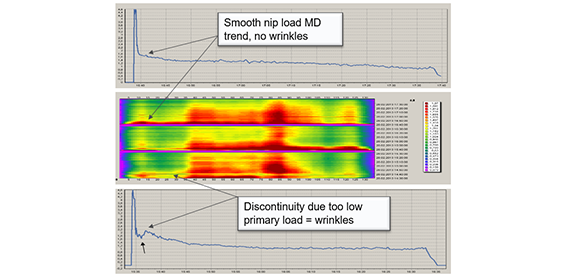 Especially in the converting or rewinder area, iRoll Tension is another intelligent tool for measuring web properties on a sheet guide roll in tissue making. It enables the web tension profiles to be measured online without separate scanning devices. iRoll Tension allows the troubleshooting of bagginess or sheet break issues in converting, for example. This technology can also be used to analyze fabric tension profiles and uniformity in the press felt.
At the winder, rope marks, wrinkles or folds in customer rolls can cause expensive broke and production losses. Valmet's intelligent roll for the winding processes, iRoll Winder and corresponding iRoll portable tools, enables online measurement of the tension and winding nip loads and customer roll set hardness profiles. These reveal the true winder nip operation and equipment condition, helping optimize the winder recipes and tension controls. Other useful characteristics are an exact winder nip load MD trend analysis and optimization capability.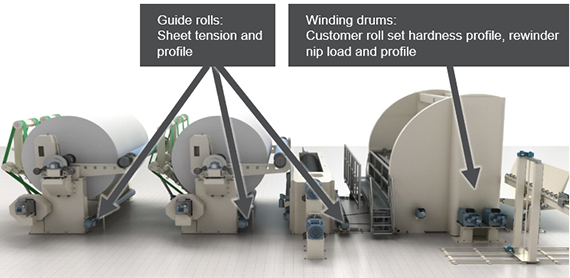 Tools:
Tissue makers are hovering at around 80 percent of their efficiency potential globally, significantly lower than in the printing paper and packaging board industries, in which the efficiency rate is typically closer to 90 percent"
Rethinking for an intelligent focus
The tissue market is consumer-led. Profit margins are tight, and value-added is mainly created in converting rather than actual tissue paper production. However, consumption is constantly growing due to urbanization, rising disposable incomes and increasing hygiene requirements. This is creating a growing demand for tissue paper to be converted but produced with minimal energy costs and material losses.
"In achieving these goals, many tissue manufacturers can still get more out of their equipment by reducing web breaks, broke and energy costs – helping to widen overall profit margins. There's huge potential for cost savings in the tissue production supply chain," Pitkänen says, inviting tissue makers to rethink their efficiency goals based on iRoll technology.
"With Valmet intelligent roll solutions, tissue makers can improve their production line's efficiency in the tissue machine, rewinder and converting processes. Better material efficiency translates directly to bigger production volumes without adding costs. At the same time, energy consumption per tonne is kept to a minimum, resulting in proportionally lower CO2 emissions as well," Tatu Pitkänen concludes.
Text: Sari Lehtonen-Lammi