Press roll covers for tissue making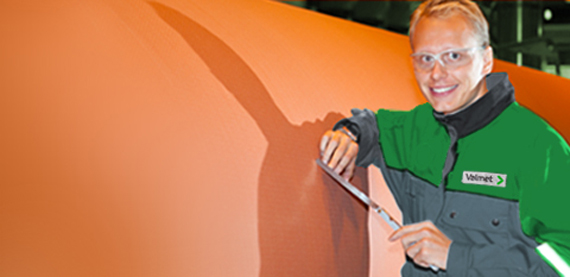 Improved dewatering with press roll covers
In tissue machines, pressing is a very brief and compact yet vital process for effective water removal. It therefore places great demands on the durability, maintenance costs and energy consumption of the roll covers in the press section. Valmet offers a wide range of roll cover solutions with advanced dewatering technology for different tissue presses and roll positions. Polyurethane cover Press Roll Cover PH is our newest option for efficient tissue pressing.
Our selection ranges from economical rubber covers for less demanding applications to state-of-the-art polyurethane roll covers that ensure improved press nip loading and constant operating parameters in demanding pressing conditions.
Better dryness and runnability with Doctor Blade Dual
The press section also has a major impact on sheet surface properties such as tissue bulkiness and thickness. Achieving the desired tissue quality depends on water removal efficiency and the uniform properties of the roll covers. In addition to press roll covers, Valmet offers solutions for better dewatering and sheet dry content with Doctor Blade Dual, a doctor blade with two patented functions that solves roll doctoring problems in difficult press section positions.
iRoll Press improves nip profiles and runnability
Runnability and quality defects due to press nip profile variations cause problems with sheet quality and water removal, as well as increased energy consumption. Valmet's iRoll Press creates new options for improving press function and offers a solution to these problems. In addition to improved press nip loading, iRoll Press provides an extended roll cover lifetime and smooth runnability.
Fast, reliable delivery of original spare parts is essential for a tissue production line to achieve optimal performance. Valmet now also provides quick access to spare parts online.
Roll cover application tool
Find optimal roll covers for every tissue-making process

Click the image above to use Valmet's roll cover application tool for tissue machines to find the right covers for your press section applications
Customer success stories and technical articles

Significant benefits for tissue machines with the new roll covers
Over the years, the Metsä Tissue Mänttä mill in Finland has become familiar with many of the aforementioned cover problems and challenges often encountered on tissue machines. Valmet and Metsä Tissue have a long history of collaboration in roll maintenance and roll cover development projects.