Dec 21, 2021
In November 2020, Blue Paper launched the "Vulcan" project by modernizing its paper machine dryer section to increase its capacity and performed various maintenance tasks. During the six-week shutdown, the safety of everyone was secured despite the ongoing pandemic.
Blue Paper's Strasbourg paper mill in France is a joint venture between VPK Group and Klingele Paper and Packaging Group. The company produces paper used for the production of corrugated board. The products are made solely of 100 percent recovered paper – meaning more than 400,000 tonnes of corrugated base paper per year. Grades include fluting, testliner and multi-use paper in substances between 70 and 135 g/m². The paper machine was converted from producing newsprint to corrugated board by Valmet in 2013.
Initially scheduled for August 2020, the fourth major rebuild of the mill's paper machine had been postponed a few months due to the Covid-19 pandemic and delays resulting from the lockdown in the spring. When the shutdown started in November 2020, it ran right into the second lockdown, requiring special attention to organizing the work. However, the project was completed with great results: Previously, Blue Paper had manufactured between 1,000 and 1,200 t/day of corrugated base paper (i.e. fluting and liner), but the rebuild now allows it to make a steady 1,250 t/day, operating at a maximum speed of approximately 1,300 m/min.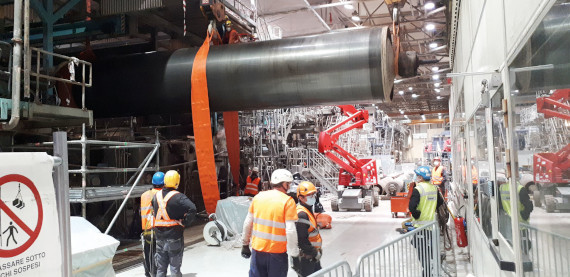 Blue Paper's "Vulcan" project: a fruitful partnership with Valmet
Already a longstanding partner of the site as the machine manufacturer, Valmet was awarded an overall contract to increase the capacity of the air system (ventilation), dismantle the old drying cylinders and install new ones (supplied by a third party), and retrofit and upgrade the hood. In addition, the contract covered various maintenance tasks such as the maintenance of the doctors at the beginning of the dryer, the mechanical maintenance of the drives, the annual maintenance of the headbox and the winder, and the grinding and coating of corroded suction rolls and vac rolls.
Jean-Nicolas Bailly, Operation Manager at Valmet Services, adds that "the installation of flexible doors on the hood allows the Blue Paper team to open them fully, culminating in easier maintenance and greater safety. And the cooling of the drying section is faster: Changing the fabric now takes less time".
Organizing differently to ensure safety and an on-time restart
The project's challenges not only included its specific character and technical scope: Work at this site also started two weeks before the second lockdown. The instructions for performance were strictly observed from start to finish by everyone involved. All employees were tested before work. The teams were limited to four or six people. Opportunities for contact were thus reduced to a minimum, and stand-in crews were earmarked should an outbreak occur. "Valmet and its Italian subcontractor appointed a dedicated member of staff solely responsible for administrative coordination in the context of Covid-19. We greatly welcomed this measure," emphasizes François Bru, Managing Director of Blue Paper mill. "This employee was in charge of traffic authorizations for example, as work was organized on a 3x8 basis and during the hours of curfew."
Across all basis weights, the average speed capacity increased by about 8 percent.
"Suitable compromises were found here," Jean-Nicolas Bailly remarks. "Everyone involved in the project played by the rules. The result was just as we'd hoped: Not a single case of Covid-19 was detected during this shutdown."
Given the severe restrictions on travel, a new way of working was established. The project was mainly carried out by Valmet's local team, backed up, of course, by remote resources based in Finland. "The health situation prompted Valmet to hand over responsibility for the project to its French teams, who were extremely efficient," says François Bru. "This simplified communication between our teams. In addition, Valmet's decision to call in its Italian partner proved little short of a miracle: Italy was then the only country not to have closed its borders! The teams also showed themselves to be both professional and efficient."
Mutual trust and partnership mindset made it possible
"Founded on a relationship of trust, this project was extremely well organized beforehand," stresses Jean-Luc Obrecht, in charge of Mechanical Maintenance and New Works at Blue Paper. "Always ready to listen, the Valmet team demonstrated a responsive and flexible approach. Valmet was more like a partner than a subcontractor on this project: We really did work hand in hand, with common goals."
On the Valmet side, Jean-Nicolas Bailly described its approach as follows: "We accompanied Blue Paper in its considerations from the start of discussions to help it acquire an overall vision of the necessary modernizations. We also devoted a lot of time beforehand to organizing the works and managing the risks. Even if this project was not especially complex in technical terms, its pandemic performance and the length of the shutdown made it quite unique."
Goals achieved and production records broken
All Blue Paper's goals were achieved. Drying capacity was increased, and scaling-up happened quickly. Speed records were broken just two weeks after restarting the machine, hitting a gross production rate of 1,525 t/day. Three new records were registered between December 2020 and June 2021. The average speed improved by approx. 100 m/min across all basis weights, representing a capacity increase of 8 percent. "In 2021, we're aiming for production of 420,000 tonnes, compared with 390,000 tonnes before the rebuild," says François Bru. "Once we've dealt with various bottlenecks, particularly involving pulp preparation, we will achieve 440,000 tonnes in the next two or three years."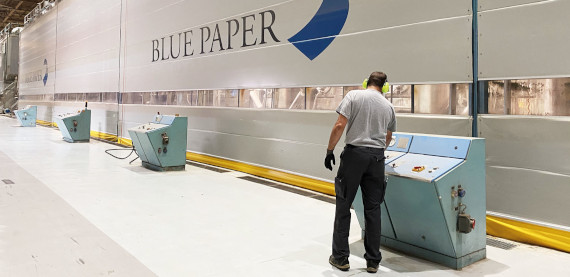 For Blue Paper, it was essential for the paper machine to restart on time, because the commercial stakes were high. The market was actually crying out for corrugated base paper – and still is – notably fueled by the boom in online commerce. "This is the most successful project we've ever carried out with Valmet," reveals François Bru. "Our previous experiences allowed us to develop and learn together. The French team met our expectations in every respect, and the successful outcome of this experience should boost their confidence even further in future!" Even Jean-Nicolas Bailly is very satisfied: "Looking back and having achieved the goals, we can confirm we made the right choices throughout the project. We didn't run into any nasty surprises. From our point of view, modernization ran smoothly from start to finish."
We really worked hand in hand, with common goals.
François Bru mentioned the strong commitment of the people to performing the "Vulcan" project: "This modernization has further strengthened our experience of large-scale works. The huge scale of the preparations undertaken was an important factor here. This rebuild is thus an exceptional benchmark through the success of several key aspects: technology, safety, organization and the quality of collaboration between the various actors. It will remain a flagship project, and an unforgettable experience for human resources and the entire team of Blue Paper."
Text Valérie Lechiffre