Jan 8, 2021
Lignin extraction from kraft recovery cycle has been increasingly gathering attention in both old and modern mills around the world. Transforming the usual pulp mill concept into a multiproduct biorefinery, lignin extraction processes are currently presented as a debottlenecking alternative, capable of increasing pulp production and as a sustainable bioproduct process with potentially high-end marketable products.
Sustainable alternatives to debottlenecking pulp mills are evolving as we encounter a favorable pulp market with environmental concern over the usage of fossil-based products and fuels. Lignin extraction is emerging as a potential pathway for both environmental and economic gains.
Separated lignin can be a source of additional revenues in pulp mills. Lignin can be used as a biofuel either for mill consumers (lime kiln, biomass boilers) or externally in replacement of traditional fossil fuels. There is more and more interest to use lignin in the field of green chemicals with new high-value applications, such as biopolymers, adhesives or carbon fiber production.
LignoBoost™ is a commercial lignin extraction process where precipitation, filtration and washing are used to separate lignin from black liquor. It is currently one of the main paths for transforming traditional pulp mills into biorefineries with additional sustainable co-products.
Full-scale Valmet LignoBoost lignin extraction plants are already in operation with successful results. Moreover, a demonstration-scale lignin extraction plant has been developed, aiming at customers that are willing to enter lignin business but are still prospecting applications and future market opportunities for lignin-based products. The first Valmet LignoBoost XS solution has been supplied to one of the major Brazilian pulp companies and started its operation in November 2019.
LignoBoost XS: Compact concept
Since lignin extraction plants are relatively new technology to many pulp mills, it is important to develop cost-effective and practical solutions that suit each mill's specific needs. In this case the traditional lignin extraction process had to be adapted and turned into a cost-competitive compact skid-like installation, named LignoBoost XS, that can be easily transported and installed at mill site.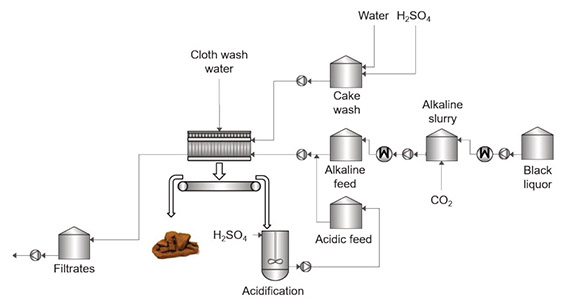 LignoBoost XS plant concept
In this installation, all process filtrates and waste streams were designed for an open circuit concept since the plant was built at a customer R&D facility and no mill process integration was considered. Independent process utilities (water, compressed air, chemicals) were installed at the facility to supply project's demand.
Plant delivery at customer
The main goal for this project was to provide an effective way for the customer to produce lignin, evaluate end markets, and develop the best pathway for a future lignin business including a large-scale commercial plant.
Time schedule for the project was 12 months: The project was approved in late 2018, assembly started in August 2019 and skid transport for installation on site happened in October 2019. Plant commissioning started in late October 2019 and it took about 20 days for the plant to be ready to start up, including cold and hot commissioning.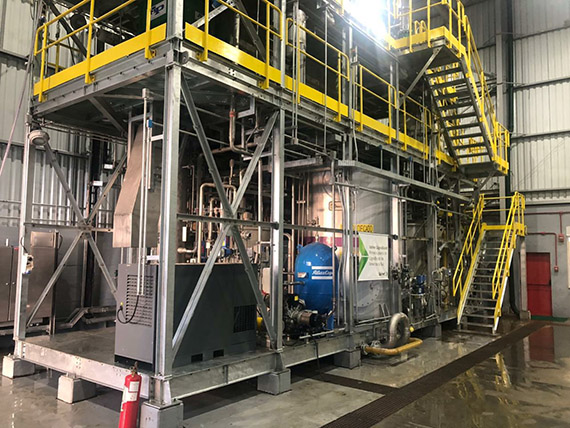 LignoBoost XS plant at customer site
New technology plants are specially demanding regarding startup phase, requiring lots of equipment testing and process tuning.
Conlusions
Lignin business is showing up as one great pathway to a sustainable and economically viable new way for kraft pulp mills to take in near future towards biorefinery status. The technology for lignin extraction is already working on commercial scale plants and market development is advancing in promising way.
LignoBoost XS is presented as a viable alternative for mills desiring to test and pursue new business lines with lower investment and risk.
The compact installation concept of LignoBoost XS was proven to be functional and the ease of construction, transportation and installation makes this approach a promising alternative for introducing the technology to new customers.
Authors: Guilhermo Magalhaes, Henrik Wallmo, Anders Littorin, Anna Borg and Felippe Rosa
This article is a summary of a paper which will be presented at the International Chemical Recovery Conference ICRC in Brazil in 2021. The presentation will cover the concept for scaling down the conventional lignin extraction plant as well as preliminary results and initial experience with LignoBoost XS startup and operation.