Dec 12, 2020
A new demonstration-scale LignoBoost plant helps Klabin to further study the possibilities of lignin. The wide base of different wood species processed at the mill gives it a great opportunity to be a future producer of both softwood and hardwood lignin in South America.
Klabin is Brazil's largest producer and exporter of packaging paper, and it processes various eucalyptus and pine species at its mills. Different types of wood generate different black liquors, and therefore different types of lignin, in the kraft pulping process. This is potentially a great opportunity for Klabin to be a future producer of both softwood and hardwood lignin in South America.
Valmet's modern technology for lignin extraction was installed in the Technology Center at Pilot Plant Park in Telêmaco Borba (PR) in November 2019, marking the first LignoBoost installation in South America. The demonstration-scale lignin extraction plant, LignoBoost XSTM, has been developed for customers who want to enter the lignin business but are still prospecting applications and future market opportunities for lignin-based products. The plant offers Klabin the possibility to study different lignin qualities and their use in value-adding products.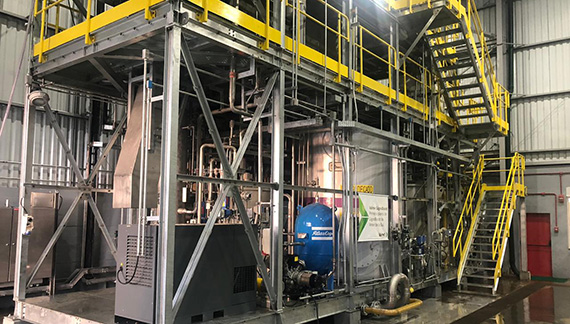 Valmet LignoBoost XSTM in Klabin's Technology Center at Pilot Plant Park in Telêmaco Borba in Brazil
Lignin creates new businesses
Wood consists mainly of cellulose, hemicellulose and lignin. Today, lignin is used mainly to produce electricity and steam for internal use at the mill, but lignin also has the potential to be a raw material for various chemicals, plastics, carbon-based products and pharmaceuticals, which are today mainly made from fossil sources.
Klabin sees lignin as the next step toward expanding into new businesses. The new LignoBoost XS plant serves its strategic vision to use wood in different ways.
"The global demand to reduce fossil fuels and non-renewable materials is growing. Lignin can be used as a base chemical to synthesize various products. These opportunities have been studied thoroughly over the last 20 years, and we've already seen lignin being used in some segments. We felt that extracting lignin on an industrial scale was natural for Klabin – after all, we can offer different types of lignin, produced from eucalyptus, pine and through our different degrees of cooking," explains Francisco Razzolini, Director for Industrial Technology, Innovation, Sustainability and Projects at Klabin.
"We used to extract lignin from black liquor at our laboratory, but we were operating in far from the ideal conditions. With the new LignoBoost plant, we'll be able to move forward more quickly in our research and development," explains Carlos Augusto Santos, Klabin's Corporate Research and Development Manager.
Tailoring the plant to customer needs
"Valmet was a natural partner for us. I remember visiting the first Valmet LignoBoost pilot plant in Sweden, and as Valmet is located close to us in Brazil, technical assistance is always ready to support us if we need it. We chose this LignoBoost XS plant because of Valmet's expertise in this process, and we knew it would be quicker to enter this market with a small-scale plant. We put the plant together in less than a year. It actually isn't that small: a tonne per day of dry lignin is a reasonable amount to enter this market with. This plant will provide us with a basis to study the process parameters and the suitability and characterization of our lignin for a possible future commercial plant," Augusto continues.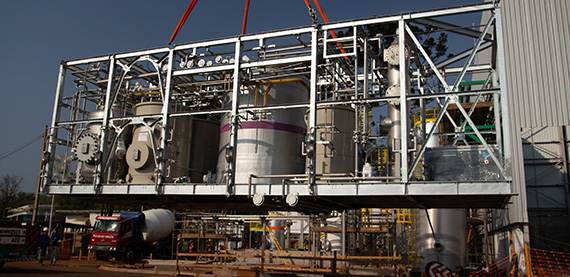 The Valmet LignoBoost XS plant was designed for easy transportation and installation
Valmet's lignin extraction solution has been developed over the years – both to produce different lignin qualities and to suit various production environments. Klabin's LignoBoost plant was designed to be easy to build, transport and install. It needed to meet Klabin's requirements of a practical compact solution while having the flexibility to run with both pine and eucalyptus black liquor. The plant contains all the steps, like washing and purifying lignin, a commercial-scale LignoBoost would have. This results in high purity with less residual sodium and other contaminants, increasing the possibilities to use lignin in more challenging applications.
"We utilized many of the lessons learned from previous projects, which allowed an efficient and fast start-up. The plant achieved design performance in the first ten days of operation, with good efficiency and process stability. The plant was commissioned in November 2019 and has already proved a success. The performance tests at Klabin's LignoBoost XS have met expectations," says Felippe Rosa, Recovery and Energy Sales Manager at Valmet South America.
Toward new bioproducts
"Valmet's mission is to develop technologies to convert renewable raw materials into sustainable results for our customers. Lignin extraction is one of the solutions we're continuously developing. We believe that pulp mills will soon be true biorefineries, not only producing fibers, but with a range of renewable products to replace fossil raw materials. Lignin will be one of the main enablers of this transformation," says Celso Tacla, Valmet's South America Area President.
Klabin expects the lignin market to continue to present opportunities and demand greater volumes. This will allow Klabin to utilize the technology at a larger scale and integrate it with their pulp mills' processes.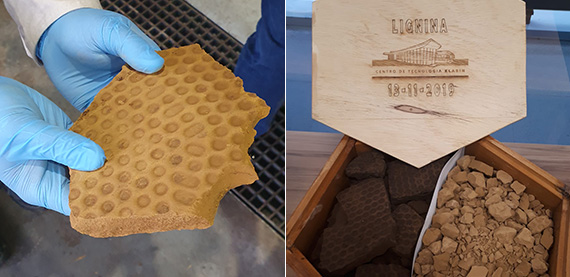 Klabin's LignoBoost plant was commissioned in November 2019 and has already proved a success.
"We wanted to be sure the process worked, that we had the right product characteristics and quality parameters. Lignin performance has been constant, and we can obtain a product with good purity and a low degree of ash, inorganics that can contaminate lignin. With this work, we're eliminating uncertainty in our process and preparing ourselves for market growth and the future scaling-up of production. We have no doubt we'll be successful," Razzolini concludes.