Feb 25, 2021
DCS migration and upgrade achieved without a production shutdown. While carrying out the project, audio and video tools were used for interfacing with Valmet engineers.
PT Toba Pulp Lestari Tbk (TPL) locates in Porsea, North Sumatra, Indonesia. The DCS for the pulp mill, power plant, wastewater plant, and drying machine as well as other related departments needed to be replaced due to obsolete hardware and maintenance challenges. The total I/O's for the upgrade is about 15,000 and the whole project is being phased over a number of years. The first stage started in 2018 and will be carried out gradually until 2021.
As scheduled, the control system of boiler feedwater was to be upgraded in 2020. The Covid-19 pandemic and associated travel restrictions made it impossible to implement commissioning work in the normal way. A pioneering approach to remote commissioning was proposed and carried out. The successful project completion was achieved by TPL's own personnel assisted by innovative remote support from Valmet's automation specialists in India.
Remote support
The schedule set by TPL was tight, with the replacement of the existing digital control system, already at end-of-life, to be accomplished without a shutdown of the boiler feedwater system. With hardware design and manufacturing as well application engineering completed in India, the pandemic meant that Valmet engineers could not provide in-person on-site support. Ir. Sanatali Kaharuli/ Lie Liang San as Dy Engineering and Maintenance Dept Head, P.T Toba Pulp Lestari Tbk explained that TPL's team restructured all the hardware and re-engineered the I/O's addresses to suit conditions required for an on the run installation without removal of the old cabinets. System testing, installation, and commissioning would have to be performed by the TPL team remotely supported by Valmet. Remote support was achieved by using live video and audio capabilities.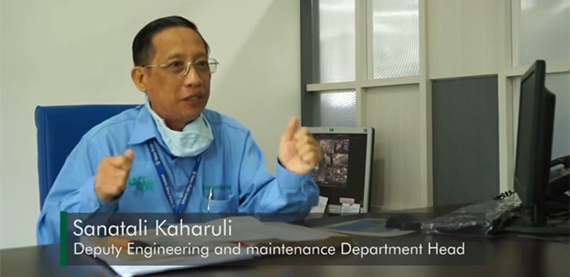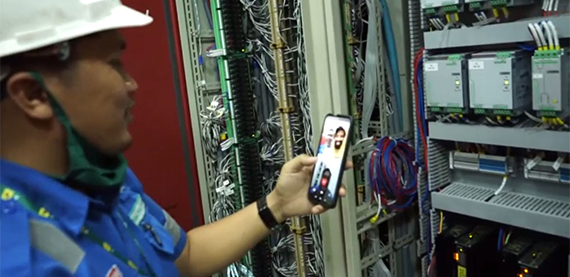 Good planning
Valmet and TPL worked together to make an exhaustive pre-commissioning activities list, which was closely followed by TPL at the site. The migration project to replace the existing system with the Valmet DNA automation system was to take place in phases. Valmet supplied DCS hardware, decoded the existing software, and did rigorous testing before actual replacement. For each phase/area a separate software factory acceptance- test was done on-site, a daily activity plan was made and jobs completed in a very short period. Field cabling and existing termination modules were replaced completely by the TPL team and connected to the Valmet DNA automation system with the new cross-connection provided by Valmet. TPL installed the two cabinets, with approximately 650 inputs and outputs (I/O), in two days under the remote supervision of Valmet engineers. Kiran Wirkar, Project Engineer, and Ashish Chaudhari, Development Engineer from Valmet in India were heavily involved to support the installation of the Valmet DNA automation system according to the correct procedures and protocols. Lie Liang San said that "good planning, good preparation before execution, and good teamwork of young generation team with full motivated continuous improvement resulted in no interruption to the mill processes during the switch over."
"Good preparation work, like better system training, cooperation between Valmet and the Customer as well as personal networking inside the mill helped us to achieve the successful commissioning. We understand the customer's needs to deliver exactly what they want," says Rajeev Srivastava, Senior Project Manager, Automation, Valmet.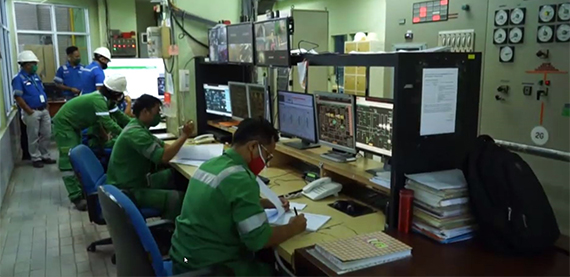 Successful execution
Since there was no shutdown planned, the boiler feedwater system was running locally from the motor control center (MCC) during the installation and commissioning. Once the automation system was ready with field termination completed, TPL personnel moved controls one by one to the Valmet DNA automation system. Lie Liang San confirmed this novel project was only made possible with proper planning, full Hazop analysis, and systematic procedure on execution and Valmets's remote support even without any remote connection to the Valmet DNA automation system, and TPL is very satisfied with the automation system performance.
"This is our first time using online support for commissioning on the mill running condition. Both sides did a lot of communication and preparation to ensure the commissioning went smoothly and successfully. We're satisfied with the automation performance and together we brought good results," concludes Lie Liang San, TPL.