Feb 23, 2021
PVO-Vesivoima's hydropower plants on the Iijoki, Kemijoki and Kokemäenjoki rivers will introduce a new central control system in March. The selected system is Valmet DNA. The system will provide PVO-Vesivoima with a better overview of the production process and enhance operation in electricity markets with new control solutions.
The new system is essential for the commercial use of hydropower. The system is introduced in anticipation of changes in the rules and requirements of the electricity markets. An example of such a change is the requirement of a 15-minute imbalance settlement period in electricity production. The system makes it possible to have a better overall picture of weather conditions, flow rates and the electricity market situation, for example. At PVO-Vesivoima, there has also been a need to have better tools to support operation.
"This is a higher-level control system whose geographical location is irrelevant. Power plants have their own machine and plant automation systems, and they are connected to the centralised SCADA system in Raasakka," says project manager Tommi Hansen-Haug from PVO-Vesivoima.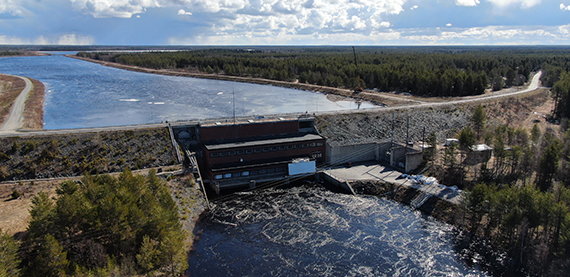 Raasakka hydropower plant. All hydro power plants will be centrally operated from a central control room located in Tampere about 500 kilometers from Raasakka.

The system enables connections between different players
PVO-Vesivoima's new control and data acquisition system is based on the Valmet DNA SCADA solution for process control and monitoring. The system is operated using the web-based Valmet DNA User Interface (DNA UI).
The virtual automation system installed in the Raasakka power plant is operated from Tampere. The system is linked to hydropower plants and several third-party systems, such as the company's energy management system, electricity distribution companies and the Finnish Environment Institute (SYKE). To maximise safety, the system has been duplicated and installed physically in two locations.
The Valmet DNA system is extremely reliable. In addition, it offers us numerous new development opportunities. It has been designed as a system of the future, based on which it's possible to develop new things," says Tommi Hansen-Haug.
"The project is in its final stage, and cooperation with Pohjolan Voima has been smooth. The virtual, completely duplicated system with the web-based Valmet DNA User Interface represents reliability and the latest technology in the field. The platform provides a good basis for future development and ideas," says Arto Mäkinen, sales manager at Valmet.
Despite the special arrangements made due to the Covid-19 pandemic, deployment and cooperation have been smooth.
Based on tests, we're happy with the central control system. We also appreciate Valmet's strong service support. Despite the exceptional year, our cooperation has been very good. Deployment has also been carried out almost completely remotely. The Covid-19 pandemic hasn't affected this project because everything has gone more or less as planned and within the schedule," says Tommi Hansen-Haug.
Additional information:
Tommi Hansen-Haug, automation specialist, PVO-Vesivoima Oy, tommi.hansen-haug(at)pvo.fi, tel. +358 50 3038 629
PVO-Vesivoima Oy, a member of Pohjolan Voima Group, is the owner or co-owner of twelve plants at Iijoki, Kemijoki, Kokemäenjoki and Tengeliönjoki. They provide reserve capacity that is important to balance the consumption and production of electricity. The company's share of the electricity output of the plants is a total of 449 megawatts. PVO-Vesivoima produces an average of 1.7 terawatt hours of electricity per year. Hydropower is a renewable, domestic, decentralised, carbon-neutral and particularly flexible form of generating electricity.