Apr 5, 2023
Valmet launched an ambitious R&D and innovation program called Beyond Circularity in 2022. During the first year, more than fifty internal projects and eight joint projects were started, and 80 ecosystems partners were welcomed to the Beyond Circularity ecosystem.
Valmet launched an ambitious R&D and innovation program called Beyond Circularity in 2022. It aims to develop process technologies, automation, and services to create value by utilizing renewable and recycled materials, industrial sidestream rejects, and waste. Circularity is at the core of the program and its ecosystem, and its targets are closely connected to Valmet's technology vision 2030 and Climate Program – Forward to a carbon neutral future. The program is partly funded by Business Finland and is part of the "Veturi" initiative
The program is implemented through seven streams: program management; recycling technologies; bio-refining/value adding to waste; resource-efficient industries; automated and digitalized industry and services; service lifecycle concepts; and emerging new process concepts and disruptive business.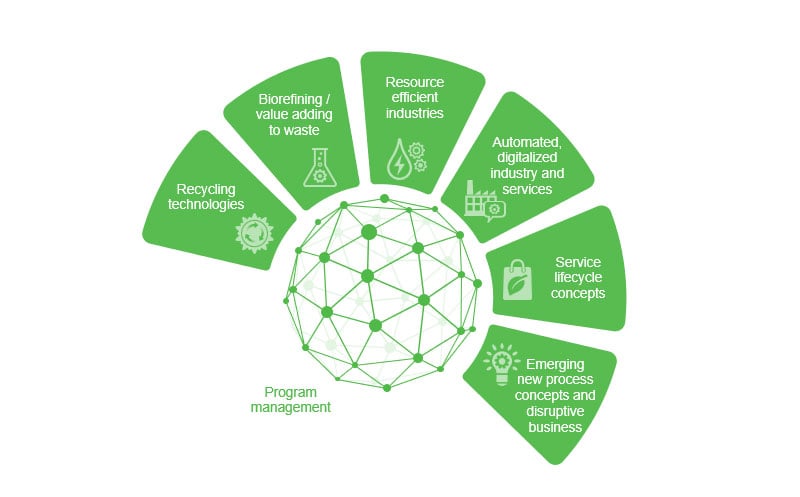 Internal and external cooperation make success
The program has been ongoing for a year now, so it's a good time to look back and summarize the first year.
"Setting up this extensive program required a lot of internal and external cooperation. During 2022, we started more than fifty internal projects, of which dozens are collaborations between different business lines and technology units. For example, active cross-organizational projects are ongoing in the areas of micro cellulose and textiles. During this year, we will initiate several new R&D projects that have a clear connection to our Beyond Circularity roadmap," says Viivi Villa-Nuottajärvi, Director, Internal Beyond Circularity program at Valmet.
80 ecosystem partners and eight joint projects
A green transition ecosystem is built as part of the Beyond Circularity program to find solutions for complex and challenging problems together. It will create value and grow business for participants, expand competences to new areas, and encourage the best national and international partners in the field to join.
"There's been a lot of interest in our ecosystem. We already have more than 80 excellent ecosystem partners, and we are still welcoming more. Our target is to have more than 100 ecosystem partners by 2025," says Virpi Puhakka, Director, Ecosystem at Valmet. She continues: "The ecosystem requires us to think and operate in a new way. I'm sure there will be challenges along the way, but I also see many opportunities. We just need to find new ways to collaborate and innovate."
The official ecosystem launch event was organized in November 2022. More than 150 ecosystem partners, Valmet R&D professionals, and stakeholders came together at Pikku-Finlandia, the unique wooden venue in Helsinki, Finland. The atmosphere was energetic and exciting. The participants shared information, discussed joint project ideas and future ecosystem opportunities, and networked to create capabilities for the future. Read more here.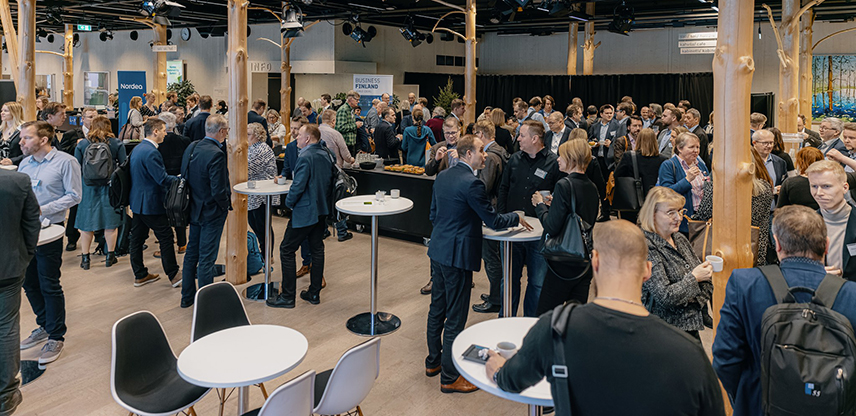 Interesting joint research projects ongoing
Eight interesting joint research projects funded by Business Finland and the EU are already ongoing:
The co-innovation UrbanMill project to develop an industrial chemical recycling concept for plastic waste. Read more: VTT release
The co-innovation HiPer project – fiber-based composite materials to generate a completely new product portfolio based on lightweight sustainable composite materials. These new materials will be suitable for several industrial sectors like construction, automotive, transportation, furniture, and packaging. Read more: project webpage
The co-research Sustafit project – sustainable fit-for-purpose nonwovens. The project will outline segment-specific sustainability strategies around the use of sustainable and recycled fibers and their processing into non-woven products. We are building an understanding of jointly identified knowledge gaps and sustainable fiber attractiveness for non-woven applications by developing their hydrophobicity and boosting their antimicrobial performance. Read more: project page
The co-research POWER Beyond project – process optimization with frictionless and vibrationless technologies for energy efficiency and circularity. See Aalto's project page.
The co-research CEBIPRO project – New analysis technologies for circular economy biorefineries. Read more: Xamk's press release (in Finnish)
The co-research SEEDForest COACH project creates steps toward the human-focused technologically enabled intelligent industrial work of the future. Read more: SEEDForest's webpage
The co-innovation USWA project – ultra scalable wireless access
EU project REDYSIGN – Resource-efficient processes for the production and circularization of innovative recyclable-by-design fresh meat smart packaging from wood
Interested in joining our ecosystem?
If you are interested in ecosystem partnering, please fill in this contact form. If a joint project is accepted for the Beyond Circularity ecosystem (with Valmet approval), Finnish partners may submit a partnership funding application to Business Finland. Business Finland offers partnership funding for research, development, and innovation projects under the ecosystem themes of the Beyond Circularity program.
The next Business Finland cut-off dates for applications are April 13, 2023, and September 13, 2023.
More information: beyondcircularity[at]valmet.com and Business Finland website