Oct 6, 2023
Part of Valmet's Beyond Circularity program and its ecosystem, the collaborative research project GreenAro explores sustainable production routes from renewable raw materials to aromatics.
Photo by VTT.
Replacing fossil feedstocks with renewable carbon sources is a key theme in advancing the green transition within the chemical industry. The need to find sustainable raw materials is imminent – the European Union aspires to become climate neutral by 2050, and the Chemical Industry Federation of Finland hopes to reach carbon-neutrality by 2045.
Benzene, toluene, and xylene (BTX) aromatics are currently produced from fossil feedstock in oil refineries and petrochemical plants. With an annual production of over 120 million tons, BTX aromatics are used in chemicals and polymers for producing everyday materials such as paints, drugs, plywood, and plastics.
Part of Valmet's Beyond Circularity program and its ecosystem, the GreenAro project is exploring two renewable feedstocks for producing BTX aromatics: pyrolysis bio-oils and waste glycerol from biodiesel production. The research aims to create effective catalytic processes to maintain Finland's leadership in innovative technologies for converting abundant sustainable raw materials to green BTX aromatics.
Valmet provides technology and industrial insight
A collaborative effort between VTT Technical Research Centre of Finland, Aalto University and Åbo Akademi University, the GreenAro project also involves Finnish companies through the Veturi program. Veturi ecosystems are extensive research ecosystem programs funded by Business Finland.
"BTX aromatics currently have no renewable alternatives. The GreenAro project is a significant effort for Valmet on both national and international levels. We wish to discover renewable aromatic source materials that can be sourced from Finland, and we see great export potential for the innovations and products that the research will enable," says Joakim Autio, Solution Development Manager at Valmet.
Valmet's role in the project is to function as a technology provider and contribute industrial insight through the project's executive team. GreenAro is strongly linked with Valmet's own development projects within the Veturi program which provide GreenAro with, for instance, research samples.
"We are especially interested in ways we could develop our own processes to provide primary and secondary material feeds for parties that are either manufacturing or using bio-based chemicals. As the European Union is imposing restrictions on burning biomass, GreenAro is a crucial project for ensuring that Finnish industry can shift towards more sustainable biomass usage," Autio says.
Modeling the entire value chain
As BTX aromatics are among the most important high-volume building blocks of the chemical industry, even a small percentage of their yearly consumption amounts to a significant environmental impact.
GreenAro features multi-disciplinary involvement and collaboration by companies from each stage of the value chain. Green Fuel Nordic produces fast pyrolysis bio-oil from domestic forest biomass, Valmet provides bio-oil production technologies, Neste and Borealis the intermediate aromatics production, and Borealis and Prefere Resins the end uses of the aromatic compounds.
"The collaboration enables us to model the entire value chain from feedstock generation all the way to end products. This ensures that our findings are rooted in practice and have real-world applications," VTT's Research Professor Juha Lehtonen says.
Roadmap for a sustainable future
The two-and-a-half-year co-research project began in early 2023 and is now entering the testing phase.
"We have established research procedures and constructed equipment for catalyst testing. Now they are starting to be ready for evaluating aromatization catalysts developed in the project. All upcoming research aims to create a theoretical framework that provides a roadmap for further development and scaling up the solutions," Lehtonen says.
"Hopefully this project will provide the required insight for generating lifecycle analyses and techno-economic calculations to prove that there are viable renewable alternatives for BTX aromatics. Although we are still in the early stages, the project consortium has already provided important opportunities for networking and cross-pollination within the industry," Joakim Autio sums up.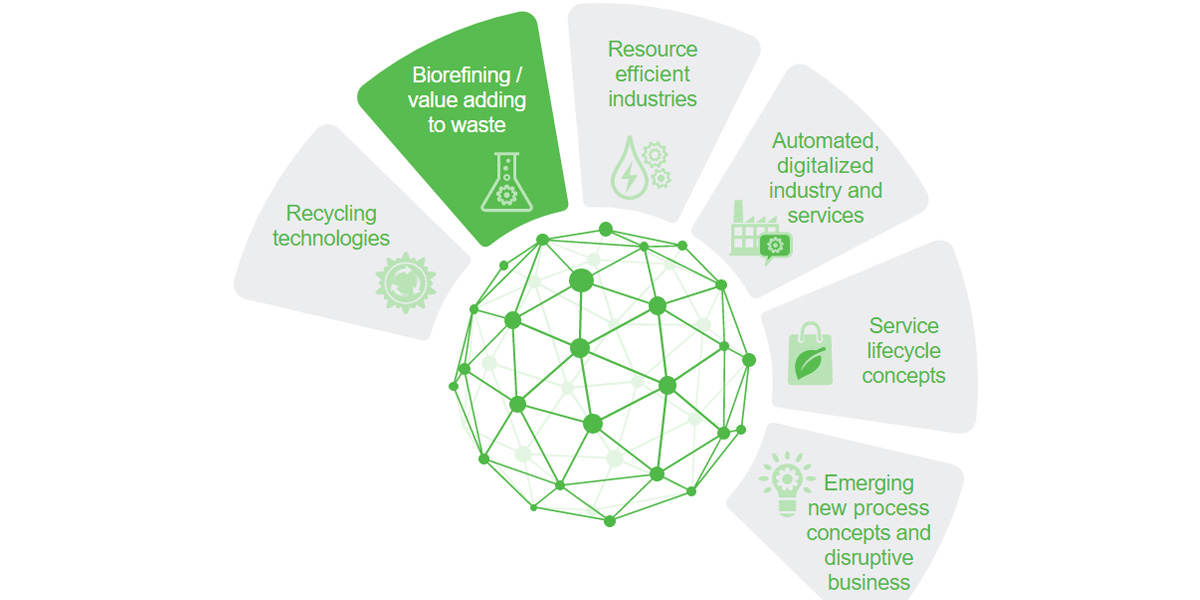 Valmet's Beyond Circularity program is implemented through seven streams​. The GreenAro project is part of the Biorefining / value-adding to waste stream.
Project summary
Target: To discover new sustainable carbon sources for replacing fossil feedstocks in BTX aromatics production.
Project timeline: 2023–2025
Research partners: VTT Technical Research Centre of Finland, Aalto University and Åbo Akademi University
Industrial partners: Neste, Borealis, Green Fuel Nordic and Prefere Resins
Project budget: 2 MEUR
More information: VTT: GreenAro aims for new green production routes to important aromatic base chemicals