Scanners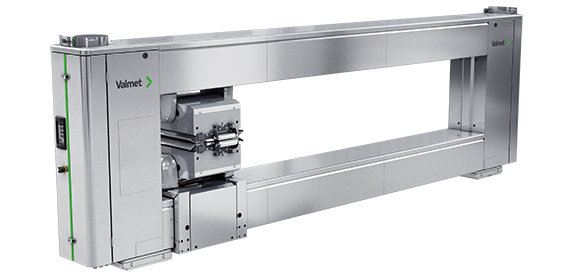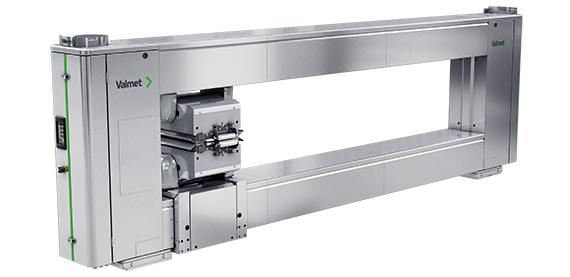 Situation-based online information from the process is the heart of the Valmet IQ quality control system. Valmet IQ scanners have selectable and adaptive scanning functions combined with high-speed quality sensors to provide many online diagnostic functions to improve paper quality, machine stability, and process efficiency.
The latest generation IQ Scanner is a stable platform of slim dimensions, dust-proofed with a more enclosed shroud for installation on any machine.
Incorporating a combination of new technology with proven scanning innovations developed by Valmet, IQ scanners connect to existing systems via an Ethernet cable with all signal and measurement handling in the scanner. Additional hardware in the cross-connection room or control room is eliminated, simplifying installation, maintenance and operation.
All Valmet IQ Scanners are designed to produce accurate and stable sheet quality measurements in the hot, humid and dusty environment of a paper machine. Unique stiff beam design combines low scanner height with high mechanical stiffness.
A filtered air purge system ensures temperature stability and maintains internal cleanliness. Scanner beam temperatures are continuously monitored to warn of temperature gradients and to diagnose their causes.
In addition to performance diagnostics, the intelligence built into all Valmet IQ Scanners also allows their scanning speed, acceleration, and deceleration rates to be adjusted and controlled to suit the CD and MD control requirements. Edge to edge scanning is controlled by precise sheet edge detectors.
With upsets like start-ups, paper web breaks or grade changes, scan speed and scan width can be automatically adjusted to suit the situation. This allows better control over the process with minimum waste and the highest possible machine efficiency.
Valmet IQ Scanner has been designed for minimal preventive maintenance providing the lowest cost of ownership in the marketplace. A solid construction plus built-in intelligence and diagnostics ensure reliable operation year after year.

Benefits
Accurate scan averages and CD profiles from the very first scan
Fast scanning capabilities provide accurate profile measurement data for precise quality controls in transition or upset situations
Operates reliably, year after year for maximum on control performance
The selectable intelligent scanning function is adaptive to suit the control situation and the process state
Fast startups with minimum off-quality waste
Edge to edge measurement for total profile control
Accurate CD positioning for stable, precise CD controls
The built-in diagnostic feature will inform service personnel for periodic maintenance
_______________________________________________________________

The scanner family is completed with the IQ Single-Sided Scanner, used commonly for moisture measurement after a size press and at the coater for coat-weight measurement. For fixed-point measurements such as moisture, color and fiber/moisture measurements in tissue machines the IQ Fixed Point C-frame is an effective solution.