Nov 19, 2020
A Turkish paper cone manufacturer with half a century of experience, Teknik Masura, purchased a paper mill in 2017 in Edirne, northwest Turkey. They target to become a paper product manufacturer in the global market and the company started to produce a core board in the factory where fluting was produced before. To improve the quality of products they commissioned a Valmet DNA Distributed Control System to replace the plant's aging DCS. The new system is integrated with the Valmet IQ Quality Control System (QCS), already in operation at the plant earlier.
High-quality core board for conical bobbins
Turkey's largest port city of Mersin is one of the most vibrant locations for trade as it is the country's gateway to the world. The region, famous for its rich agricultural areas, is an important textile center where the agricultural industry is also developing. The yarns exported from here by sea must be prepared very well before going on their long journey. This preparation starts from the bobbin on which the yarns are wrapped.
Teknik Masura started producing conical bobbins for the textile industry in a small workshop in Istanbul in 1968 and they have been working in Tarsus, Mersin since 1976. The product portfolio covers paper conical and cylindrical bobbins, paper rolls, paper gussets and cardboard of different specifications. All the roll products are manufactured from recycled gray cardboard. Thanks to the smart investments made in this field, today the company has a daily installed capacity of 1.3 million units and is Turkey's largest manufacturer for paper tapered bobbins.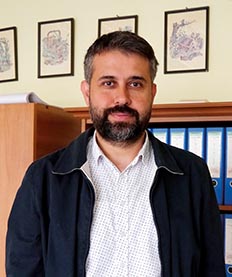 Valmet is the world leader company in its field. Since we are the leader in our field, we see cooperation with Valmet as the cooperation of two leaders. We will not only increase the value of our products, but we will also change our product range accordingly. It is good to know that Valmet stands by us for our future plans."
In 2017 Teknik Masura purchased a paper mill established in Edirne to produce a high-quality core board for its bobbins as well as to produce paper & board with different weights and specifications required. The company wanted to upgrade the existing Distributed control system (DCS) and they decided to replace the existing DCS with Valmet DNA. The mill also has a Valmet IQ Quality control system (QCS) installed, an integrated part of the Valmet DNA automation platform. (Mill Manager Mustafa Çopuroğlu likens his experience with the new DCS to the 'transition to a luxurious cabin on the board'.)
An increased degree of automation eliminated human errors
The mill, with an annual production capacity of 80,000 tons, was producing fluting when Teknik Masura purchased it. As a gray carton manufacturer, Teknik Masura wanted to improve the paper quality for the core board. Through the changes made, the current core board production is done in the range of 270-400 g/m2.
"We could further increase the capacity of the machine, but our focus now on quality-enhancing investments. Thanks to all the work we have done so far with the Tekcore Bobbin Carton produced, the bobbins produced in our Tarsus factory have now 30% better strength compared to our competitors. Thus, the investment we made with Valmet contributed not only to the quality of the cardboard products produced in our Edirne mill but also to the quality in our Tarsus factories. This encouraged us to continue new investments," says Mustafa Çopuroğlu, Mill Manager, Teknik Masura.
"Teknik Masura chose to work with Valmet due to its know-how and experience in the pulp and paper industry and to continue developing our leadership in the core business. During the commissioning process, Valmet's approach was so supportive and the delivery was made on time. We got more than we needed. Our goal is to produce 700-joule core board for the first time in Turkey with the help of this state of the art technology," says Çopuroğlu.
Valmet DNA distributed control system (DCS) ensures complete control of all processes and provide user-friendly and transparent management that goes far beyond traditional process automation systems. Valmet DNA can be applied as a single process automation and control system for all process controls, machinery, drive and quality controls, including mechanical and field device condition monitoring as well as information management.
Stating that they started to work with the DCS for the first time in this mill, Çopuroğlu says that operators find Valmet DNA very successful which they use extensively in the pulp preparation section: "There is no DCS in our Mersin factory. We started to use it for the first time in Edirne mill and it was a different experience for us to have Valmet with the latest technology DCS. Many of our metrics have returned to normal; we have obtained the flow spread and the consistency that we required with the pulp, and this prevents fluctuations in the weight of the product. We can accomplish many things through the system by eliminating the human error factor. All of these contribute to product quality. We do not have any problems with the product we provide to the customer. "
Cooperation of two leaders
Teknik Masura has a 35% market share in Turkey for the conical bobbins. "Valmet is a world leader company in its field. Since we are the leader in our field, we see our cooperation with Valmet as the cooperation of two leaders. We will not only increase the value of our products, we will also change our product range accordingly. It is good to know that Valmet stands by us for our future plans", says Çopuroğlu.
According to Coporoglu they knew Valmet had very good references in Turkey, and were very satisfied with the service provided by the Turkey team. They felt they could easily reach Valmet service team and were pleased with the support provided both on-site and remotely to solve any problems.
"Most mills in Turkey are having challenges to run their process on an optimal level but they hesitate to do improvements even if the process just barely runs. Teknik Masura has shown a lot of courage and forward-thinking when replacing their existing DCS with Valmet DNA distributed control system. Now they have integrated process and quality controls that can be directly connected to Valmet Industrial Internet for even more optimized mill performance", says Hamit Demir, Sales Manager, Valmet.
For more information, please contact:
Hamit Demir, Sales Manager
hamit.demir(at)valmet.com