Multipoint Moisture Measurement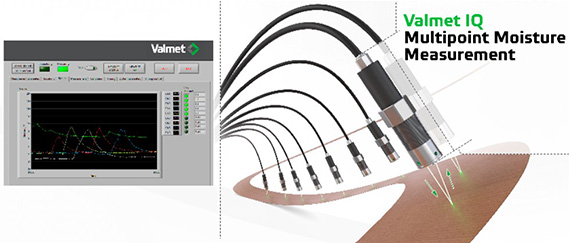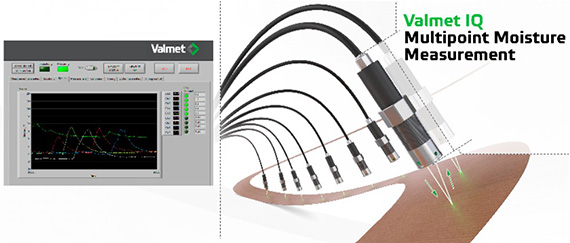 Valmet IQ Multipoint Moisture Measurement (IQ Multipoint) presents a new innovative way to measure moisture content throughout the process. IQ Multipoint is a moisture measurement device designed for paper and board converting machines such as corrugators but can be used in paper machines too. It gives instant responses to the varying moisture levels and creates the possibility to control the process at the best way possible.
Features
IQ Multipoint is based on infra-red (IR) technology and it can measure moisture content up to nine (9) different locations in the process. The device consists of the measurement probes and a field box, where the probes are connected to with optical cables. Depending on the installing location, there are two different types of probes which fit even to the tightest locations in the machine. The right type of probes are selected to meet the individual customer needs.
Measurements are protected from the dust with the structure and pressurized air. The IR technology is similar compared to the other moisture measurements in the Valmet product portfolio. The moisture content calculation is based on the absorption of IR light in the measured paper. IQ Multipoint processes the measurement information and it can be monitored with a separate PC connected to the device. IQ Multipoint can also be connected to different automation systems with Valmet ACN MR controller.
Benefits
Accurate and stable measurement trend of each measurement channel and comprehensive moisture monitoring
Possibility to control the process with new ways
Help to improve product quality while reducing waste and lowering production costs
Measurement gives an instant response to sheet moisture variations caused by e.g. reel changes